Search this site.

Camping Food List

The Staples I Take On Every Camping Trip


Having a good camping food list is an essential part of camping preparation.
When you have a good list, planning and packing are easy!

What is the best food for camping?

It's sturdy enough not to get squished in the food tub.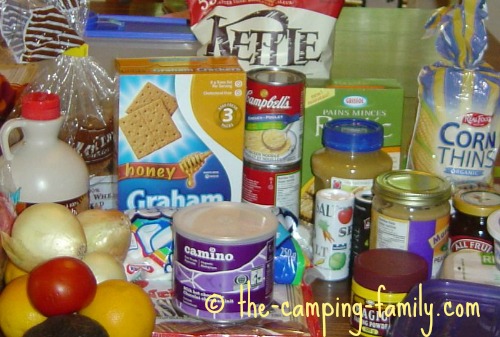 How to use this camping food list

Go through the list and take off the items you know you will never use.
There's no point packing tinned oysters if no one in your family will eat them!

Add your own essential items.

Maybe you crave pickled carrots when you go camping. Maybe you sprinkle wheat germ on your breakfast cereal. Maybe your child won't eat oatmeal without brown sugar. Put it all on the list!

Use the list every time you go car camping.
I like to pile all of the food on the dining room table. I check it off the list as I pack it into a sturdy, washable food tub. We use a 14 gallon Rubbermaid tub.

For backpacking, of course, you'll pack much more lightly. Calculate exactly what you will eat on each day, and pack only those items. Here are some backpacking food ideas.

Pack every item on the list, even if it's not on your meal plan.
It's always handy to have extra food in case the unexpected happens:
It rains on the night you'd planned to cook over the campfire.
You just don't feel like spaghetti on the night you'd planned to eat spaghetti.
You can never have too much food on a camping trip - especially when you are camping with children!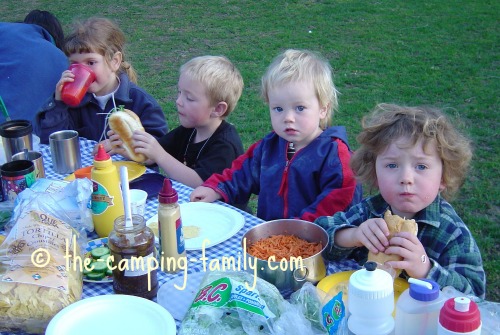 Bring any extra food home with you. Leave the non-perishables in your food box for next time.
Speaking of your meal plan...
Here is a complete camping menu for a weekend camping trip.
Going for longer than a weekend? Here are some camping menu ideas for a week-long trip.
---

The list


In the food box


Breakfast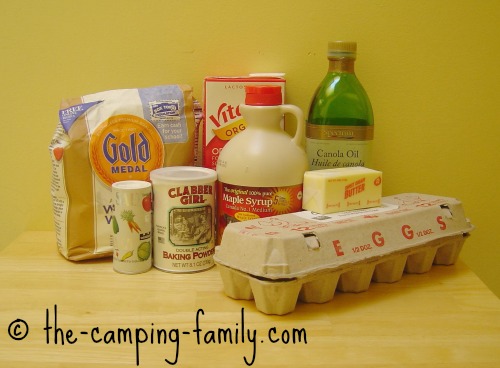 Lunch
crackers
bagels
pita bread
rice cakes
canned tuna
canned salmon
tinned sardines
tinned oysters
mayonnaise
canned beans
canned soup
dry soup mixes
peanut butter
jam

I think this set is cool! The mug, plate and bowl collapse so that they take almost no space to pack - and they have their own storage pouch!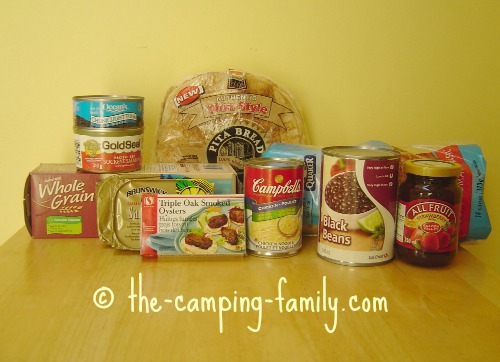 Dinner
pasta
canned pasta sauce
jar of pesto
potatoes
These are just for those nights I haven't planned anything in particular. To see my collection of camping recipes for supper, click here.
Drinks
juice
coffee
tea
hot chocolate
bottled lemon or lime juice (to add to water)
Other
salt and pepper
spices
garlic
mustard
ketchup
relish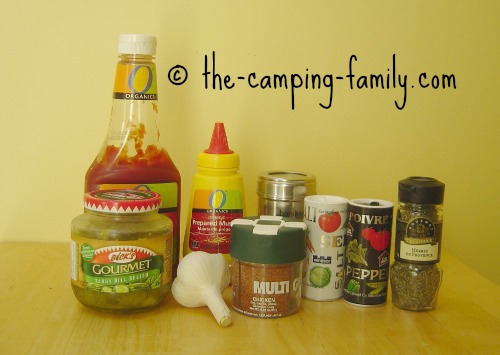 In the fridge or cooler

eggs
bacon
hot dogs We cook these on marshmallow roasting sticks over the campfire.
fruit (apples, oranges, pears, berries, melon)
vegetables (carrots, onions, peppers, cucumber, tomatoes)
yogurt
cheese
cream cheese
butter
milk
Now that you have a basic camping food list, visit this page for camping food ideas and get ready to make your meal plan.
If you need some help with your meal plan (and who doesn't?), please check out the camping meal planning system that I use.
Click here to go to The Camping Family home page.
When you have a good camping food list, preparing delicious camping food is easy!