Search this site.

Tents For Camping

How To Choose The Right One For Your Family

There are so many styles of tents for camping!
A tent is a major purchase. How can you know which tent is the right one for your family?
You don't want to spend more than you have to, but you don't want to end up with a piece of equipment that doesn't meet your needs either.
The sheer number of options can be quite confusing - and what is right for one family might not be the right choice for you.
Fortunately, it's not hard to make a good decision, once you know what you need. Follow these easy steps and choose the perfect tent for your family.
---

Step 1: Ask yourself these questions:

What kind of camping are you planning?
Car camping

You'll be able to haul large tents for camping.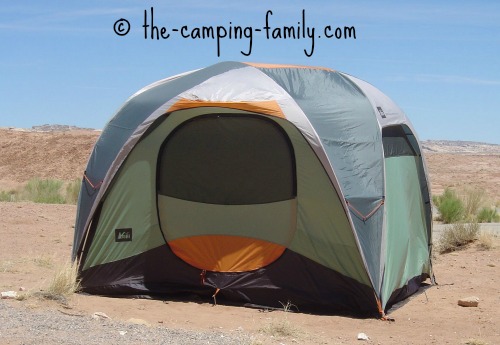 Backpacking
You'll need something very small and light.


Canoe camping or boat camping

You'll want something in between.


RV camping

Perhaps you'll need a tent for an extra sleeping area. Or maybe you want a screen tent for dining or for storage.


When will you camp?

Only in the summer

A three season tent will be fine.

Also in the spring or fall

A sturdy three season tent should be adequate - unless you will encounter strong winds. In that case, consider a four season tent.
Maybe even in the winter!

You should look at four season tents. These tents can handle strong winds and even a load of snow.
You'll want to be sure that you have warm sleeping bags. Read all about the many sleeping bag options here.

Will you ever camp in the rain?

(By the way, the answer to this question is "yes"!)

Unless you are planning to camp only in the desert, and only during the dry season, there will be rain sooner or later. Prepare for rain, and you won't have any unpleasant surprises.
I highly recommend that you get a tent with a rain fly that extends right to the ground. You can be warm, dry and cozy in a sturdy tent with a good fly!
A roof-only rainfly won't give any protection at all in a real rainstorm.

How many people will be sleeping in the tent?
How many are adults and how many are children?  (Remember, tiny children won't stay tiny for long!)

As a general rule, get a tent that is rated for one or two people more than your group size.
If there are four of you,  get a five or six person tent - especially if you are all adult or near-adult sized.
If you get a four person tent for four people, you will be very cozy (or should I say "cramped") - and there will be no room for anything except your four bodies.

What will you do in the tent?

Is it just for sleeping, or will you be playing and hanging out there too?
If it's for sleeping only, you might want a dome camping tent.

If you are going to do anything other than sleep, you'll need a bigger tent. You might want to investigate cabin style tents.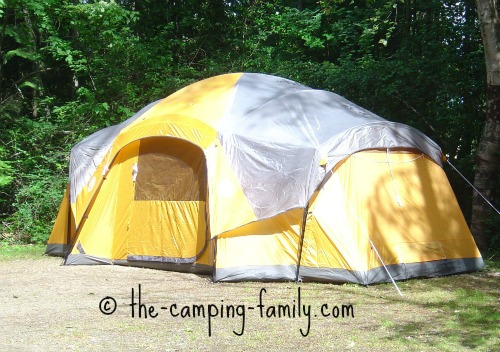 You might want to purchase a screen tent as a place to play, hang out and eat. It will protect you from sun, rain - and mosquitoes!

Keep in mind that a screen tent is not designed to be a sleeping tent.
Once you have answered these questions, you'll have a basic idea about what kind of tent you need.


---

Step 2: Think about the details.


Tent features

Tents for camping have a variety of features. Which of these are important to you?
Attached interior pockets for storing keys and other small items
A gear loft (an overhead mesh shelf for storing even more stuff)
A vestibule where you can store footwear and spare gear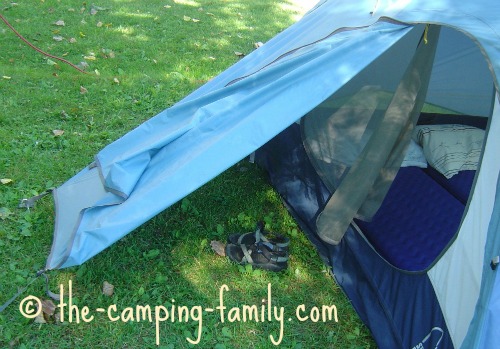 Tent poles

All tent poles are not created equal! Learn about the types of camping tent poles so that you can be sure to choose a tent with a reliable and easy-to-use pole system.

Tent waterproofing

As I mentioned before, it is going to rain - but that's okay!
As long as you choose a tent that's designed to keep out the rain, and you set it up properly and apply a good tent waterproofing product when necessary, you'll enjoy any weather.
Read all about tent waterproofing - and more about keeping dry in a tent.

Step 3: Learn from others.

Find out what others have learned about tents for camping.
Talk to your camping friends.
Visit tent forums and read tent reviews.
Step 4: Look at tents.

If possible, visit a local outdoor store. It's great to be able to see the actual tent before buying.
Large camping stores will have tents for camping that are set up, and they will encourage you to crawl inside. Do so!
Look around. Lie down and imagine spending a night here. Is there room for all of you?
Step 5: Buy your tent and supplies.

Congratulations! You've done your research and chosen the perfect tent for your family.
You might want to buy some extra tent stakes, guy ropes and replacement poles now too. It's nice to be prepared!
Step 6: Take your tent home and get to know it.

In the comfort of your home, unpack your new tent and spread it out. Check the parts list: is everything here?
Set up the tent in your backyard - or in a local park, if you have to. Don't wait until your first camping trip to learn how to do this!
The good news is that setting up a tent is not hard at all once you know how!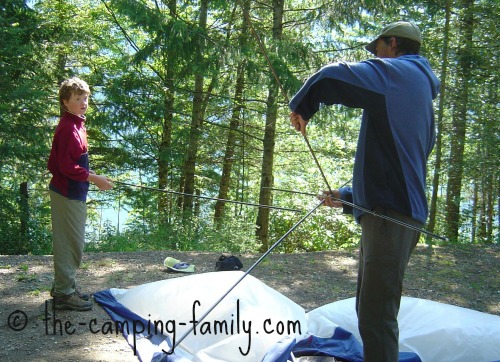 Learn about pitching a tent here.
---

What about self-erecting tents for camping?

Perhaps you have heard of self-erecting tents for camping. They sound like a cool idea. A pop up tent can be a good choice in certain conditions - but it probably shouldn't be your main sleeping tent. Here's what you need to know about self erecting tents.



---

The bottom line


A tent is a major purchase. You'll have it for many years. Taking the time to do your research will ensure that you choose the best tent for your family.

Now that you know all about tents for camping, visit The Camping Family home page for more information about making your camping trip a success!
Once you have your tent and are planning your first trip, read these tips about choosing a tent site in a campground.

If you are going backpacking, here's how to choose a tent camping site in the backcountry.