Search this site.

Cabin Style Tents

Large Family Camping Tents With Lots Of Room
Cabin style tents are tall and spacious - the perfect home-away-from-home for the whole family.

What is a cabin style tent?

When I started researching cabin tents, I was confused. Just what distinguishes a cabin tent from a dome tent anyway? There are so many styles of both cabin tents and dome tents, and they have many of the same features. To further add to my confusion, I discovered a number of cabin-dome hybrids, with vertical walls but curved poles.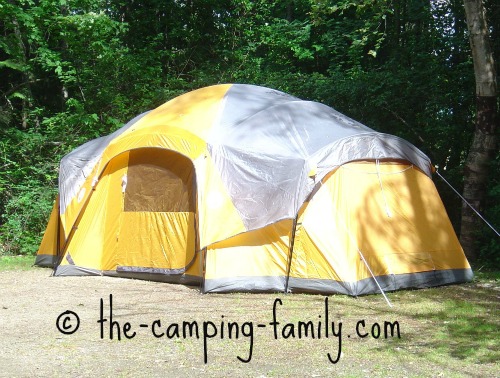 After puzzling it over for a while, I've come to a conclusion:
A cabin style tent has straight poles and near-vertical walls.


Most of the canvas tents from my youth were cabin tents. Some of them are still around. They last forever!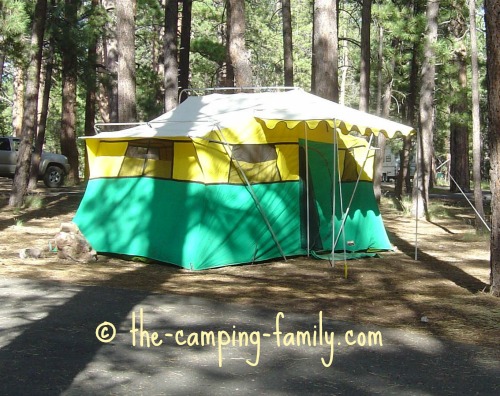 Today, there are many styles of modern nylon cabin tents.
---

Advantages of cabin style tents

They are roomy.

The near-vertical walls mean that every square inch of floor space is usable.
You can put your folding camping cot right beside the wall.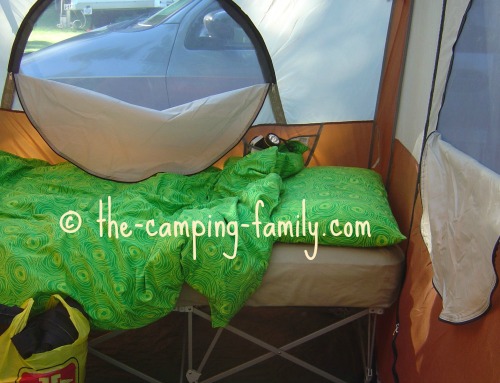 There might even be enough room for a baby's playpen or child's bed. (I didn't ever use those. I just tucked my babies and toddlers in with us in our sleeping bags that zip together.)
Most have lots of headroom.
 A person of average height can stand upright and walk around in one of these tents.

Some are very large.
If you need room for a full size air mattress, or if you plan to bring your nightstand and comfy chairs, a large cabin style tent is for you!

Take a look at the size of this tent!

Disadvantages

Cabin style tents do have some significant drawbacks.

They are heavy.

These are definitely not backpacking tents!
If you'd prefer not to lug a heavy load from the vehicle to the tent site, you may prefer a smaller dome camping tent.
They may not be windproof.

A near-vertical wall doesn't deflect the wind as a dome shape does.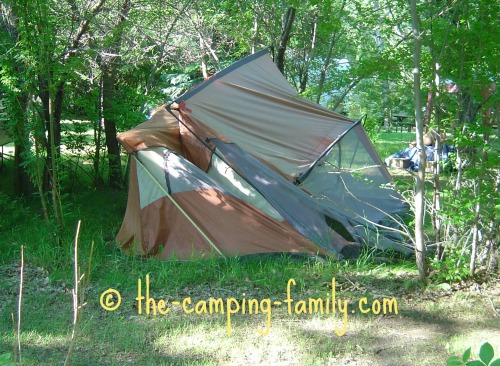 The owners of this tent left their campsite for a few days. When they came back after a huge storm, they had an unpleasant surprise.
They can be difficult to set up.

Because of their height and weight, large family cabin tents can be trickier to put up than a small dome tent.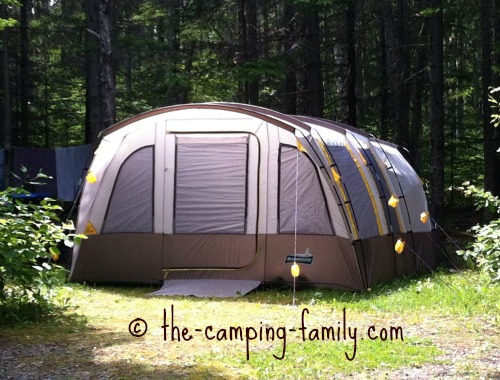 You probably won't be able to assign this job to the kids! You won't want to move from campground to campground very often, either.
---

Another option

If you want all of the advantages of a cabin tent, but none of the disadvantages, consider buying both a dome camping tent and and a screen tent.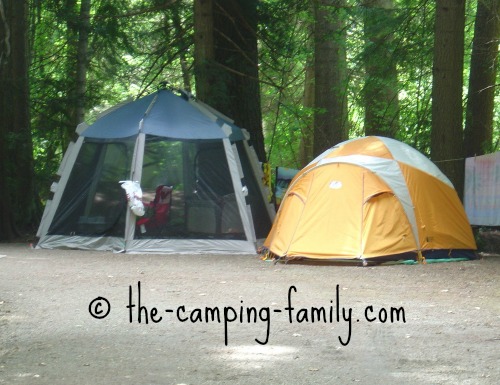 You can use the dome tent for sleeping, and the screen tent for eating, playing and hanging out.
---

Choosing a cabin tent

If the advantages outweigh the disadvantages for you, it's time to look for just the right cabin tent for your family. Here are some things to keep in mind:

Do you need multiple rooms?

Would you prefer separate bedrooms, or would one large space work better? Or perhaps you'd like a tent with removable inner walls so you can customize the space yourself.

Do you want extra features?

This tent
has a built-in overhead light and a ceiling fan!
This one
has a swinging door so that you can go in and out without worrying about using a zipper. It can also be modified to become a screen house!

Not all tent brands are of good quality!

Once you have found a tent that suits your needs, do some further investigation. Quality varies widely from one manufacturer to another, and even from one model to another. As when making any major purchase, do your research before making your choice. Read tent reviews. Hearing about real people's experiences with a product is invaluable.
Choosing a tent from a reputable, high end manufacturer usually - but not always - guarantees that you'll get good quality. Some dependable tent manufacturers include
Browning
MEC
MSR
North Face
REI
Sierra Designs
You'll still need to do your research, though. Here are some things to think about:
What kind of poles does the tent have? Are they strong enough, or are there reports of poles breaking?
How does the tent perform in heavy winds?
Are there issues with condensation?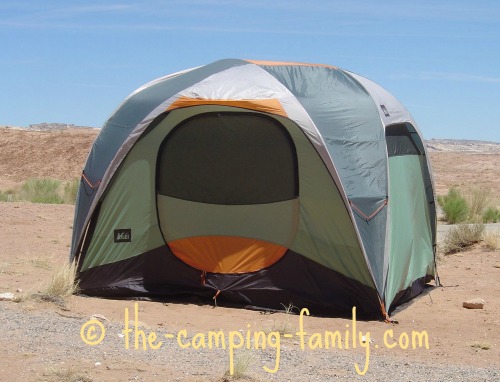 ---

The bottom line

If you are going to set up at one campsite for a considerable length of time, and if you want a large and roomy "home away from home", a cabin tent may be the best choice for you.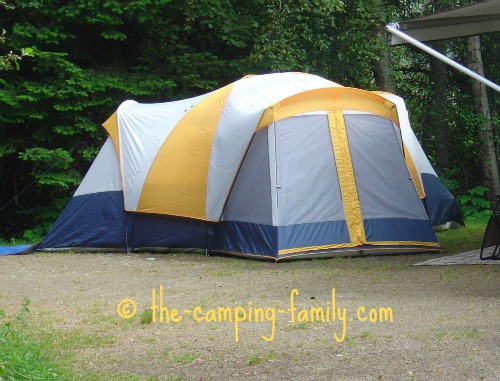 ---
If you're not convinced that cabin style tents are the best option for your family, visit this page to learn about many other tents for camping.
Click here to visit The Camping Family home page.