Search this site.

Camping in US National Parks

The US National Parks are ideal locations for family camping trips. Each one has its own natural beauty, interesting history and exciting recreational opportunities.
At least 11 national parks are so spectacular that they have been designated World Heritage Sites.
Accommodation options range from remote backcountry campsites to luxurious full-service lodges.
Which is your favorite US National Park? Click here to tell us!
If you'd like to visit a few of the National Parks in style, check
this
out!
---

Here's a challenge for you!

Go camping in every single National Park!

"But no," you say. "That's not possible - there must be hundreds!

Well, yes - and no!
---

How many US National Parks are there?
There are at least 388 National Park Service properties, but most of them are not National Parks.
They are National Monuments, Recreation Areas, Preserves, Reserves, Historic Sites, Historical Parks, and Memorials.
Oh, and then there are the National Lakeshores, Seashores and Scenic Trails.
And did I mention the National Military Parks, Battlefields and Battlefield Sites?

Don't forget the National Parkways!
Are you confused yet? I am!

Here's the good news for those of us with a hankering to complete a life list:


There are only 59 US National Parks!
That's a reasonable number to visit!
Here's a complete list of US National Parks.

---

National Parks Facts

Are there National Parks in every state?

No. Only 29 states have National Parks.

Which states have the most?

California and Alaska. They each have 9 parks.
Which gets the most visitors?

The most visited National Park is the Great Smokey Mountains in Tennessee. It gets more than 9 million visits per year!
Which gets the least visitors?

Kobuk Valley in Alaska gets just about 3000 visits per year. If you are looking for an uncrowded holiday, this may be the park for you!

Which is the largest National Park?

Wrangell-St.Elias in Alaska is the biggest, at 8.3 million acres. As a matter of fact, seven of the ten largest parks are in Alaska.
Which is the smallest?

Hot Springs in Arkansas is just 5549 acres in area.
Which is the newest?

Pinnacles National Park in California, was redesignated as a National Park in February of 2013. (Before that, it was a National Monument.)
Only the United States Congress has the authority to establish a new National Park.
---
I have camped in just a few of these parks, and I'm looking forward to visiting many more of them.
All of the park information in this section comes from my own experiences, or from my readers.
If you have camped at a National Park, please tell us about it! I'll add your information to this page, and before we know it we'll have a complete list of all 59.

By state


Arizona

Grand Canyon

The Grand Canyon is the second most visited National Park. We've all seen photos of the Grand Canyon, but the real thing is indescribable.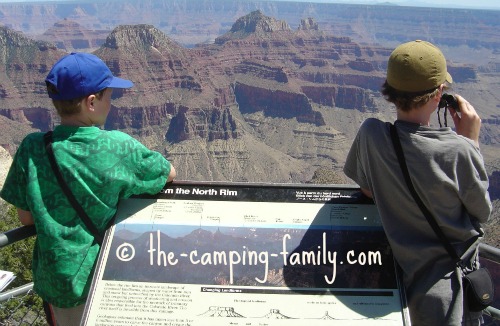 Click here to learn about camping at the Grand Canyon and here for additional information about the Grand Canyon North Rim.
Tennessee
Great Smoky Mountains
The largest population of synchronous fireflies in North America is in Smoky Mountains National Park. Imagine seeing tens of thousands of fireflies flashing in harmony!  Learn all about Great Smoky Mountains National Park here.


Utah

Arches
Arches is world famous for its more than 2000 natural stone arches. You really have to see them to believe them!

Click here to read about Arches Utah.

Canyonlands
Want to understand the difference between buttes and mesas? Canyonlands National Park is the place to go. Each of its four distinct regions is worth a visit.


Wyoming


Grand Teton

Mountains, lakes, rivers, forests, valleys, wetlands - Grand Teton has all of those and more.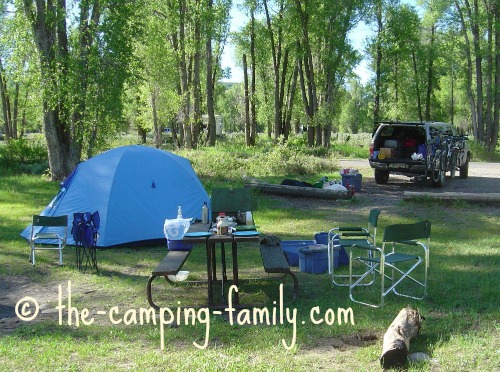 It's an 485 square mile paradise for nature lovers, where you can expect to see pronghorn sheep, deer, elk, moose, beavers, trumpeter swans and Canada geese!

Yellowstone

Yellowstone, established in 1872, was the world's very first national park. It is famous for its geysers.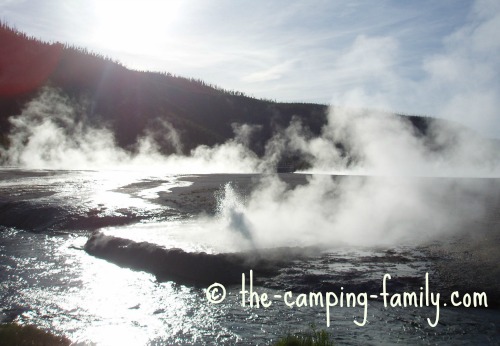 More questions?

Visit the official site of the U.S. National Park Service for complete information on all the parks.
---
Do you have a favorite US National Park?
Tell us which one - and why you love it!
Great US National Parks
Click below to see the parks recommended by visitors to this page.

Capitol Reef National Park, Utah Not rated yet
This park is not as well known as some of the other Utah National Parks, but we had a great time there. You can visit Mormon pioneer orchards, a home and …
Mesa Verde National Park CO Not rated yet
This is a great park to learn about the Native American culture. You can visit the homes of the ancient ancestral Puebloans that used to live in the …
Now that you know about a few of the US national parks, return to The Camping Family home page to get started planning your next park visit!