Search this site.

A Camping Sleeping Pad

The Key To A Good Night's Sleep
Using the right sleeping pad is vital if you want to have a successful tenting trip.
Sleeping in a tent can be a wonderful experience...
Snuggling in your sleeping bag, listening to the night sounds around you, waking up to  birdsong ... these are some of the best things about camping.
But only if you are comfortable!

You won't be comfortable without an appropriate sleeping surface and accessories.
Fortunately, there are many options.
Choosing the right quality sleeping system will ensure that you get a good night's sleep in your tent.
---

Why do you need a sleeping pad?


Comfort

Many campground tent pads are surfaced with gravel.


I don't need to tell you that gravel is not a comfortable sleeping surface!
Even ground covered with soft grass is not as comfortable as you might think!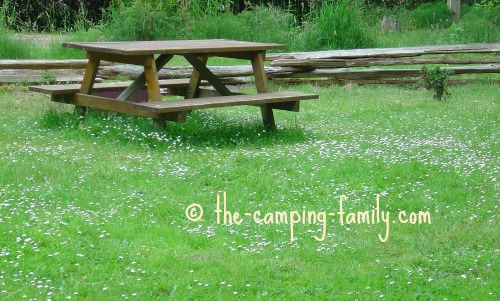 A camping mattress or other sleeping surface will cushion you from the bumps.


Warmth
No matter how thick and cushy your sleeping bag, the weight of your body will compress it and leave you lying on the ground.
Except in the very hottest climates, the ground will be cool enough to chill you and spoil your sleep.
You need something to insulate you from the cold ground.
---

Types of sleeping pads



Foam Pads

This is the most economical choice. Foam pads are useful on a camping trip  - and not just for sleeping! Be sure to choose closed cell foam - never the squishy open cell foam that you find inside sofa cushions.

Visit this page to learn more about foam sleeping pads.


Self-inflating pads
Most of these pads have a vinyl and nylon shell, with soft open-cell foam on the inside. They are easy to pack, and very comfortable.

The most well-known brand is Thermarest. A Thermarest air mattress is my sleeping surface of choice. Thermarests are
durable
comfortable

easy to transport

easy to pack

easy to use
Here's how to take care of your Thermarest, and how to repair it if necessary.
All self-inflating sleeping pads, no matter the brand, are fairly similar. Here's what you should know before you make a purchase.


Air Beds

If you want all of the comfort of your own bed at camp, an air bed might be for you.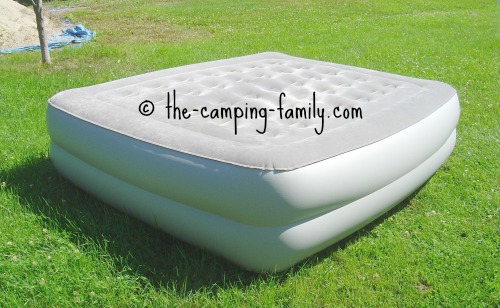 You'll have to pump it up, and you'll need to be careful not to puncture it. Read this page to learn more about using a full size air mattress while camping.


Air Mattresses
If you have an air mattress left over from last summer's trip to the beach, you may be tempted to sleep on it.
That's probably not the best idea. Air mattresses are not designed for sleeping, and they won't give you a comfortable night. Here's why I don't recommend sleeping on a regular twin air mattress.




Folding camping cots
New or reluctant campers - or those sleeping in a tent for months at a time - may prefer to sleep on a camp cot.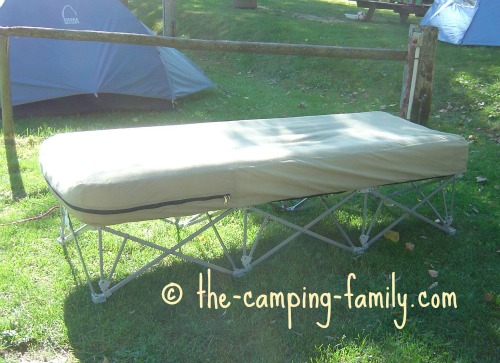 If the thought of sleeping on the ground doesn't excite you, a camping cot may be for you.
Learn about the advantages and disadvantages of folding camping cots here.

---
Accessories
No matter which sleeping system you use, a camping pillow can take your night's sleep from good to sublime.
Here's how to choose a good camping pillow.

---

The bottom line

Do your research and choose the sleeping system that works for you. This is an important decision!
The right protection between you and the ground can make the difference between a good night's sleep and no sleep at all.
Now that you know how important it is to choose a good sleeping pad, click here to go to The Camping Family home page. I have lots of information about every aspect of your next camping trip.