Search this site.

Using A Twin Air Mattress

As A Camping Bed:
Not Recommended

You might be tempted to use your twin air mattress as a sleeping pad - especially if you are new to family camping and don't want to spend a lot of money on gear until you are sure you'll like it!
The problem with this strategy is that you won't have a good sleep and you might decide that you don't like camping at all!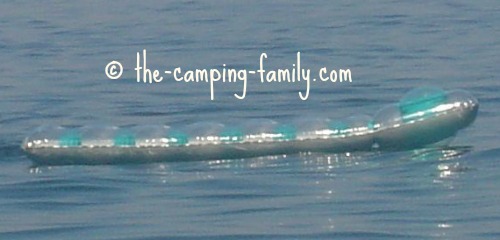 Many people have a cheap air mattress or two around the house, left over from last year's trip to the beach.


A twin air mattress is not designed to be a sleeping pad - but it can work - under certain circumstances.
If you already have a fairly good quality air mattress, go ahead and use it as a temporary sleeping pad for your small child - until you can get something better.
If you don't already have an air mattress, don't buy one for this purpose. Buy a camping sleeping pad. If cost is an issue, buy an inexpensive but good quality foam pad for your child instead.
---

Advantages of Twin Air Mattresses

They're inexpensive
Even good quality air mattresses are relatively inexpensive. A cheap model costs almost nothing!'


They're easy to find

You may have a couple around the house already!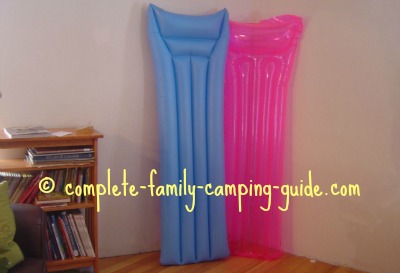 If not, you can find them at the hardware store, at the drugstore - maybe even at the grocery store!
We have found more than one perfectly good twin air mattress in the garbage can at the beach! Since they are so cheap, people buy them just for the day and then leave them behind rather than taking the trouble to deflate them and take them  home.
---

Disadvantages

They are uncomfortable

An adult will find an air mattress very uncomfortable as a bed. Believe it or not, plain old thin foam sleeping pads are more comfortable than air mattresses.

The only people who might be able to sleep comfortably on an air mattress are small children.



They won't keep you warm.
On a cool night, sleeping on an air mattress can be a very cold experience.
The cold ground will cool the air inside the mattress. No matter how warm your sleeping bag is, you will get cold.
You can fix this problem by putting a closed cell foam sleeping pad on the ground under the air mattress. Since you are using the pad for insulation and not for comfort, you can use the very cheapest foam pad you can find.


They are easily punctured
An air mattress can easily get a hole or a leak.

A heavy duty air mattress will be more durable than a cheap model from the dollar store. Either way, it's a good idea to take along an air mattress repair kit.

Don't use your sleeping air mattress for anything other than sleeping.
Caution your children against playing or jumping on the mattress.


They are difficult to repair

Even if you know how to patch an air mattress, the patch may or may not stay on!
---

The bottom line
Do not try sleeping on an air mattress yourself. You'll have a miserable night, and you'll decide that you don't like camping!
Save the air mattresses for the beach.

If you must, use air mattresses as a temporary sleeping solution for small children.
Invest in a self-inflating sleeping pad, a camping cot, or even a full-sized air bed. Consider it an investment towards a lifetime of happy family camping!
Now that you know why I don't recommend using twin air mattresses for sleeping, read about the numerous sleeping pad options that I do recommend.

Please visit the Complete Family Camping Guide home page. I have lots of practical ideas for making your next camping trip a success.