Search this site.

Camping Snacks
Enjoy these healthy camping snacks on your next family camping trip!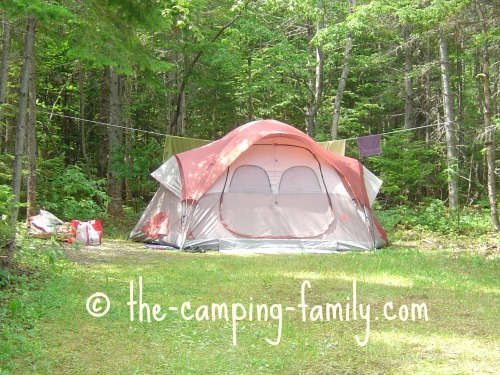 I'll admit it: when we go camping, I snack a lot.

There's something about being outdoors, on vacation, getting more exercise than I might usually get, that puts me in the mood to snack. Constantly.
We relax our usual healthy eating habits somewhat when we go camping. There are always bags of chips around. We make the occasional trip to the camp store for chocolate bars and popsicles.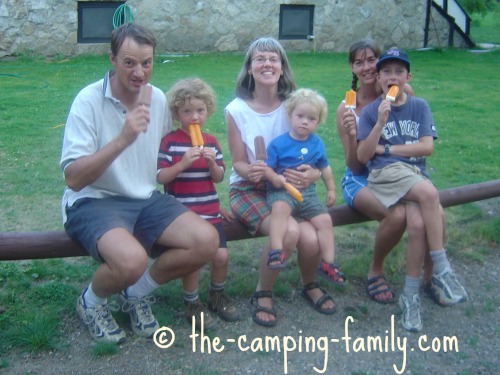 And then of course there are the campfire snacks: Smores, Campfire Cones, and their slightly healthier cousin, Banana Boats.

That adds up to a lot of junk food!
I need to make sure that there are lots of healthy snack choices in the mix.
Fortunately, there are lots of healthy camping snack ideas that are tasty too.


---

Fruits
A piece of fruit is the obvious choice for a healthy camping snack. Choose fruits that travel well, like oranges and apples. Don't bring soft fruits, like kiwis; they'll probably get squished before you have a chance to eat them.


Apples
When my children were small, they wouldn't eat apples - unless I cut the apples into slices! 

Another idea is to use an
apple corer
to remove the core, leaving the bottom intact. Fill the cavity with peanut butter or cream cheese. If you want to get fancy, mix in some raisins too.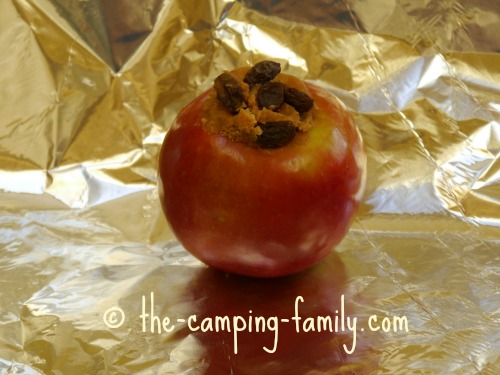 Oranges

A juicy orange is a refreshing treat on a hot day. Mandarin oranges, since they are easy to peel, are a good choice for kids.
---

Vegetables
A plate of cut veggies disappears quickly among a group of hungry campers. Put a variety of veggies on a
divided tray
and watch them vanish.
These veggies work particularly well:
carrot sticks
cucumber slices
cherry tomatoes
snap peas
beans

Add a dip, like Hummus, and you have a snack that's substantial enough to quell the late-afternoon "Is it suppertime yet?" munchies.
---

Campfire Snacks
Campfire snacks are as much fun to make as they are to eat!

Smores
Smores are the traditional campfire treat, for good reason: they are delicious!

Banana Boats

Banana Boats are a moderately-more-healthy relation of Smores.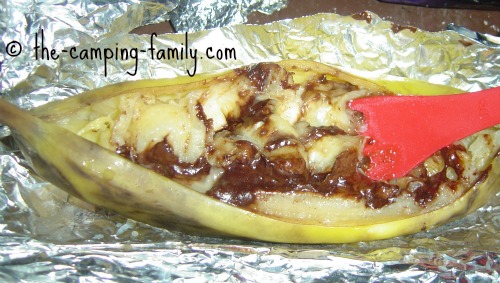 Here's how to make Banana Boats.
Campfire Cones
Campfire Cones are another fun variation on the Smores theme. Put some berries, marshmallow pieces and chocolate chips in a waffle cone.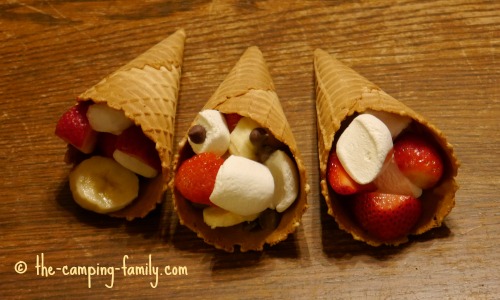 Wrap the cone in foil, and place it on the grill. When the chocolate chips have melted, unwrap carefully and enjoy!
---

Baked Goods

If I haven't planned ahead, I end up stocking up on cookies and muffins from the grocery store or the bakery. That can get expensive - and isn't the healthiest choice. There is a lot of sugar in a store-bought cookie!

If I have time before we leave, I make inexpensive, low-sugar goodies. In that case, I feel much better about allowing my kids - and myself - free rein with the baked goods!

Granola bars

Granola bars are a perfect camping snack. They're great to munch in the car on the way and they are handy to take along on a hike. The regular store-bought variety is full of sugar and additives. If I have time, I make homemade granola bars with this healthy granola bar recipe.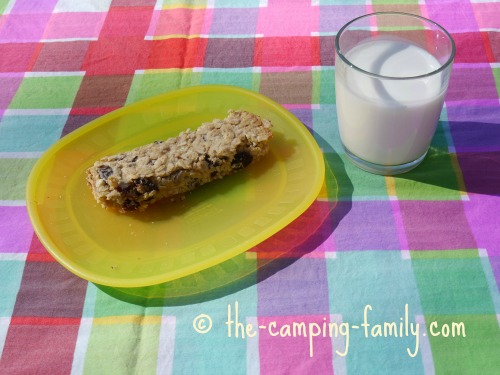 If you don't have time to bake, try these delicious
Skout Bars
They are made with the kind of healthy ingredients you would use if you did have time to bake! (My favorite is Apple Cinnamon. Chocolate Peanut Butter is good too. So is Chocolate Coconut!)
Muffins
Muffins are great for a light breakfast or for an anytime snack. I can whip up a batch of delicious Banana Oatmeal Muffins or Blueberry Muffins in no time, the night before we leave on a camping trip.
---
If you need a complete menu, including lots of healthy snacks, click here.


More Snacks

...because you can never have too many!
potato chips
popcorn

rice cakes
pickles
hard-boiled eggs

nuts
---
Now that you have a good collection of camping snacks ideas, visit this page for more camping food ideas.
I've done a lot of camping and I've learned a lot! Visit The Camping Family home page to learn what I've learned.