Search this site.

How To Make Hummus

Learning how to make hummus is easy! Whip up a batch and take it along on your next camping trip. It's great for a camping snack or for lunch.
Hummus is quick, easy, delicious and healthy!
Here are my recipes for Chickpea Hummus, Black Bean Hummus and White Bean Dip! All three are great on crackers or corn cakes, or as a sandwich spread.
I think that homemade bean dip and hummus taste even better than the hummus I can buy.

---

How to make hummus or bean dip


Gather your ingredients


If you are using canned beans, drain them and save some of the liquid.
Rinse them to remove added salt.
If you cook your beans from scratch, save some of the cooking liquid.


Place all of the ingredients in a food processor.


Don't use a blender, unless you have a heavy-duty model like a Vitamix. You'll risk burning out your motor.

Process on medium speed.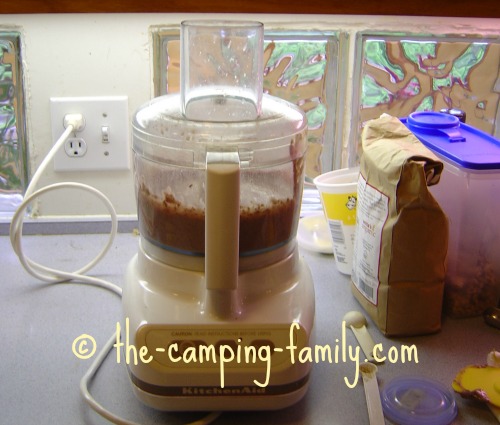 Keep processing until the dip is very smooth.

Adding some of the reserved liquid until the paste is just the consistency you like. (Did you forget to save some liquid? No problem -  just add a bit of water.)

The processing always takes longer than I think it will.
If you stop too soon, you'll end up with hard bits in your hummus.
Stop the processor occasionally and push the solids down towards the blade.
Keep processing - and keep adding small amounts of liquid as needed - until your hummus is smooth and creamy.
---

Chickpea Hummus Recipe

This is the traditional and most common type of hummus. It has a nice mild flavor.

Another name for chickpeas is "garbanzo beans".
1 can (19 oz/540 mL) chickpeas, drained and rinsed
---

Black Bean Hummus Recipe


1 can (19 oz/540 mL) black beans, drained and rinsed
---

White Bean Dip Recipe


1 can (19 oz/540 mL) white kidney beans, drained and rinsed
1/2 tsp/2 mL dried oregano, crumbled
---
Now that you know how to make hummus and bean dip, you'll want to make them all the time - and not just for camping. These dips make a nice light snack at home, too. They are perfect to take to a potluck!
Now that you know how to make hummus, see my complete list of easy camping recipes.
There's a lot to do when you plan a camping trip! Visit The Camping Family home page for help.