Search this site.

Folding Camping Chairs

Choosing good folding camping chairs is important! You'll probably do lots of sitting while you're camping.

You want to be comfortable, no matter where you are sitting: around the campfire, under a pine tree, or at the beach.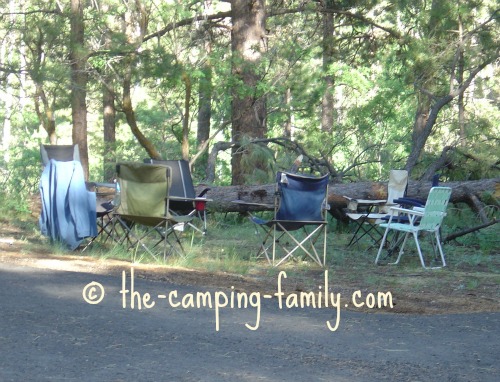 But how can you tell which chairs are right for you? Some look comfortable, but are not. Some chairs work well for shorter people, while others are better for tall folks.
Your best bet is to go to a camping store and actually try out the chairs before choosing the perfect one for you.

Before you go, think about which type of chair would best suit your needs.
Folding chair with attached table

If your camping plans include hanging out at the campsite with a good book and a  cool drink, this might be the chair for you!

| | | | | |
| --- | --- | --- | --- | --- |
| | | | This sturdy chair supports up to 300 pounds. The table is strong enough to hold your lunch and drink. There are even pockets for your sunglasses, keys and magazines. | |

Folding lounge chair
If napping in the shade of a pine tree is in your plans, consider a zero gravity folding lounge chair! My in-laws have one of these, and it really is comfortable. It folds flat for transport, and is sturdy enough to use at camp.

| | | | | |
| --- | --- | --- | --- | --- |
| | | | The only drawback to my in-laws' chair is that everyone wants to use it! You might want to get more than one! | |

Folding chair with canopy
A chair with its own built in canopy is a great idea - in theory. I'd love to have a chair with its own shade.
However, I haven't been able to find a good quality chair that includes a canopy.
A better alternative is to buy a good quality sun umbrella and attach it to the arm or back of a sturdy chair.



| | | | | |
| --- | --- | --- | --- | --- |
| | | | This umbrella has a universal clamp that fastens easily to chairs, strollers or even golf carts! It swivels 360 degrees so that you can adjust it perfectly. | |
---

Our favorite folding camping chairs
For the campsite
In our 20+ years of family camping, we've tried a lot of different folding camping chairs. For sitting around the campsite, this is our favorite: the Strongback chair.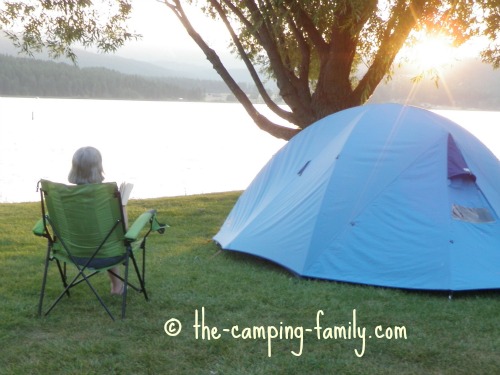 My husband is tall, and he finds most folding camping chairs really uncomfortable - except for this one. It doesn't have an uncomfortable bar that digs into your back, and it does have good lumbar support.
| | | | | |
| --- | --- | --- | --- | --- |
| | | | These chairs are so comfortable that we got rid of our patio furniture and got a family set of Strongbacks instead! | |
For the beach
We've owned two folding wooden and canvas chairs for more than 25 years. They are indestructible, lightweight, and surprisingly comfortable!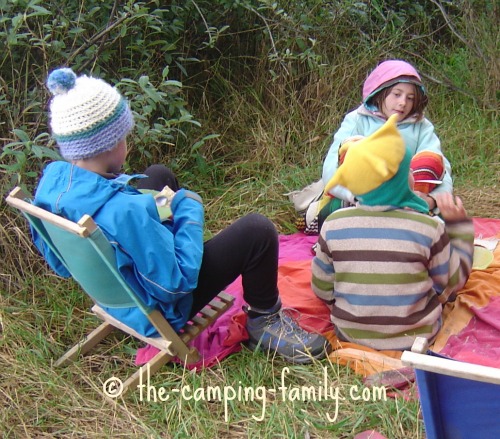 These chairs are easy to transport and to store. They are perfect for concerts in the park, too!
| | | | | |
| --- | --- | --- | --- | --- |
| | | | If you are crafty and ambitious, you might want to make your own! If you are not, you can buy the chairs on Amazon. | |
Since they fold completely flat, these chairs are ideal to take on a canoe or kayak trip: just lash them to the top of your pile of gear.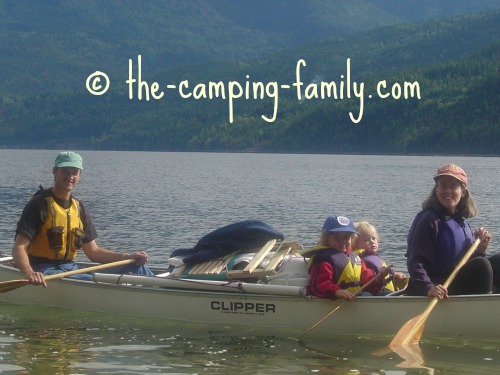 What about cheap folding chairs?
Here's an important piece advice for first time campers who are just beginning to gear up: don't buy cheap folding chairs!

They will probably be uncomfortable, and they will probably break in their first season. They can't be easily repaired.

I can't count the number of broken cheap folding chairs I have seen at campground dumpsters.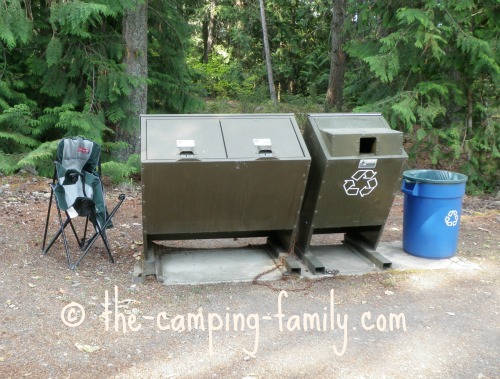 If you do buy a cheap folding chair, you'll probably just have to replace it next season. For the price of a couple of cheap chairs, you can buy a good quality chair that will last for many years.
---

The bottom line

Try out chairs before buying them, if possible, and choose good quality. You'll be sitting in comfort for many years!
Now that you have learned about folding camping chairs, go to this page to learn about more basic camping gear.
Planning a family camping trip? Here's where to start!