Search this site.

Camping Desserts
Enjoy these delicious camping desserts on your next family camping trip.
One of the best parts of camping is eating! After a satisfying supper, I look forward to a tasty dessert.
Here are some of our favorites.
Camping Desserts on the Camping Stove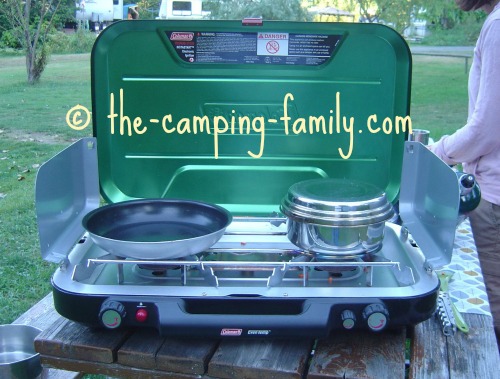 Skillet Bananas

This is the fastest dessert I know. All you need to do is melt some butter in a skillet, add some frozen concentrated orange juice and some cinnamon and stir to mix. Slice some bananas into the warm sauce and toss gently. That's all there is to it! Complete directions are in Good Camping Food.


Chocodillas
Here's another quick and easy dessert! Just place a tortilla in a warmed skillet, scatter chocolate chips and mini marshmallows on half of the tortilla, fold it closed, and cook until the contents begin to melt. Flip it over and cook the other side. Yum!
---

Campfire Camping Desserts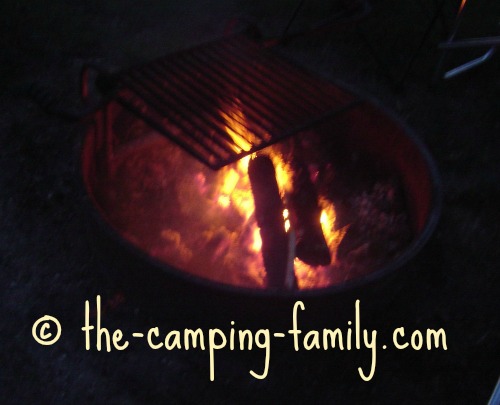 Brownies in an Orange Shell
This dessert takes quite a while to make - but making it is an important part of the experience!

You'll need a brownie mix and some oranges.

Build a fire and let it burn down to coals. While it burns, mix up your brownie mix.

Slice off the bottom of an orange so that it can sit without rolling.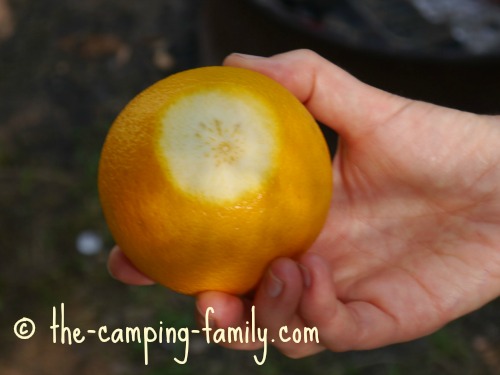 Slice off the top of the orange and scoop out the pulp.
Fill the orange shell with brownie batter. Don't fill it more than 3/4 full. 
Replace the lid.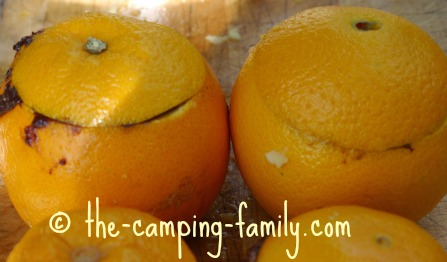 Wrap the orange with foil.
It's a good idea to make a foil handle so that you'll be able to remove the orange from the fire.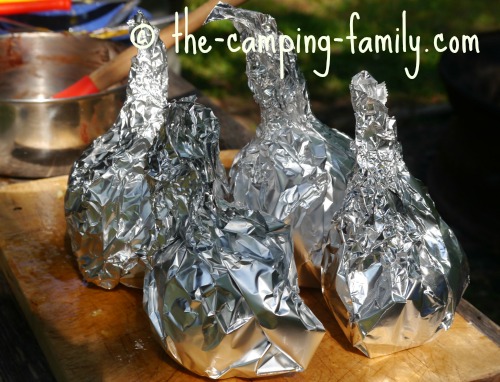 Place the wrapped orange in the coals. Check it frequently. When the batter is firm, eat the brownie with a spoon.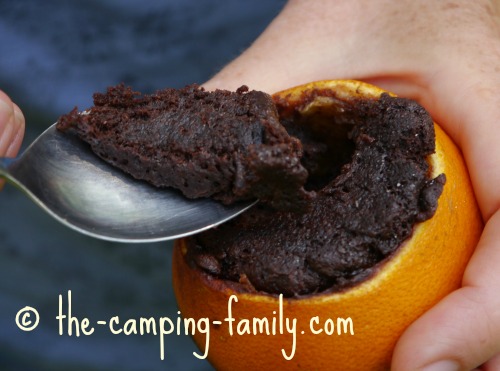 Review:
We decided that the end result wasn't worth all the work required. Our brownies were charred on the edges and not quite cooked in the middle - and we didn't enjoy the faint orange flavor.
If all you want is a delicious brownie to eat, I suggest that you buy some from the bakery, or make your own. Here's the recipe I use.
But if you have lots of time and you want the fun of baking in a shell, do give this a try!



Smores
Smores, of course, are the most popular campfire dessert. Here is everything you need to know about how to make Smores.

Don't have any graham crackers? Substitute saltine crackers, or chocolate chip cookies!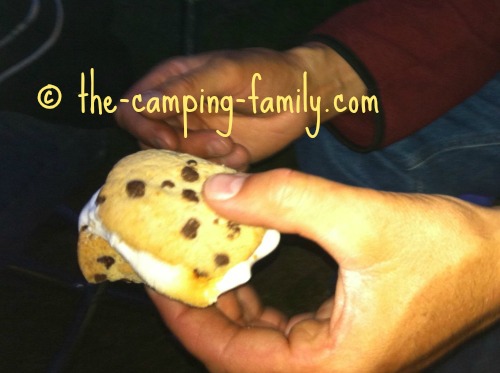 Campfire Cones

This easy variation on Smores is fun to make. Just fill a waffle cone with chocolate chips, mini marshmallows and fruit.

Wrap it in foil and place it on the grill.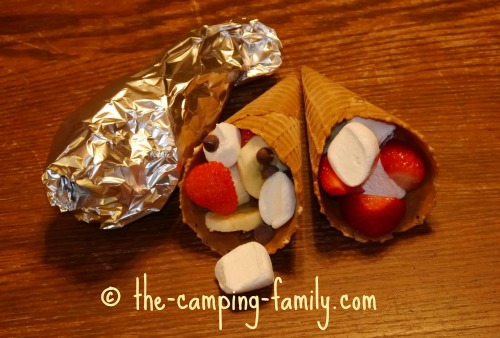 When the marshmallows and chocolate chips have melted, grab a spoon and dig in!


Banana Boats

Here's another way to enjoy chocolate chips and marshmallows: stuff them inside a banana, wrap the banana in foil, and cook over the fire. Here is a complete Banana Boat recipe.


Baked Apples

This is real camp comfort food. Just core some apples. (That's easy to do with an apple corer.)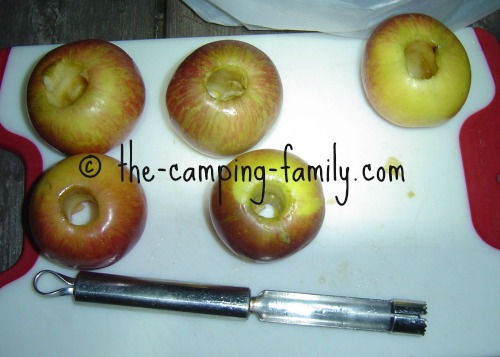 Fill the cavities with butter, brown sugar and raisins. Place the apples in a Dutch oven. Add a bit of water to the bottom of the pot.
Put on the lid and place the Dutch oven in the coals of your campfire.
Check frequently. When the apples are soft, they are ready to eat!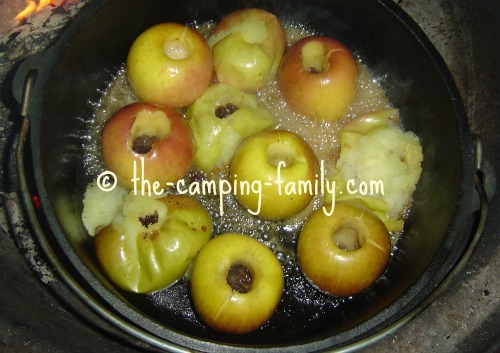 Be careful: they are hot!


Maple Popcorn

Here's a great camping dessert for those of you who have a campfire popcorn popper.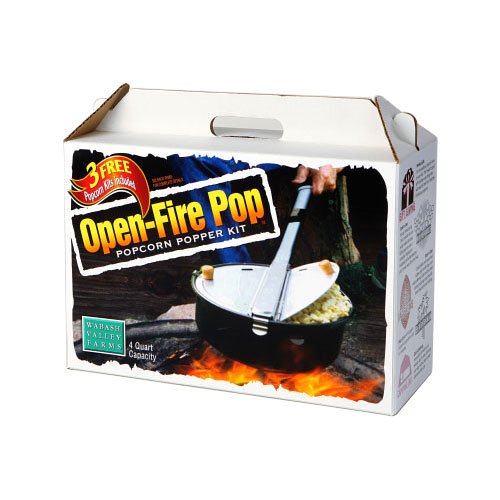 Just drizzle real maple syrup over your popped corn and stir to mix: instant deliciousness!
---

Treats from home

I always like to bring some ready-made desserts from home.
If I am in a rush, I buy them at the grocery store or a bakery. If I have time, I make my own.

Cake
Cranberry Yogurt Cake and Banana Snack Cake take almost no time to make. I can mix them up in minutes and let them bake while I do the packing the night before we leave on our trip.
Both of these are so moist and tasty that they need no icing, which makes them easy to transport. These recipes are in Good Camping Food.

Muffins
Muffins travel well and can make a nice simple dessert. Here are the easiest healthy muffin recipes I know.
---
Now that you have a collection of camping desserts, please check out some more of my camping food ideas.
For a complete camping menu, visit this page.
There is so much to think about when you plan a camping trip! Visit The Camping Family home page to make sure you haven't forgotten anything important!