Search this site.

Healthy Granola Bar Recipe

Coconut Chocolate Chip Granola Bars

With this easy healthy granola bar recipe, you can whip up your own delicious  granola bars in no time at all!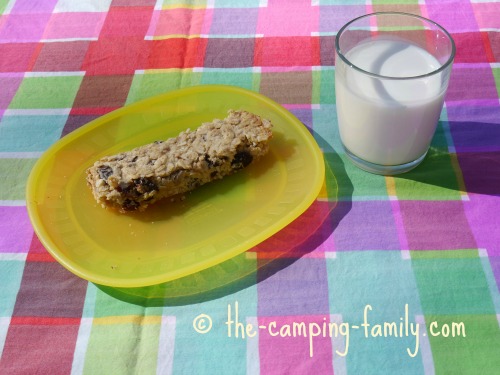 Granola bars are perfect camping snacks - but processed granola bars are full of sugar and additives. They're fine for an occasional treat, but you might not feel good about serving them regularly - especially if your family eats as many as my family does on a typical camping trip!
Besides, we eat lots of other less-than-healthy snacks when we go camping: things like Smores and hot dogs and potato chips. I like to provide healthy choices whenever I can, to balance out the junk food!
Using this healthy granola bar recipe means that I know exactly what goes into our snack.

Mix up a batch or two of these at home - and then hide them so that they don't get eaten before you leave on your trip!


---

How to make this healthy granola bar recipe

Get ready

Preheat your oven to 350F/180C.
Grease an 8 x 11 inch/20 x 28 cm glass pan.
Get out your ingredients:
2 cups/500 mL rolled oats
1/3 cup/80 mL dried cranberries
1/3 cup/80 mL chocolate chips
1/3 cup/80 mL unsweetened coconut
1/4 cup/60 mL unsalted sunflower seeds
1/2 cup/125 mL melted butter
1/4 cup/60 mL maple syrup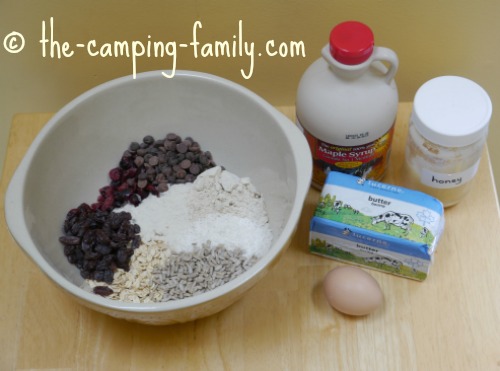 Get to work

In a medium-sized bowl, mix the oats, flour, raisins, cranberries, chocolate chips, coconut and sunflower seeds.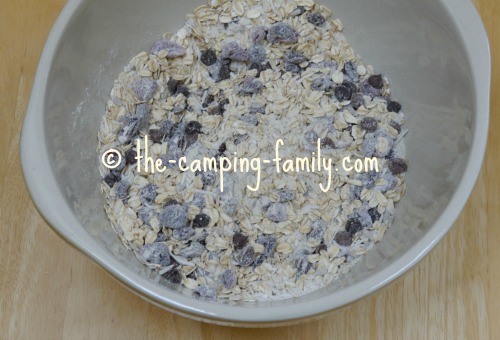 In a large bowl, beat the egg.
Add the melted butter, maple syrup and honey.
Mix well.
Add the dry ingredients to the large bowl.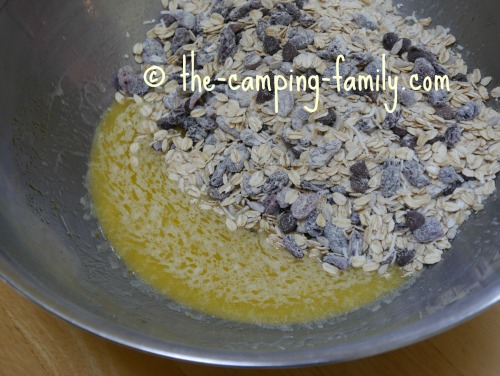 Mix well.
Do you have a
spatula spoon
yet? I highly recommend them, for all kinds of mixing!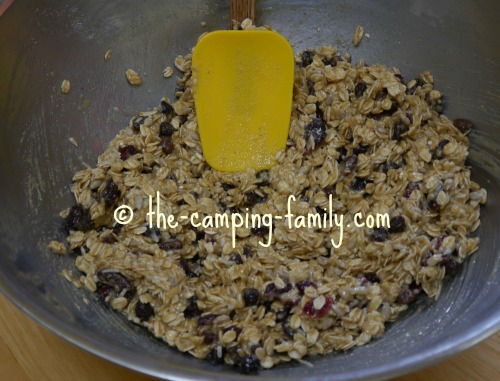 Transfer to the baking dish. 
Spread evenly and press down firmly.
Bake for about 30 minutes, or until brown around the edges.
Immediately cut into bars or squares.
Leave in the pan until cool.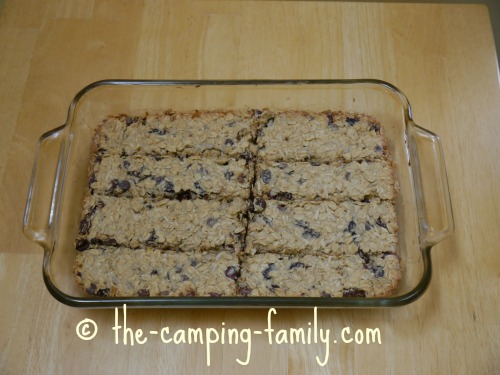 Transfer to a
cooling rack
and let sit for a while, to harden up a bit.
Pack in an airtight container (if you can prevent your family from eating them immediately!)
---

Substitutions
Go ahead, be creative! Make these granola bars your own.
No dried cranberries? Use more raisins instead.
Experiment with using pumpkin seeds or sesame seeds instead of, or in combination with, the sunflower seeds.
You might want to use butterscotch chips instead of the chocolate chips.

I don't recommend substituting anything for the coconut. It seems to be necessary for helping to hold everything together.
If you don't have a pan the same size as mine, go ahead and use what you have. Adjust the cooking times accordingly. If your bars are thinner than mine, they'll cook faster. I don't suggest making them much thicker than mine, though; they might not cook in the middle.
---

No time to make homemade granola bars?

This healthy granola bar recipe is great - but sometimes there just isn't time to bake before a camping trip. You have a couple of choices: you could buy regular granola bars at the grocery store, or you could buy healthy trail bars.
I like
Skout Trailbars.
They are made with only
healthy organic ingredients
, and they are delicious.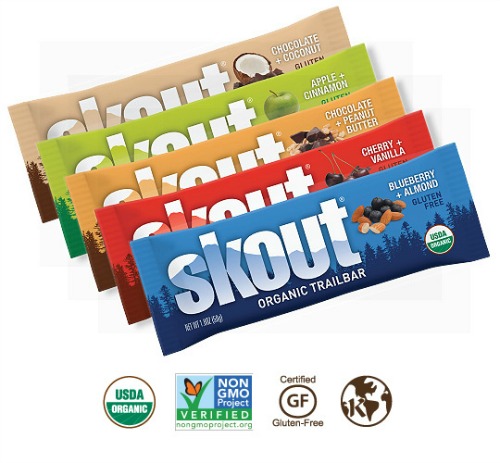 Click on this banner to buy Skout Bars - and be sure to enter the code when you check out so that you get free shipping!

Here are the ingredients in my favorite Skout bar variety, Apple Cinnamon:
dates
oats
apples
almonds
blue agave nectar
sunflower oil
cinnamon
sea salt
Compare that list with the ingredients in a typical processed granola bar. I won't name the manufacturer, but it's a well-known brand.

roasted peanuts
high maltose corn syrup
sugar
oats
crisp rice (rice flour, sugar, barley malt extract, salt, monoglycerides, tocopherols, rice extract)
glucose-fructose
palm kernel oil
wheat flakes (wheat, sugar, salt, barley malt extract, tocopherols)
fructose
peanut butter (peanuts, salt)
canola oil
modified milk ingredients
corn starch
salt
partially defatted peanut flour
soy lecithin
natural flavor
peanut oil
almonds
maltodextrin
baking soda
honey
palm oil
rosemary extract
tocopherols
If you are someone who tries to keep your sugar consumption to a minimum, you'll notice an awful lot of sugar in that list!
I feel much better about offering my children a healthy Skout bar!

---
I hope that you enjoy this healthy granola bar recipe! For lots more great camping food ideas, visit this page.
Before you start packing for your next camping trip, please visit the home page of The Camping Family. You'll find lots of helpful advice.