Search this site.

A Self Inflating Sleeping Pad Gives You A Good Night's Sleep

A self inflating sleeping pad is my bed of choice when we go tent camping.
I sleep just as well on my Thermarest in the tent as I do at home! In fact, on our nine-week cross-country camping trip, I didn't miss my bed at all!

What is a self inflating pad?

These comfortable sleeping pads contain open-cell foam inside a durable and waterproof vinyl-nylon skin.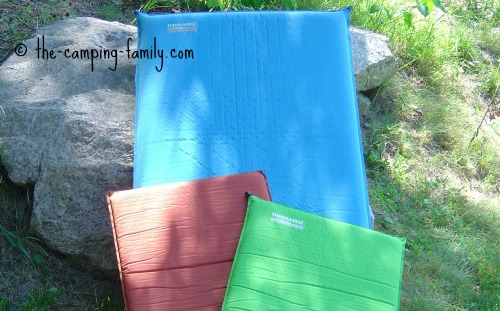 The pad has a sturdy valve. When the valve is opened, air enters the mattress.
All of our self inflating sleeping pads are Thermarests, so that's what I'll call them - but other brands are comparable.
To read about Thermarest air mattresses in particular, visit this page.

---

Advantages of self inflating sleeping pads

They are comfortable
You might be surprised at how very comfortable Thermarests are!
In my experience, they are much more comfortable than foam sleeping pads, and actually more comfortable than some folding camping cots or air beds!


They keep you warm
A self-inflating sleeping pad insulates you from the ground.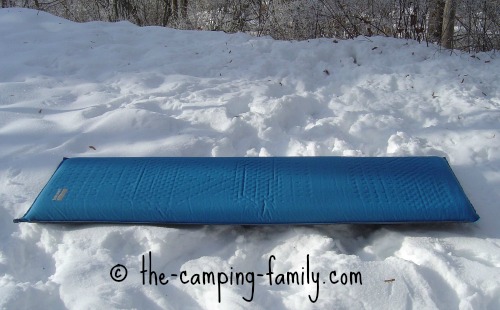 In spite of its relatively thin profile, a self inflating sleeping pad will keep you much warmer than a full sized air bed will!


They are easy to transport
A Thermarest, with the air is squished out of it, fits into a stuff sack.
A self-inflating sleeping pad is much lighter to carry, and packs much smaller, than a camping air bed or a folding camping cot.

Some models pack small enough to fit inside a backpack.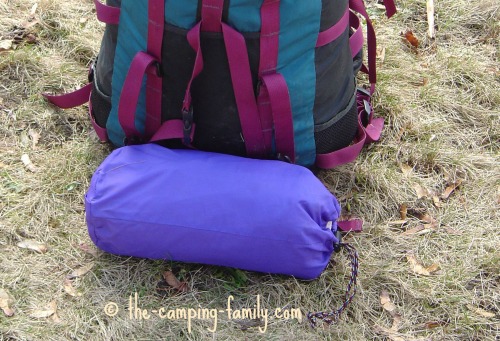 They are relatively inexpensive.
A Thermarest is more economical than an air bed or a folding camping cot of comparable comfort.
They are durable.

If you take care of your Thermarest, it will last for a very long time. My husband has had his for almost 30 years, and it's still in perfect shape.
---

Disadvantages
I really can't think of any!
In the unlikely event that your pad does develop a leak, you can easily fix it. See this Thermarest pad repair guide for instructions.
---

Using a Thermarest

Inflating Your Thermarest Pad
Simply open the pad's attached air valve by twisting it counterclockwise. The Thermarest pad will slowly self-inflate.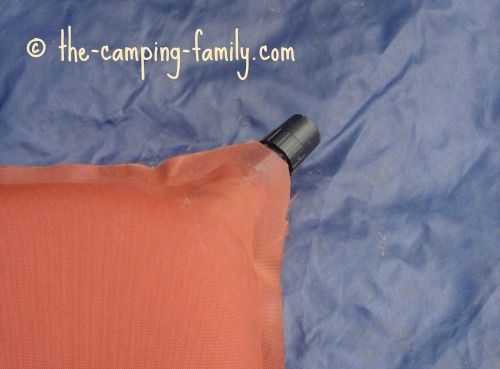 Close the valve by twisting it clockwise.
If you prefer a firm mattress, you can blow extra air into the valve by mouth before closing the valve.


Deflating a Thermarest

Open the valve.

Position yourself at the other end of the mattress. Roll the mattress up slowly, pushing the air towards the valve as you go.
Close the valve.
Deflate your mattress only for transporting it. Do not store it with the valve closed.


Tips
Store your pad unrolled, with the valve open. If there is moisture inside from your breath, keeping it open will allow the moisture to evaporate. We just lean ours against the wall in our storage room.

When I set up the tent, I like to put the valve end of the self inflating sleeping pad at the top, near my head. That way, if I climb into bed and notice that my mattress is a bit too firm, I can easily let out some air without having to get out of my sleeping bag.
If you are going to place two Thermarests side by side, purchase a couple kit. Here's what ours looks like. It fits our small Thermarests, but not our newer and bigger ones.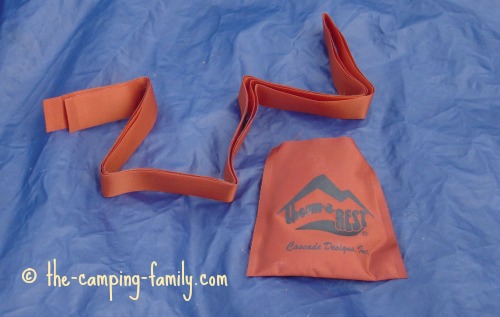 This set of loops keeps two sleeping pads close together and prevents them from slipping apart.
The newer model is called a
Thermarest Universal Couple Kit
and works with any size Thermarests.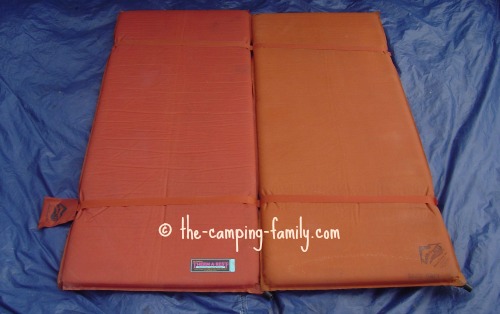 This is especially handy to have if you are using a double sleeping bag or sleeping bags that zip together.

---

The bottom line
I highly recommend self inflating sleeping pads. They are portable, durable and comfortable.

If you take care of your sleeping pad, it will last for many years. While it costs more than a foam sleeping pad, the extra cost is well worth it. Look on it as an investment into a lifetime of happy camping trips.
Now that you know why I use a self inflating sleeping pad, read about the other sleeping pad options.
Are you planning a camping trip? Visit the The Camping Family home page. You'll find camping lists, delicious food ideas, games to play, and much more!