Search this site.

A Double Sleeping Bag

Room for Two - or Three!

A double sleeping bag can be wonderful. After all, who doesn't like cuddling with their favorite person on a camping trip?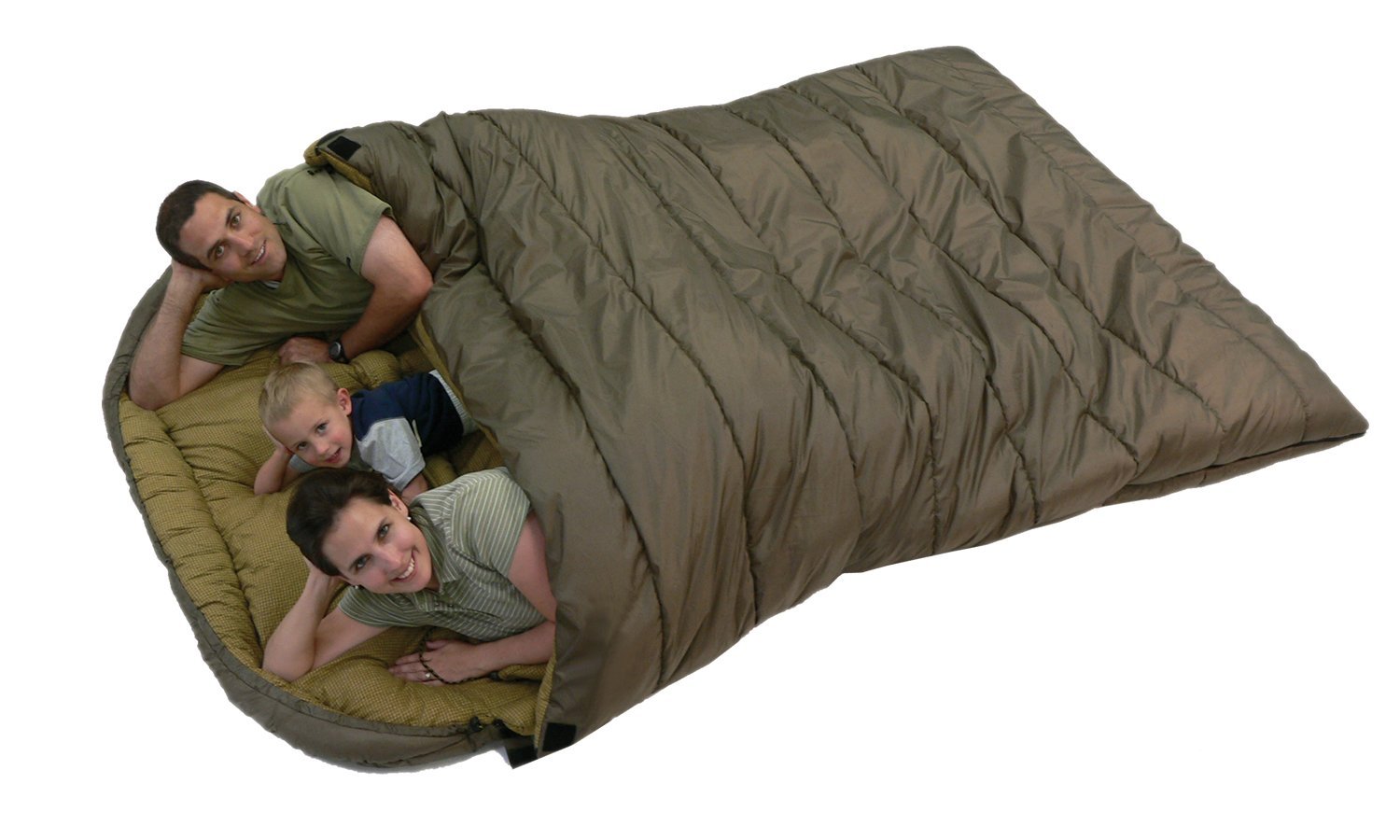 Double wide sleeping bags have some disadvantages, though. Read on to find out if the pros outweigh the cons for you.

---

Advantages of double sleeping bags

You can cuddle!

The advantage is obvious: cuddling with your favorite person in a sleeping bag without the hassle of zipping two sleeping bags together!

You can tuck your little one in with you.

Of course, you can do this with zip-together sleeping bags too.
---

Disadvantages of double sleeping bags

They are heavy.
You'll want someone strong to tote the thing around!


They are huge.
This type of bag is very bulky. It will take up a lot of room in your vehicle.

You'll need a lot of storage space at home for a double bag, since sleeping bags should not be stored in their stuff sacks. Read about the proper way to store sleeping bags here.


They may not keep you warm on cool nights.

On chilly nights, there might be cold spots. The bag is just too big to be warmed up by body heat!
Moving about in the bag causes cold air to be drawn into the bag.
Rolling over produces a cold breeze.
If you are going to be camping in cool conditions, consider a double mummy bag.

They can't accommodate different sleepers.

Some people are "warm sleepers". They are the ones who kick off the covers, no matter what the temperature.
Some people are "cold sleepers". We're the the ones who wear socks to bed and complain when the covers get kicked off!
Cold sleepers and warm sleepers can't share a sleeping bag happily. Either one person will be too hot or the other will be too cold.
With zip together sleeping bags, you always have the option of separating the bags into two singles if you are just too uncomfortable.


---

Here's the top of the line option.

If you are planning to use your sleeping bag for many years, consider the "Big Agnes King Solomon".
This top-of-the-line down filled double sleeping bag has an interesting design. To cut down on weight, the bottom of the bag doesn't contain any insulation.
Instead, there are two sleeves into which you insert 20 inch sleeping pads.
Since this bag uses high quality down, it is more compressible (and so packs smaller) than any other double bag on the market.
It includes a draft collar for each person. (A draft collar keeps cold air from sneaking in.)
Every reviewer I encountered raved about this bag. Someone said that it was like sleeping under a lovely down duvet.
The only drawback to the King Solomon is the price. It is extremely expensive - and you have to buy two good quality sleeping pads to go with it. If you are going to use it a lot, you'll get your money's worth - but if this is just for occasional use, you might want to consider a less expensive option.

Most reviewers recommend that you also buy a special compression stuff sack so that you can pack the bag as small as possible.
---

Alternative to a double sleeping bag

If you want to be able to cuddle with your partner sometimes, but you want the option of having a single bag sometimes, there is a great option: zip together sleeping bags!
When you need a double bag, just zip your bags together.
When you need single bags, unzip and there they are!
Read about sleeping bags that zip together here.
---

The bottom line
I prefer having the flexibility of having two sleeping bags that zip together.

However, I should let you know that I have never tried a double sleeping bag. I don't know anyone who owns one. I've never even seen one except online and in catalogues. Perhaps I'd love them if I gave them a try!
If you have the room to store such a bulky bag, and you don't mind dealing with its weight, this might be the perfect sleeping bag for you.

Now that you know about the pros and cons of a double sleeping bag, visit this page to learn more about camping sleeping bags.
You'll find lots of information about planning your next camping trip on The Camping Family home page.