Search this site.

Teardrop Trailers
and Other Tiny RVs

When I first heard about teardrop trailers a few years ago, I thought that they were a recent invention. It turns out that they have been around for at least 70 years!
These ultra lightweight travel trailers were popular in the 1930s and 1940s when hobbyists built their own little trailers in their garages.
With the trend to larger and larger vehicles and RVs, these units declined in popularity and all but disappeared. In recent years, though, they have been making a comeback.
---

Advantages
Teardrop trailers keep you off the ground, out of the weather, and safe from bugs and beasts (just like a motorhome, trailer or fifth wheel!)
Like full-sized RV campers, teardrops can be kept packed with all of your camping gear, letting you take off on a trip with little preparation.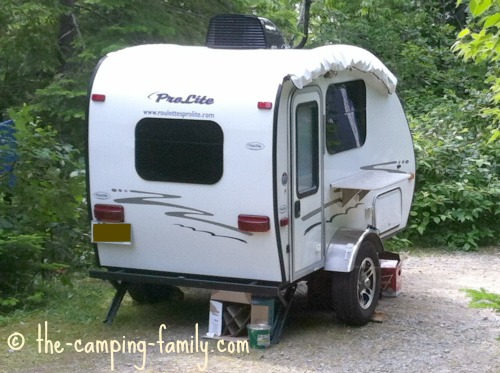 They are less expensive than larger RVs.
They use very little fuel because of their light weight (most under than 450 kg/1000 pounds dry weight) and their aerodynamic design.
They can be pulled by the smallest of vehicles - perfect in these days of rising gas prices and environmental concerns.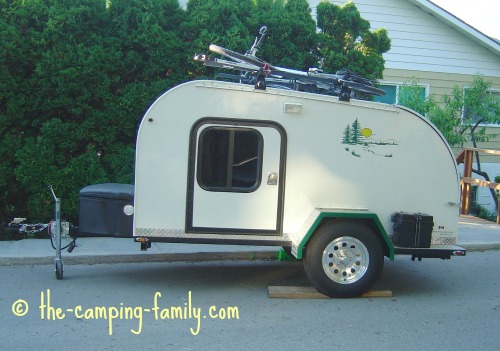 Some teardrop campers can even be pulled by a motorcycle!
While hobbyists are once again building their own small travel trailers in their garages, a number of manufacturers are also making teardrops.
---

Features

The smallest model is essentially just a bed on wheels.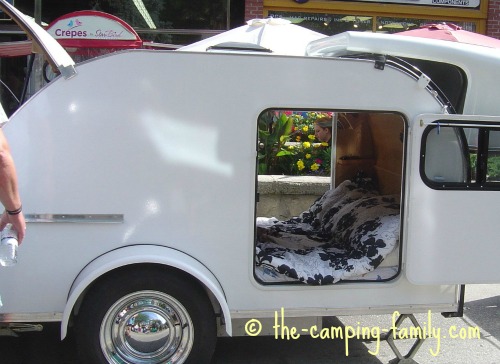 Larger models may have an outdoor kitchen on the back. The kitchen may include a propane stove, sink, water tank and icebox.
Most have battery powered lights.
Some can be hooked up to a regular electrical hookup, just like a full sized RV.
Higher priced models can be equipped with everything from generators to air conditioners.
You can even buy an awning or an attached tent to increase your living space!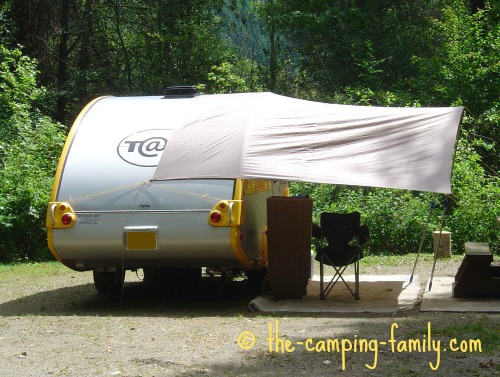 Since they use so little fuel, these are the ideal option for a cross-country road trip!
Other tiny trailers

Now that tiny trailers are in fashion again, there are several manufacturers making ultra-small models. Most of these are ideal for one or two people.
Now that they are trendy, I see these units everywhere. I love their compact design. They remind me of little doll houses!
Is your family too big for a teardrop trailer?

I like to fantasize about taking a cross country trip in one of these someday with my husband. Since he is 6 foot 3 inches tall, though, he is not enthusiastic about the idea. I guess I'll just have to continue dreaming!
Instead, I like to look at teardrop trailers at car shows or at RV dealers - or read about them.

Here's a great book with lots of photos of tiny trailers of every description.
You can buy it on Amazon.
My favorite is the streamlined aluminum trailer on page 131.
---

The bottom line

Teardrop trailers might be suitable for small families who don't mind sharing close quarters.
While some models are designed to fit two adults and one very small child, keep in mind that children don't stay small for long!

If teardrop trailers are smaller than what you need, check out these other RV models.
Click here to visit the The Camping Family home page.