Search this site.

A Camping Pillow

Ensures a Great Night's Sleep

Owning a camping pillow means that you can sleep in comfort wherever you camp.

One of the best things about camping is crawling into your sleeping bag at the end of a happy day, and drifting off to a sound sleep.
A pillow is an important part of that experience for me!

Options for pillows at camp


Don't use a pillow at all.

Some people don't need a pillow in order to have a good sleep. I am not one of those people!


Bring the pillow from your bed at home.

If you have an RV, or if you are car camping and have lots of room in the vehicle, just use your regular pillow.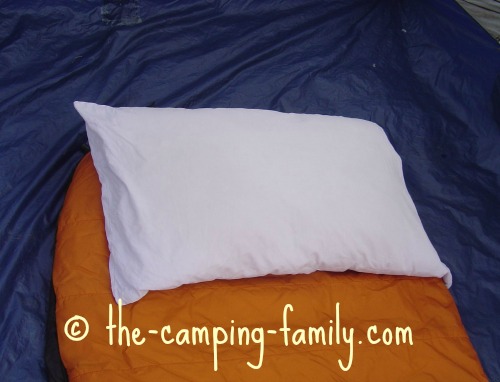 If you are backpacking, or if you are car camping with a small vehicle, you won't be able to bring your standard-sized pillow. Don't dismay: there are lots of other options!


Bring a pillowcase from home.

At bedtime, fill the pillowcase with soft items of clothing. A fleece jacket works well. Be sure to fold it carefully to minimize lumps.
Your pillow will be a bit bumpy, but it will work!


Purchase a special camping pillow.

If you do a lot of camping, you might like to have a camping pillow that packs small but is almost as comfortable as a pillow from home. There are lots of options.
---

Types of camping pillows

Inflatable
This is the most economical choice.

Inflatable pillows take very little room to pack, and can be inflated to be just as soft or as hard as you like.

This inexpensive pillow gets good reviews.

When packed, it's not much bigger than a deck of cards!

It can also be used as a seat cushion.




Compressible foam

This type of pillow squishes flat, and needs to be plumped up when you are ready to use it.

Some people find a compressible pillow more comfortable than the inflatable kind.

This pillow's fabric is soft and dirt-repellent.

You can choose between a small, medium or large sized pillow.

Folding
This pillow folds up into its own little pocket.


If you like a thin pillow, unfold it; if you prefer a plumper pillow, leave it folded.

It's washable, too!

Down-filled
The beauty of a down pillow is that it is extremely light and very compressible.

This pillow will add almost no weight to your backpack.

Pull the drawstring to make the pillow as soft or firm as your like.


If you find that the down is too compressible for your comfort, pop a T-shirt inside  for added loft.

A travel pillow case

A travel pillow case is more versatile than a travel pillow.

In the daytime, you can use this as a stuff sack.

At night, stuff it with clothing - just like I used to do with my regular pillow case. Make it as firm or as soft as you like.

This pillow case is soft and cozy.

---

My travel pillow

I need a pillow at bedtime. I used to do the "stuff your pillowcase with a fleece jacket" trick on backpacking trips - until my wonderful husband bought me this very comfortable down-filled Quixote camping pillow.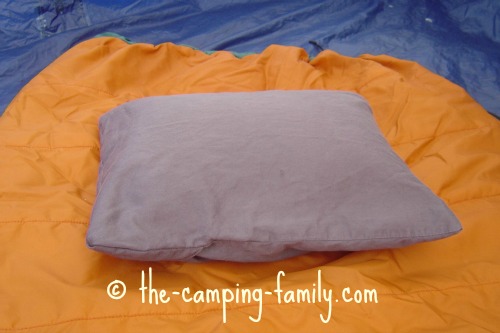 It packs very small, and weighs just 217 g.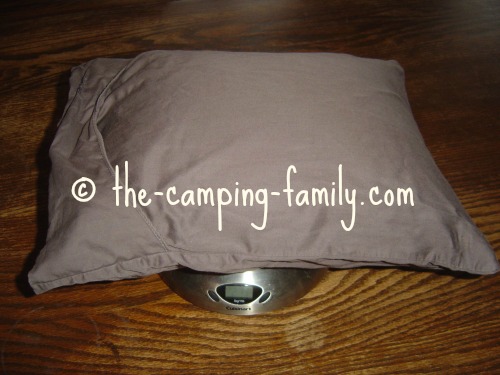 That's about seven and a half ounces!
It fits nicely in a backpack or duffle bag.
Although it is small, my pillow is just the right size for my head. It is just soft enough, without being too squishy.
Now I can sleep comfortably no matter where we camp!
---

The bottom line

If all of your camping is car camping - and if you have lots of room in your vehicle - just bring along your pillow from home.
If you are considering doing some backpacking or canoe camping - or any camping with limited space for packing - consider purchasing a camping pillow. If it helps you get a good night's sleep, it's money well spent.

The pillow might come in handy at other times, too. It's just the thing for long trips in a car, bus, plane or train.
Now that you know why I love my camping pillow, learn about another essential element of a good night's sleep at camp: a sleeping pad.
Please visit The Camping Family home page. I have lots of tips and ideas to make your next camping trip the best ever!