Search this site.

Camping In
Yellowstone National Park

Camping in Yellowstone National Park makes a wonderful family vacation. There is so much to see!
We went camping in Yellowstone National Park in June one year.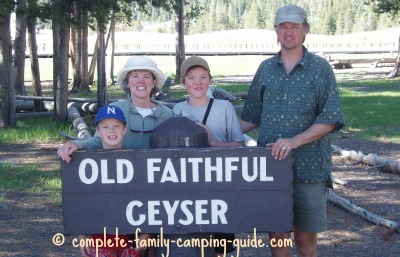 We had read and heard about the park, of course, but actually seeing the Yellowstone geysers was incredible!
Have you visited Yellowstone? We'd love to hear about your trip! Click here to share your vacation memories.
---

The Geysers of Yellowstone
Although we were in the park for only a day, we saw and learned a lot! I had never even heard of fumaroles, and I certainly didn't know the difference between fumaroles and hot springs. I do now!


Fumaroles
If water is heated under ground and turns into steam before it reaches the surface of the earth, that's a fumarole.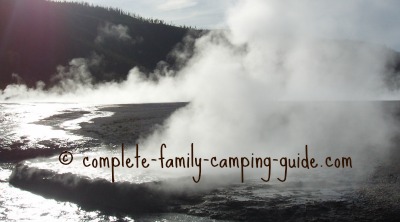 Hot springs

If water is heated under ground but remains in liquid form, that's a hot spring.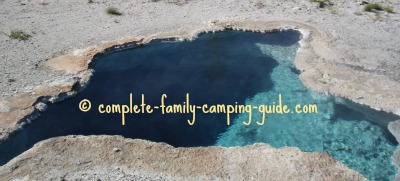 Geysers
There may be an underground blockage that prevents the water from reaching the surface easily. Pressure builds up until the steam and water explode from the ground. That's a geyser.
The largest concentration of geysers in the world is in Yellowstone, at Upper Geyser Basin.
---

Old Faithful geyser

The most famous of the geysers is Old Faithful - so named because its eruptions are fairly regular.
Old Faithful erupts about 17 times per day. The length of time between  eruptions depends on the length of the last eruption.
If an eruption lasts for less than two and a half minutes, there will be an interval of approximately 60 minutes until the next eruption.
If an eruption lasts for more than two and a half minutes, there will be an interval of approximately 90 minutes until the next one.

In most of the buildings in the area, there are video screens giving the estimated time - accurate to within 10 minutes - of the next eruption. That makes it very convenient for campers like us who have a limited time to spend in the park!


Hikes near Old Faithful

We arrived at the Upper Geyser Basin not long before an eruption was expected. While we waited, we walked the short Old Faithful Geyser Loop. It's an easy hike: less than a mile long, and nice and flat.

When we finished the loop, we still had some time, so we did the Geyser Hill Loop. It's a bit longer and a bit steeper, but still an easy hike. We walked this quickly, not wanting to miss Old Faithful's big moment, but still had time to marvel over the hot pools and smaller geysers that we passed.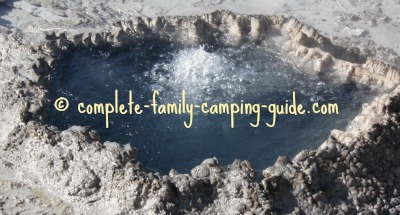 Then we returned to the viewing area and claimed spots on a bench.
Here are the boys waiting for Old Faithful…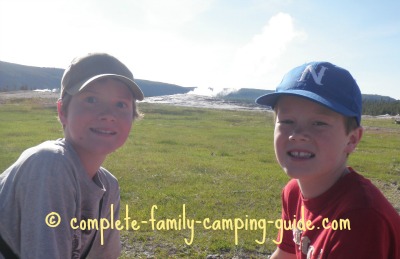 and here it goes!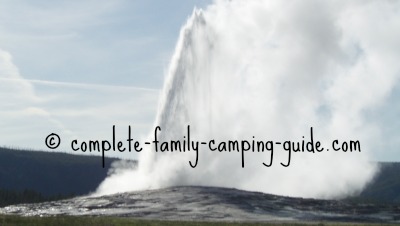 Once it has erupted, Old Faithful settles down and hisses quietly until next time.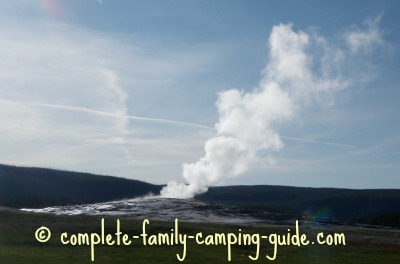 ---

Camping in Yellowstone National Park
There are 12 campgrounds in Yellowstone.
Only one of them (Fishing Bridge) has electrical and water hookups.
If you are tenting or using a pop-up tent trailer, you can't stay at Fishing Bridge. It's reserved for hard-sided trailers only.

Here's my top piece of advice for camping in Yellowstone National Park: make reservations! Even though there are more than 2000 campsites - not counting the backcountry sites - they tend to fill up early, even in the off-season.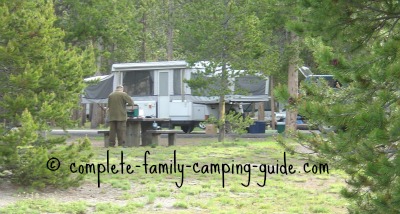 However, only five of the campgrounds accept reservations.
To get a spot in any of the other seven,  arrive early in the day - and cross your fingers!

We hadn't made reservations.
When we drove up to Madison Campground late in the day and saw the long line of vehicles ahead of us, we didn't feel too hopeful. Our camping karma was good that day, though: we got the second-last site!
---

Be safe!

There is great beauty at Yellowstone, and also great danger. Be aware of the dangers, stay alert and stay safe!


The hot pools
Those deceptively beautiful hot springs have claimed too many lives. Be sure to read the information displays and warning signs.
If those don't convince you that the danger is real, pop into the bookstore and get one of the books describing the gruesome and tragic deaths that have resulted when people were unaware of the danger.


Wildlife
Bison wander freely through the park.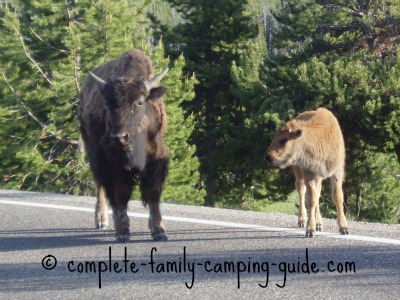 Don't approach wild animals. Watch the bison from the safety of your closed vehicle.
Black bears and grizzly bears call the park home, too. Read these bear safety tips so that you can avoid a bear encounter.
---
Have You Visited Yellowstone?
We'd love to hear about your experiences!
Now that you know a bit about camping in Yellowstone National Park, click here to read about more US National Parks.
Before planning your next trip, be sure to visit the Complete Family Camping Guide home page. You'll find quantities of helpful information!