Search this site.

A Dome Camping Tent:

My favorite type of tent

I think that a dome camping tent is ideal for most camping families. Read on to learn why.


What is a dome style tent?
A simple dome tent has a rectangular floor and two poles which each run from one corner to the diagonally opposite corner, crossing each other at the peak.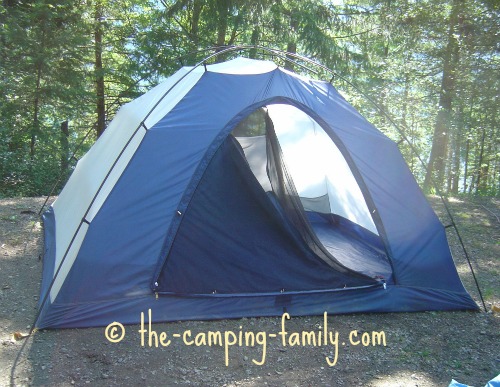 That's just the basic model, though. There are different types of dome tents, including some with vestibules, multiple rooms and irregularly shaped floors.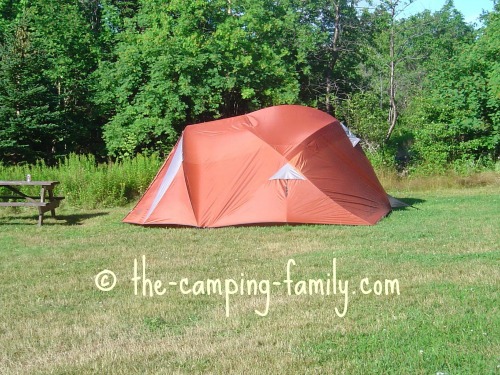 Dome camping tents are available in a variety of sizes, from light dome tents that can sleep one or two people....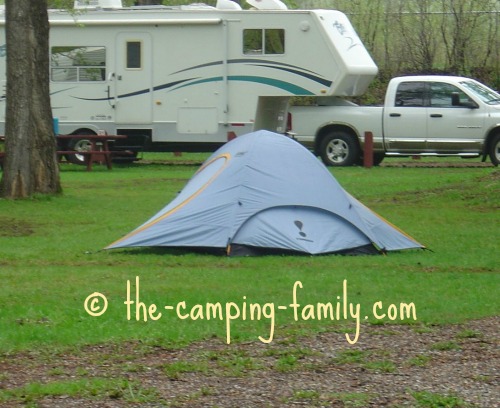 ... to large tents with multiple rooms.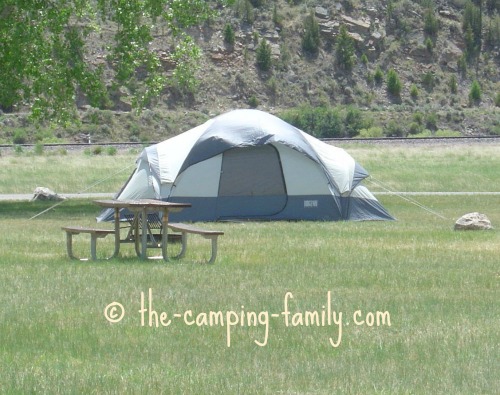 Some can sleep 8 people - or more!
Do you need a large tent?
Here's a relatively inexpensive large tent
that would perform well in good weather. If you want something a bit more sturdy, consider
this 8 person tent.
.
---

Advantages of a dome camping tent


It is strong and stable.

The design of a dome camping tent makes it relatively able to withstand strong winds - especially if you get a good-quality tent.

This is important! You want a tent that will stay intact, no matter what the weather does.


It is easy to set up.
Most dome tents can be set up by one person, in very little time and with little effort.


It can be freestanding.

Most dome tents can be pitched without the use of tent stakes or guy ropes.
Once you have set up the tent, though, you should always peg it out securely so that it's windproof and rainproof.

I like a freestanding tent for a couple of reasons:

You can pick up the tent and shake out any dirt.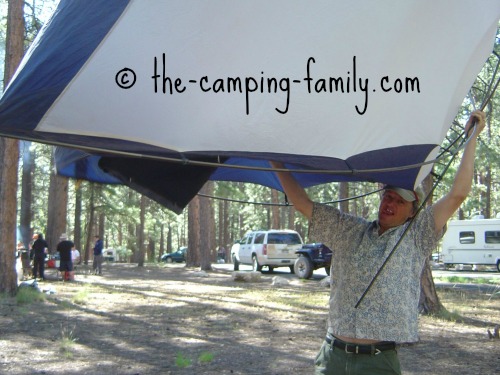 This is a quick and easy way to clean your tent. This works only if your tent is relatively small and light. If you choose to do this, be very careful so you don't rip the tent fabric.

You can pick up the tent and move it.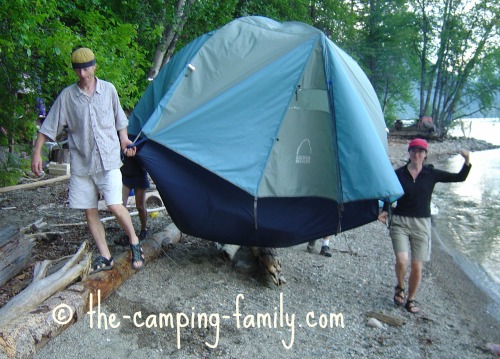 Of course, if you have chosen your tent site carefully, you won't need to move it - but sometimes it's nice to be able to do so!

Here are some hints about choosing a tent site in a campground and here's how to find a place to camp in the backcountry.
---

Disadvantages of dome tents
The only disadvantage of a dome style tent that I can think of is that the walls slope. This does reduce the usable space somewhat.


Since we use our tents mainly for sleeping, I have never found this to be a problem.
If you plan to spend lots of time in the tent in the daytime, you may want to have a look at cabin style tents. They have straight walls and more usable space.
Another solution would be to buy a dome tent for sleeping and a screen tent for cooking, playing and hanging out.

---

Choosing a dome tent

Here's what to think about when you are shopping for a dome tent:


The tent's design
Do you want a vestibule?
A vestibule is a handy place for storing extra gear, or for taking off muddy shoes.
I highly recommend a vestibule!

Do you need multiple rooms?

Some families like to have separate bedrooms. Others like to have a sleeping room and a storage room.

This tent can fit 3 queen sized airbeds!
Click on the photo for more information.


The tent's season rating
Will you be camping just in the spring and summer? If so, a three season tent will be fine.
If you plan to do any winter camping, you'll want to look at four season tents. These have a geodesic dome or hex tent shape, using at least 3 poles. This provides lots of stability and allows the tent to withstand heavy winds and considerable snow loads.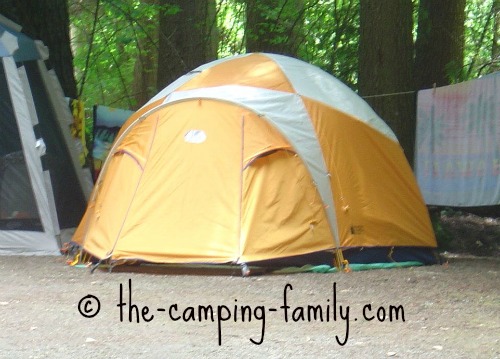 The tent poles

How durable are they? Read here to learn more about camping tent poles.


The manufacturer

Reputable companies make good quality tents. A cheap tent from a hardware store won't be as sturdy or as durable as a good tent.
Reputable companies stand behind their products. If there is a problem, a good company will repair or exchange their product.

These are a few companies that make good quality dome camping tents:

    ◦    Kelty
    ◦    Mountain Equipment Co-op (MEC)
    ◦    REI
---

Our tents

Here's the first tent I ever owned.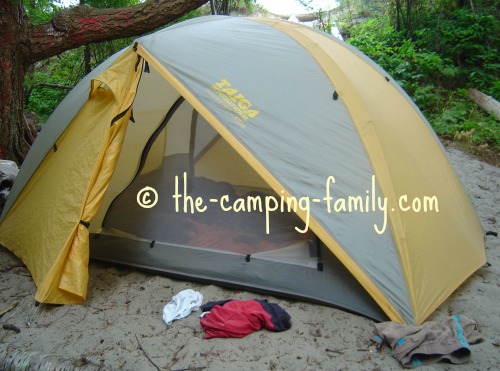 It's a light two person dome tent. I bought it when I was single, and used it for over 15 years, even after I was married and had a child. We fit two adults and a toddler in this tent easily.
When we finally outgrew it, it was still in excellent shape.
When we had a second child, we got this four person dome tent.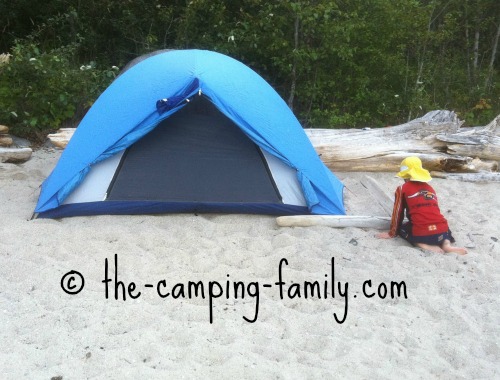 We've had many happy camping trips in this tent!

---

The bottom line

If you will be using your tent mainly for sleeping, I recommend a dome tent for its easy set-up and its stability.
---
Now that you know whether a dome camping tent is for you, click here to learn more about tents for camping.
Planning a camping trip? I can help! Visit The Camping Family home page to get started.