Search this site.

Backpacking Food Ideas

The best backpacking food ideas are light to carry, easy to prepare, delicious and filling. After a day on the trail, you don't want to spend much time and energy on cooking - but you want lots of food, and you want it to taste great!

Breakfast
Since breakfast needs to be hearty enough to fuel your day's adventures, we like to have a hot breakfast when backpacking. We cook dried cereal, like quinoa flakes or oatmeal, in water with dried fruit. We mix up some dry milk to pour on our cereal along with maple syrup.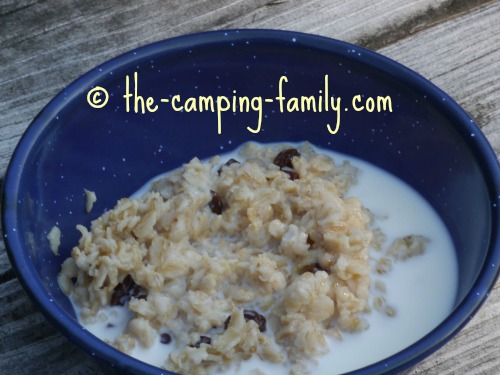 ---

Lunch
Since we're probably hiking at lunchtime, our midday meal can't need cooking or preparation. "Grab and go" is the lunchtime motto. Bagels with spreads like cream cheese or nut butter are quick and easy. So are canned sardines. (Be sure to have a ziploc bag handy for the empty cans!) Cheese, hardboiled eggs and nuts are all quick sources of energy.
---

Backpacking Food Ideas for Supper
The best backpacking food is light to carry (of course!) but also delicious and easy to prepare. Here are some of our favorite backpacking supper ideas.
Cheesy Mexican Chicken is delicious! Here's the recipe.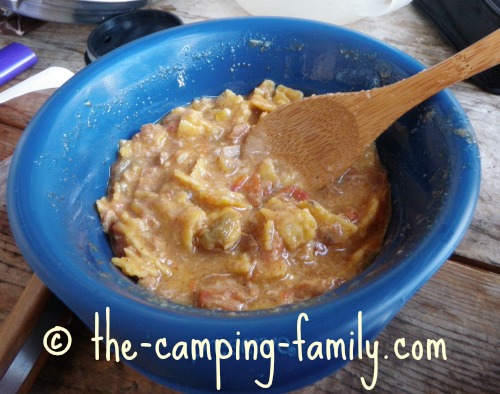 Chili is always popular!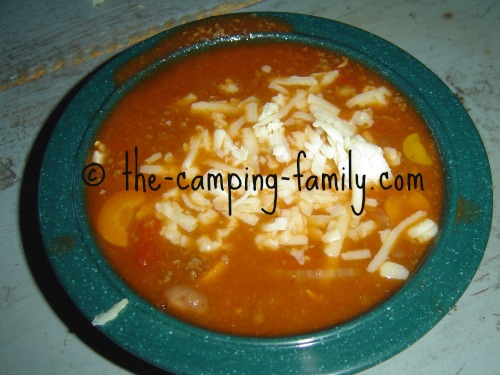 Click here for complete instructions on making backpacking chili - from dehydrating to packing to cooking.

Pasta is always a good choice for a hiking trip. Pesto in a tube is easy to pack and carry.

| | | |
| --- | --- | --- |
| | Don't have the time or the desire to dehydrate your own food? No problem! There are lots of prepackaged options. | |
This handy kit includes dehydrated carrots, potatoes, peas, tomatoes, celery, green beans, corn, cabbage, red & green peppers, onions, black beans, northern beans, lentils, red beans, and pinto beans.

Use these ingredients in your own favorite recipes.


Would you rather have a complete ready-to-rehydrate meal? This lasagna gets great reviews. Just add boiling water, wait 5 minutes, and enjoy authentic lasagna flavor. "The cheese even gets melty and stringy!" says one reviewer.


Dessert and Snacks

Trail mix

You can't go hiking without trail mix! Let each person make up their own bag.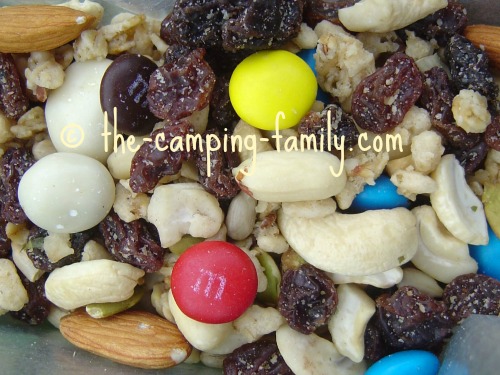 You'll find some great trail mix recipes and hints on this page.
Dried fruit and chocolate

Dried fruit and chocolate are staples on our hiking trips. At the end of a long day's hike, a plate of dried fruit and some squares of chocolate looks like dessert fit for royalty!

Chocolate pudding in a bag

This is our newest favorite dessert! Not only is it delicious and easy to transport, but it's fun to make, too!
Here's how to make it:
At home

Place these ingredients in a sturdy Ziploc bag:
the contents of a 3 oz. package of chocolate pudding
2/3 cup instant milk (not powdered milk)
Label the bag with these instructions:
Add 1 1/2 cups cold water.
Seal tightly.
Shake vigorously until pudding thickens. Knead to break up clumps.
Snip a corner from the bag. Squeeze pudding into bowls.
Pack the bag and a package of cookies. (Oreos work well!)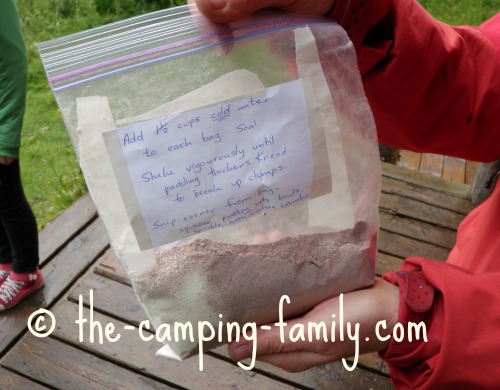 At camp

Just follow the instructions on the bag! Be sure to use cold water so that the pudding will thicken.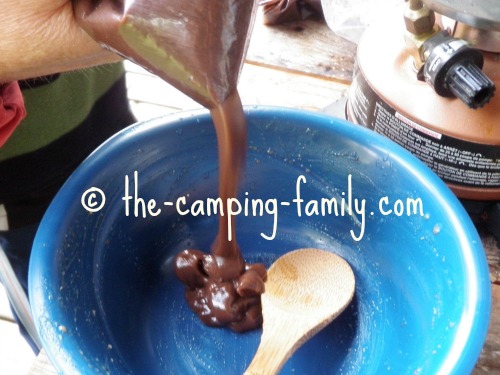 Crush the cookies and sprinkle them over the pudding.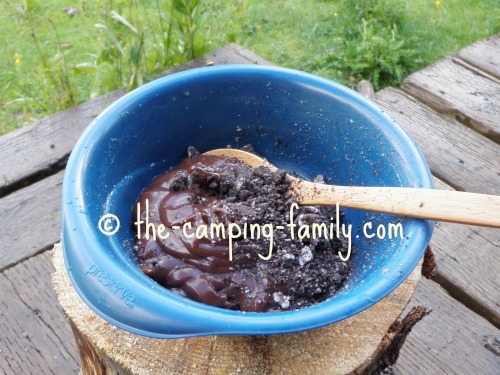 It is so good!
Now that you have some great backpacking food ideas, be sure to check out my page of backpacking tips to ensure that you have a successful trip!
Whether you are backpacking or car camping, you'll want to visit The Camping Family home page!