Search this site.

Dehydrated Chicken Recipe

Cheesy Mexican Chicken

Here's my favorite dehydrated chicken meal for backpacking. It's hearty, cheesy, and just spicy enough. My family loves it!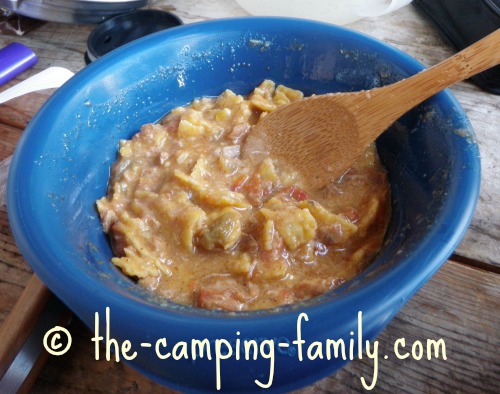 Be sure that you cook the chicken correctly before you dehydrate it!
My first time dehydrating chicken was not a success. I baked some boneless chicken breasts, chopped them up small, and dehydrated them until they were completely dry.
It looked fine, but when it was time to cook it, the chicken just never got tender. I cooked it for ages, and used up way too much fuel - but the chicken remained tough and chewy. We ate it, of course, because when you are backpacking you eat what you have - but I resolved never again to make dried chicken.

Since then, though, I have learned the secret!
How to make perfect dehydrated chicken

There are two ways to dry chicken so that it will rehydrate easily.

Method #1

Buy canned chicken or chicken in a foil pouch. Dehydrate on low for approximately 8 hours, or until the chicken is completely dry and crisp.

Method #2

Pressure cook the chicken before dehydrating it.

Now, I've owned a pressure cooker for years, but I used it mainly for cooking beans from scratch.

Once I learned how easy it is to pressure cook chicken, this became my method of choice for preparing dehydrated chicken.
Here are the complete instructions for pressure cooking chicken.
Once the chicken is cooked, you are ready to prepare your backpacking meal.

At home

What you need

1 lb/500 g cooked chicken
1 can (28 oz/796mL) diced tomatoes
1 can (8 oz/226 mL) green chilies
8 oz/226 g corn tortilla chips
1/4 cup/60 mL flour
2 tsp/10 mL chili powder
2 tsp/10 mL ground cumin
1/2 lb/250 g mozzarella cheese

What you do

Shred or dice the cooked chicken. 
Put the chicken, drained tomatoes and drained chilies in a large bowl and stir to mix.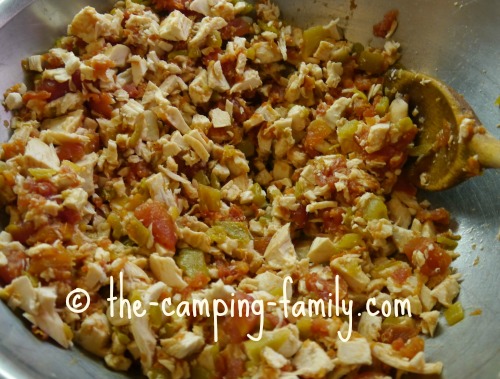 Place the chicken mixture on dehydrator trays. Spread it out evenly in a single layer.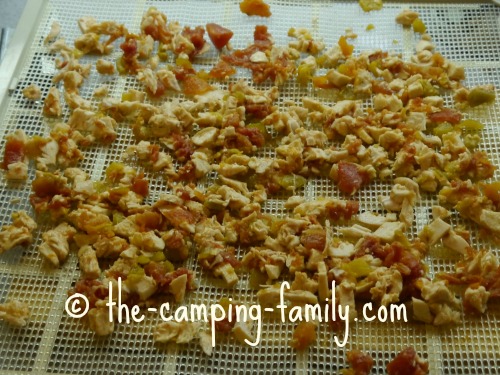 Put the trays into the dehydrator. Following the manufacturer's directions, dehydrate until all moisture has been removed.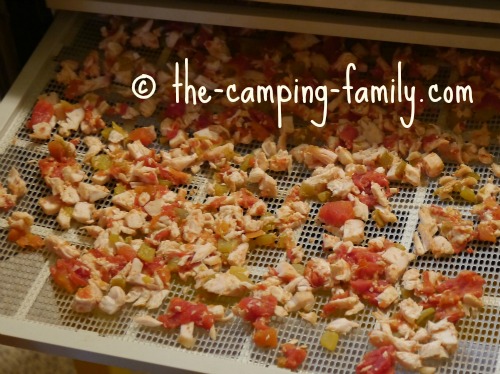 The chicken will be light, dry and crispy.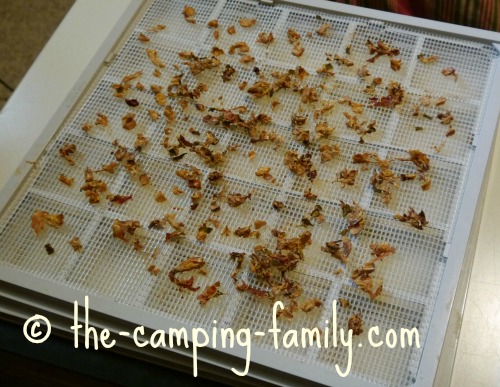 Package the chicken in a ziploc bag.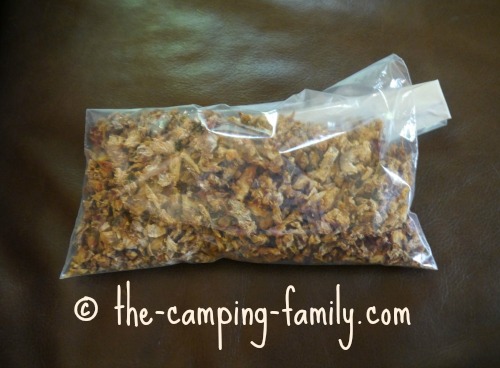 Pack the tortilla chips in a ziploc bag. Break them up so that they take up less room.
Combine the flour, chili powder and cumin in a snack-size ziploc bag.
At camp

What you do
Put 4 cups/1 L water and the chicken mixture into a pot. Bring to a boil.

Reduce heat and simmer until the chicken is tender. (This will take at least 10 minutes, and maybe longer.)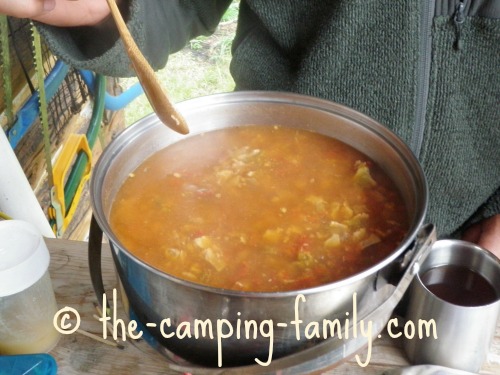 Meanwhile, cut the cheese into small cubes.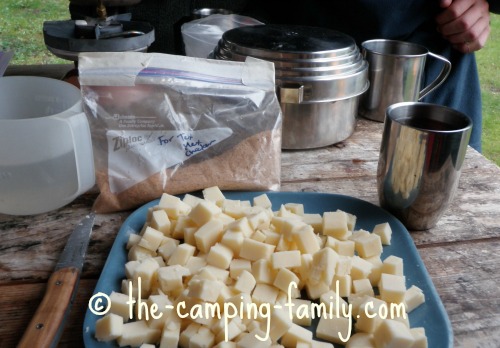 When the chicken is tender, add the cheese cubes and the spice mixture to the pot. Cook and stir for a few minutes, until the sauce thickens.
Spoon into bowls. Top each bowl with a handful of crushed tortilla chips, and enjoy!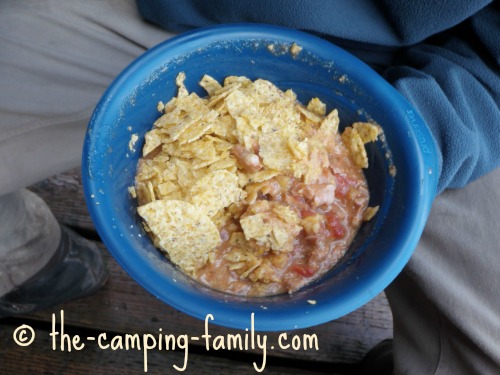 ---
Thinking about buying a dehydrator? This one gets great reviews! It's quiet, easy to use and easy to clean, and even has a 10 year warranty!

---
Now that you know all about making this delicious dehydrated chicken meal, check out some more great backpacking food ideas.
Before you start packing, be sure to visit The Camping Family home page. You'll find lots of useful camping tips.