Search this site.

Marshmallow Roasting Sticks

Marshmallow roasting sticks are essential campfire accessories!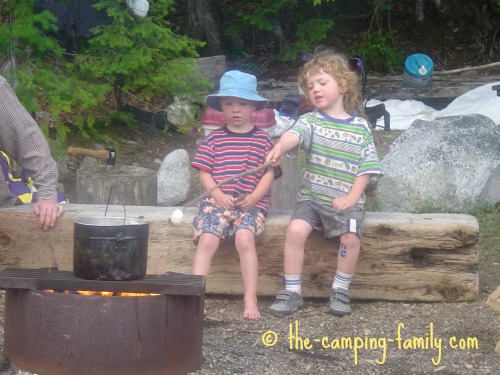 There are many types of sticks. They will all do the job.

I like to find a stick at the campground. If you do, too, here are some tips:
Start looking early in the day. If you wait until it's too dark to see, you'll have a hard time finding the perfect stick. 
Don't damage a living tree. Look for sticks on the ground.
Carefully whittle away at the end to make a sharpish point.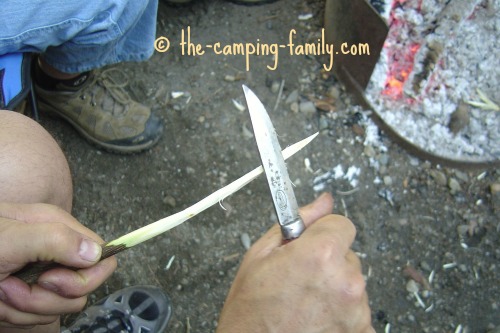 But what if there are no suitable sticks on the ground?
Good point. Especially in busy developed campgrounds, there may be no sticks.
Many public and private campgrounds even have rules prohibiting you from gathering sticks.

For those reasons, it's a good idea to bring your own marshmallow roasting sticks from home.


You can either make your own sticks, or buy them.
---

Homemade marshmallow roasting sticks

A stick from the ground

Perhaps there are suitable sticks in your own backyard!
Choose one that is about 30 inches/76 cm long.
Make sure that it is sturdy enough to do the job.
Sharpen the end.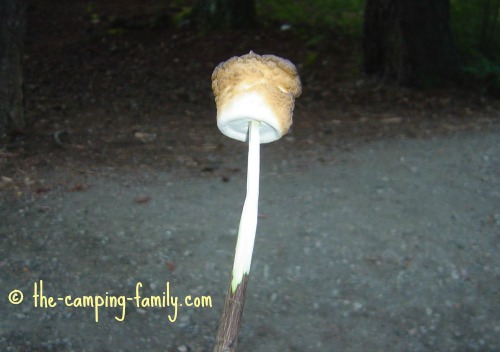 A metal coat hanger
Take a metal coat hanger and straighten it out.
This is what we used when I was a kid. It has its drawbacks, though.
It's hard to get the wire perfectly straight

. This makes it

difficult to direct the marshmallow.
The wire is slippery and hard to hold.
 I don't recommend using a coat hanger!


How about a partly-homemade stick?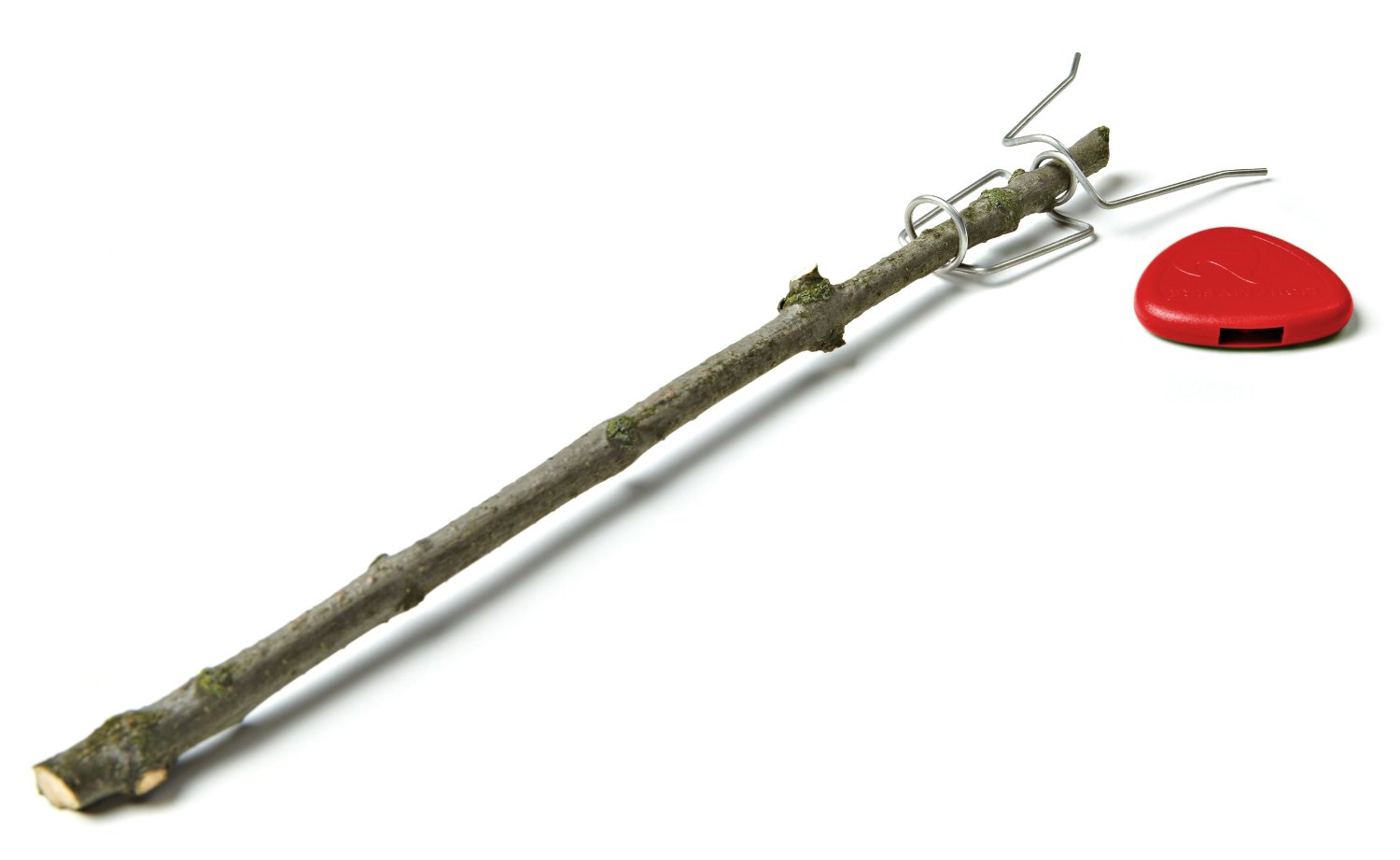 This neat device attaches to the end of a stick and lets you hold two marshmallows or one hot dog securely. It's much smaller and easier to pack than a full-sized marshmallow stick!
---

Purchased marshmallow roasting sticks

Take a quick look online, or at a camping store, and you'll be amazed by the number of types of roasting sticks!
You can spend a lot of money if you want to, but you certainly don't need to.
You can choose wood or metal sticks.
---

Wood
Advantages


Plain wood is the most economical option. You can buy a lovely set very cheaply.

Wood is durable (except for the obvious drawback that it can burn!) If you are careful, wooden sticks can last a long time.

Some sticks on the market come from well-managed, sustainable forests.

Wood feels nice in the hands, and your hands will stay cool.

Disadvantages


If you leave wood sticks in the fire for too long, they will burn!

Tips

Look for sticks with a blunted end: sharp enough to pierce a hot dog or marshmallow, but not sharp enough to injure anyone.

Soak the stick in water for a while before you use it to reduce the chance of burning it.







---

Metal






Advantages


Metal sticks won't burn in the fire.

Depending on the brand, they can be quite sturdy.

Disadvantage


These have the same disadvantage as the wire coat hangers we used when I was young: the handles can get hot!

Tips

If you use this type, wear oven mitts or a fireplace mitt.



---

Essential Features

No matter what type of marshmallow roasting stick you decide to buy, these features will make your campfire more enjoyable:

a wooden handle
If you choose a metal stick, get one with a wooden handle.
It will be easier to grip than plain metal, and won't get hot enough to burn your hands.

Some models have handles that are contoured and ridged, making them easy to grip.

a length of at least 30 inches/76 cm 
This will keep you a safe and comfortable distance from the fire.
This is especially important for children!


a telescoping stick
This solves the problem of how to transport a long, bulky stick.
You'll be less likely to lose the stick between camping seasons if it's stored neatly in a drawer or in a camping tub - rather than propped against the wall in the back of the garage! (That's what always happened to our long sticks, anyway!)


double tines

With two pokey things instead of one, the fork holds your marshmallow or hot dog firmly, reducing the risk that it will drop into the fire.
Look for a well-made fork, though; on some cheaper models, the weld that holds the tines to the stick breaks easily.
I found one!


Here's a marshmallow roasting stick that has all of those features.

It even has a thumb roller that lets you rotate your marshmallow without turning your wrist!

It's very reasonably priced, and it gets great reviews.






---

Novelty Items

You used to be able to buy electric sticks that would rotate your marshmallow for you! I guess they didn't work very well, because they are no longer available.
Ditto for the Mallow Master, which was supposed to automatically tell you when your marshmallow is ready! (Every review I could find said that it didn't really work.)
You can get a set of sticks with color coded handles so you can tell whose stick is whose. (But does it really matter whose is whose?)
I think that this "Marshmallow Tree" is beautiful!

It isn't practical for camping unless you have an unusual amount of storage space - but it would be perfect to use in the backyard.

I think this would make a great gift for the person who has everything.


It gets great reviews!



---

The bottom line

A homemade marshmallow roaster works perfectly well, if you can find a suitable stick to use.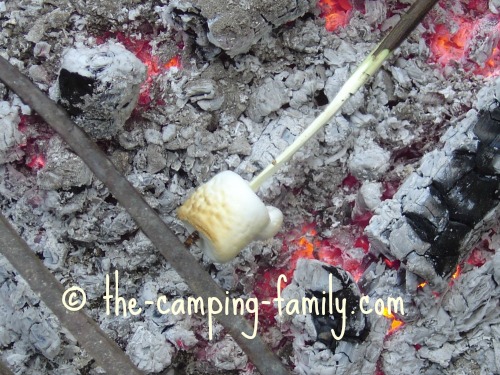 If you decide to buy a marshmallow stick, look for one with a wooden handle and sturdy tines that will hold the marshmallow securely. Make sure that it is at least 30 inches/76 cm long.

Don't waste your money on any of the fancy gadgets. Holding the stick, turning it by hand, and deciding when the marshmallow is perfectly done are important parts of the experience!

If you don't agree, don't worry. There's bound to be someone around the campfire who loves roasting marshmallows and will be happy to cook yours for you!
Now that you know all about marshmallow roasting sticks, click here to learn more about campfire cooking, campfire songs and campfire stories.
Before you plan your next family camping trip, be sure to visit The Camping Family home page. You'll find lots of helpful information!