Search this site.

Camping Menu

Weekend
Here's a ready-made camping menu of easy and tasty meals for your next weekend camping trip.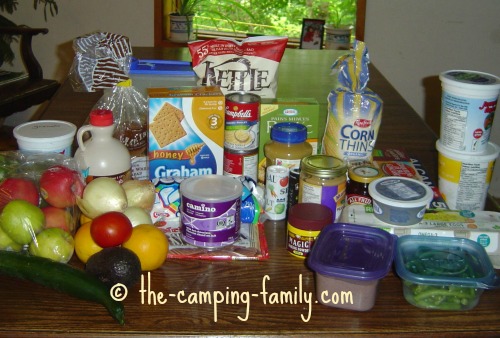 Follow this meal plan exactly - or modify it to suit your family's preferences.
---

 Meal planning tips


Bring lots!

Everyone eats a lot when they are out in the fresh air. Bring more food than you think you'll need. You can always take the leftovers home.
Choosing healthy, homemade foods rather than calorie-packed convenience items means that you can eat heartily and feel good at the same time!


Think ahead

If your meals are carefully planned, your trip will go smoothly. Here are some things to keep in mind.

First night at camp

You'll be busy setting up camp - and everyone will be hungry. 
Plan to have a cold meal so that you don't have to fire up the stove or build a fire.

Breakfasts
Breakfasts need to be hearty enough to fuel the morning's adventures. My family tends to eat more for breakfast when we are camping than we do at home. Plan something substantial - like Pumpkin Pancakes or French Toast.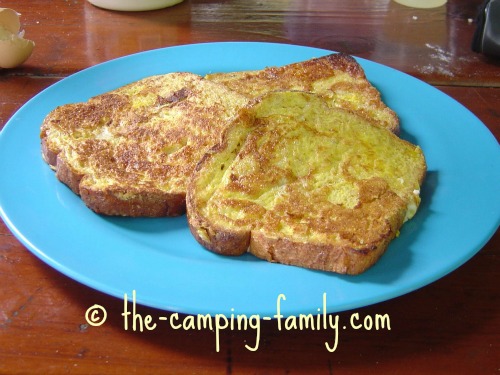 Your last day

By noon, you'll probably be thinking about packing up - but you'll want to make the most of your last hours. You won't want to spend them at the stove!

Serve a big breakfast, and for lunch set out an assortment of "serve yourself" foods on the picnic table.

Arriving home
Be sure to make a plan about what you'll eat for supper when you get home. Make sure that all the ingredients are in the house before you set off on your trip.

---

Camping Menu

Here's a camping menu that covers all of those bases! The recipes in bold are in Good Camping Food.

        Breakfast

        Lunch

        Supper

Fri

(at home)

cereal with milk and sliced bananas

juice

  


   

Oven-Fried Chicken Legs
Quinoa Salad
cherry tomatoes
snap peas
Banana Snack Cake

Sat

Fancy Scrambled Eggs
Blueberry Muffins
orange slices


Chili
Corn Muffins
Skillet Bananas

Sun

Pumpkin Pancakes

breakfast sausages

juice


bagels
cream cheese
cucumber slices

Hummus
Avocado Boats

hard-boiled eggs

leftovers

---
Snacks
for the weekend


           

apples
oranges

grapes

Granola Bars

Slice and Bake Cookies
potato chips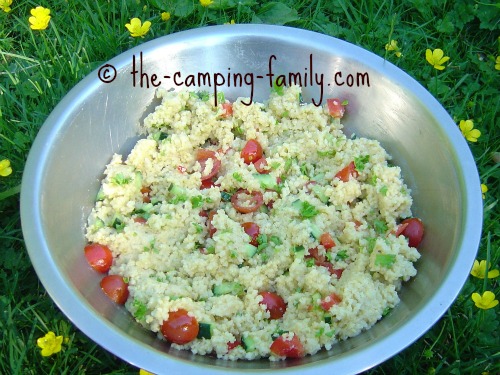 ---

Packing List


In the vehicle

sandwiches
water (or your favorite drinks)


In the food box

mix for pancakes: 2 cups flour + 2 tsp baking powder + 1 tsp baking soda + 1 tsp cinnamon (multiply as needed)

canned pumpkin
Banana Snack Cake

Blueberry Muffins

Corn Muffins
Slice and Bake Cookies
Trail Mix
potato chips
macaroni or rotini

canned tuna

turmeric and/or curry powder

eggs

bananas

cinnamon

bagels

salt and pepper


In the cooler
Oven-Fried Chicken Legs

Quinoa Salad

Chili

(frozen)



Hummus

breakfast sausages (frozen)

tomatoes

avocados

cherry tomatoes

snap peas

cucumber
apples
grapes
oranges

bottled lime juice

mayonnaise

can of frozen orange juice concentrate
frozen peas

maple syrup

tetra packs of juice (one cold, and the rest frozen)

cream cheese

milk

butter


For even more help with your menu planning, check out Good Camping Food.

Are you planning a longer trip? Here's a menu for a week-long camping vacation.
Now that you have a good weekend camping menu, visit this page for even more easy camping food ideas.
Before you start packing, be sure to visit The Camping Family home page. You'll find lots of helpful ideas for making your trip a success.