Search this site.

Salmon Patties Recipe

This easy salmon patties recipe is a great camping meal. It uses easy-to-pack ingredients, cooks nicely in a skillet on a camping stove, and is easy to make.

We like to eat these with a green salad and boiled potatoes. (Little nugget potatoes would be even better!)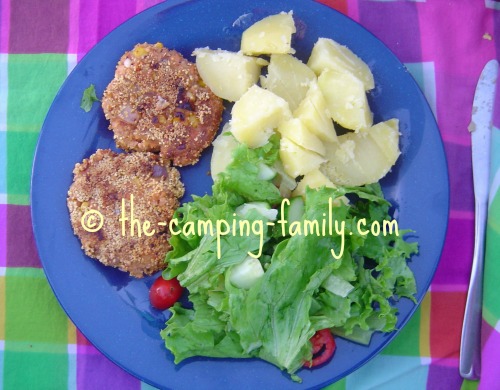 This is a good recipe for the end of your camping vacation, when you've used up all the fresh ingredients and are relying on your canned goods.

What to pack

Food
In the food box

2 cans (each 6 oz/184 g) salmon
1 can corn

bread crumbs
cornmeal
salt
pepper
vegetable oil

In the cooler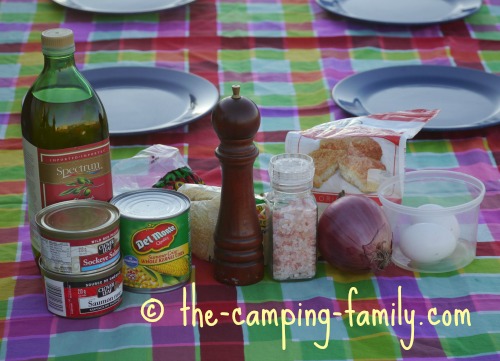 Pots and utensils

can opener
large bowl
shallow bowl
small bowl

fork
measuring cups (1/4 cup and 1/2 cup)
measuring spoons (tablespoon, teaspoon)
cutting board
sharp knife
skillet


How to make salmon patties

Open the cans of salmon and drain off the liquid.
Open the can of corn. Drain that liquid too. Measure out about 1/2 cup/125 mL of the corn. Save the rest for another day.

Mince some red onion. You'll need about 1/4 cup/60 mL.
Break 2 eggs and beat them lightly in a small bowl.

With a fork, flake the salmon into a large bowl. Use a fork to mash any visible bones.

Add the beaten eggs, 1/2 cup/125 mL bread crumbs, the corn, the minced onion, 2 Tbsp/30 mL cornmeal, and salt and pepper to taste. Mix well.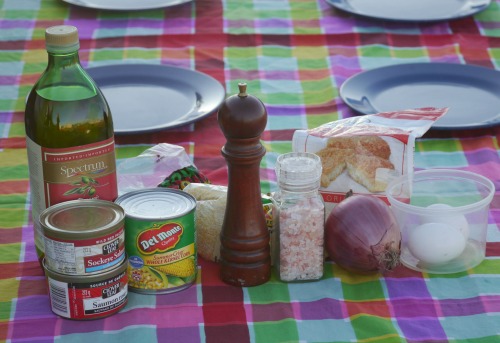 Using your hands, form patties, using about 1/3 cup/80 mL per patty. Set the patties aside on a plate.

Put 1/2 cup/125 mL bread crumbs into a shallow bowl.

Preheat a large skillet. Add about 2 tsp/10 mL of vegetable oil to the skillet.

Dip each patty into the crumbs, turning it to coat both sides, and place it into the skillet.

Cook a few minutes on each side, until browned.

Substitutions
You can use frozen corn instead of canned corn.
I've never tried making these with tuna fish instead of salmon, but I'm guessing that they would be really good!
You can use any variety of onion in place of the red onion.


Tips for making this salmon patties recipe

You might want to make these at home, in the comfort of your kitchen. Cook them and chill them, and keep them chilled in your cooler. At camp, just warm the patties in a skillet.
Don't worry about exact measurements. Feel free to leave your measuring cups and spoons at home, and just estimate. As long as the patties hold together, you can't go wrong!

We like to eat these with tartar sauce. Here's an easy recipe.
---
If you liked this easy salmon patties recipe, be sure to check out more of my easy camping recipes! I have lots!
Before you start packing for your next camping trip, please stop in at The Camping Family home page. You'll find lots of help for making your vacation the best one ever!