Search this site.

Easy Ground Beef
And Potatoes Recipe

Delight your family with this delicious ground beef and potatoes meal that takes almost no time at all!
It's a full meal on its own - but if you have a bit more time, throw together a quick green salad for a colorful complement.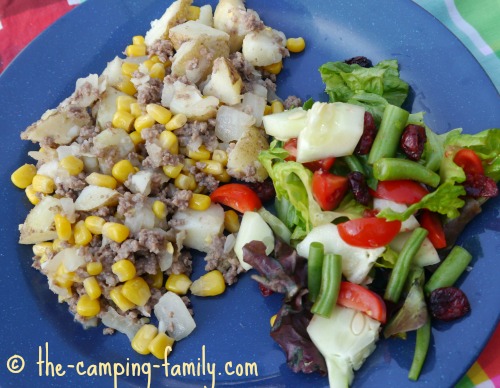 We call this hamburger and potatoes meal "Honeymoon Delight" because we invented it on the camping trip we took after we got married.
We'd been eating all sorts of creative things, but one night we both craved good old meat and potatoes.
We fried up some ground beef, boiled some potatoes and added them to the skillet, and dumped in a can of corn. It was delicious!
Honeymoon Delight has become one of our favorite easy camping meals.
Here are the guys eating it in a municipal park. We were on a camping road trip, and had stopped for a quick supper en route to our next stop. Since we had leftover potatoes in the camping fridge, it took no time at all to fire up the camping stove and make this tasty meal.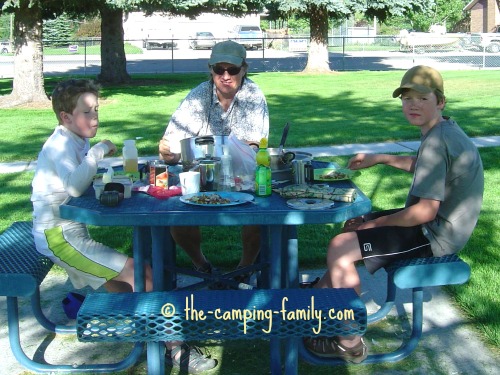 This isn't a gourmet meal, but when you are camping, the simplest meals taste great. Everyone in my family likes it - especially if I remember to pack the ketchup.
Make this recipe your own.

If you want to get fancy, add some spices to the ground beef and potatoes. Thyme, oregano, parsley or tarragon would all work well.
Or you could add a squirt of Worcestershire sauce. Add salt and pepper to taste, too. You could dice up an onion and throw it in the skillet with the ground beef.
---

At home

What to pack
Food
In the food box
canned corn
spices (optional)
salt and pepper


In the cooler

ground beef
onion (optional)
potatoes
ketchup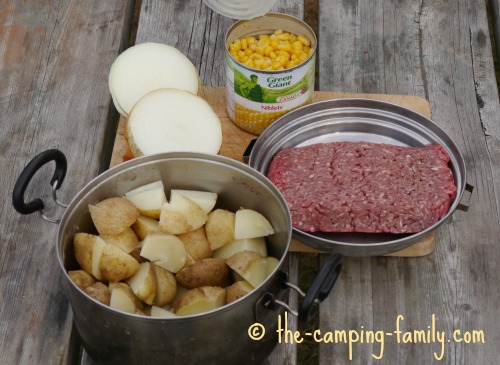 Pots and utensils

skillets
saucepan
can opener
wooden spoon
cutting board
sharp knife


How to make Ground Beef and Potatoes at camp

Scrub or peel the potatoes. Cut them into quarters. Boil until they are tender but not mushy.
Dice the onion. Put it and the ground beef in the skillet.
Cook, stirring to break up the meat, until the onions are tender and the beef is no longer pink. Drain any fat.
Slice the potatoes into the skillet.
Open the can of corn. Pour off the liquid and add the corn to the skillet.
Cook and stir until everything is heated through.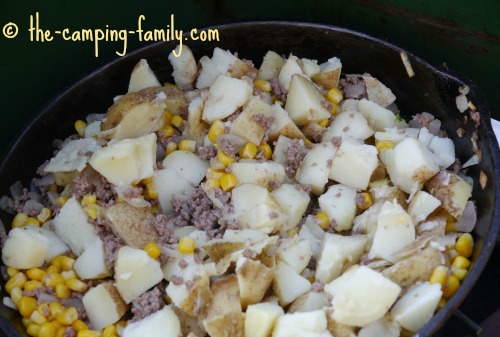 Substitutions

Ground chicken or pork would work just as well as beef.
You could even use a "just like beef" soy product.
Frozen corn can be substituted for canned.


Time Saving Tips
Sometimes I cook the ground beef and onions and and the potatoes at home and keep them cold in the cooler. When I need a fast meal, I just dump everything in a skillet and heat it.


---
If you enjoy this ground beef and potatoes meal, check out some more of my easy camping recipes!
Be sure to visit The Camping Family home page for lots of hints to make your next camping trip a success.