Search this site.

Dutch Oven Cooking Recipes:

Ham and Cheese Gratin

Looking for easy Dutch oven cooking recipes for your next camping trip?
Ham and Cheese Gratin is simple and delicious.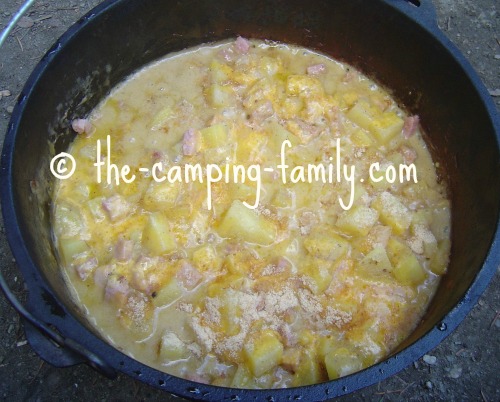 This was one of the very first Dutch oven campfire recipes I tried. I was still learning about how to cook in a cast iron Dutch oven over the campfire, and I wanted a recipe that couldn't fail.
I was delighted when it turned out perfectly! Every member of the family devoured the meal and asked for more.
This is perfect dish to make when you are first learning to use a Dutch oven. Since ham is precooked, it just needs to be warmed. When the potatoes are ready, you know that your meal is ready to eat.

You can do some of the prep work at home, as described below, or you can just bring everything to camp and do the chopping at your campsite.


---

At home


To do

Dice and package 1

onion

.
Cube and package some

cooked ham

. You'll need 2 cups.
Grate and package 1 cup

Cheddar cheese

.


To pack


Food
In food box

In cooler


Pots and utensils

---

At camp


Get ready
Build a campfire and let it burn down to coals.
Meanwhile, dice the 4 potatoes. 
If you didn't prepare the rest of the ingredients at home, do that now.
Put the lid on the Dutch oven, place it in the coals and heat it to medium.

Get cooking

Remove the Dutch oven from the fire.
Put a couple of tablespoons of butter in the Dutch oven and let it melt.
Add the diced onion and stir.
Put the oven back in the fire. Cook and stir. 
When the onions are translucent, take the oven off the fire. Add 3 Tbsp/45 mL flour and some salt and pepper to taste.
Gradually add 2 cups/500 mL milk. Put the oven on the fire.
Cook and stir until the sauce has thickened.
Add 2 cups diced ham and the diced potatoes. Stir.
Cook and stir until the potatoes are almost as soft as you like them.
Sprinkle 1 cup/250 mL grated cheese and 1/4 cup/60 mL breadcrumbs over top.
Cook until the potatoes are soft, and the cheese has melted.
---

Tips
When it's time to stir the ingredients, take the oven out of the fire and set it on the ground. Those coals are hot!
Next time I will make a double batch! I think that the leftovers would be tasty reheated for lunch the next day - but we didn't have any leftovers!
For a complete meal, serve with some raw veggies.
---
Do you know any good Dutch oven cooking recipes?

What's your favorite Dutch oven recipe?
Is it a dessert? A main dish? I'd love to try it!
Dutch oven campfire cooking is fun! I hope you enjoy it as much as I do!
I have lots more easy Dutch oven cooking recipes that I want to try. I'll let you know how they turn out!
Now that you have one of the easiest Dutch oven cooking recipes ever, click this page to browse through more easy camping recipes.
Before you start packing for your next trip, visit The Camping Family home page. You'll find lots of helpful information.