Search this site.

How To Make French Toast

Knowing how to make French toast is an important camping skill!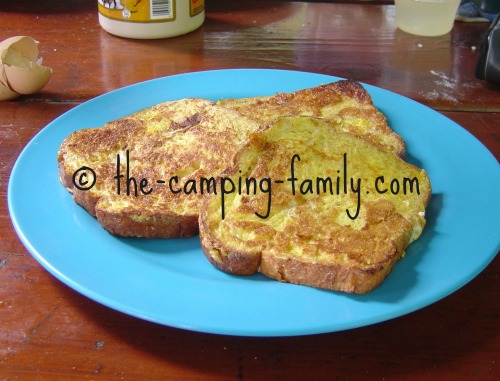 What makes French toast the perfect camping breakfast?

It's quick and easy to make.
It's made with simple ingredients that are easy to pack.
Here is a basic French toast recipe. You can get fancy if you want to and add vanilla, cinnamon or even flavored liqueur - but you certainly don't need to! Simple is best when camping - and everything tastes great when you eat it out of doors!
---

Tips

Pack the bread carefully.

A loaf of plain white or whole wheat bread works fine - but be sure to pack it carefully so that it doesn't get squished. A good loaf of French bread is sturdier and less squishable.


Don't stress about measurements.

After you have made this once or twice, you won't need to measure the milk. Just pour it in until it looks "right".
Once you know how to make French toast, you won't even need a recipe.


Top with your favorite toppings.

Here are some suggestions:

Make as much as you need.

This French toast recipe makes about 4 pieces. Multiply the recipe to serve your crowd. Remember - everyone eats lots when you are camping!

---

What to pack


Food
In food box

In cooler


Pots and utensils

1/4 cup/60 mL measuring cup
---

At camp

Heat the skillet over medium heat.
Add a bit of oil to the skillet.
Break 2 eggs into the shallow pan.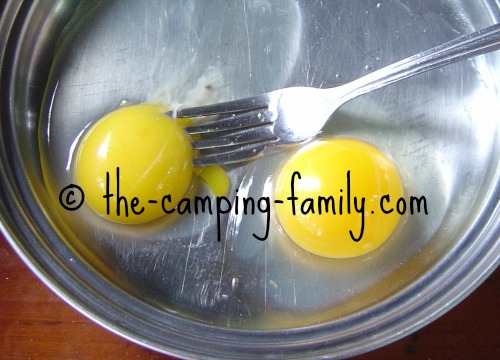 Add 1/4 cup/60 mL milk.
Stir with a fork to break up the yolk and to mix the eggs and milk together.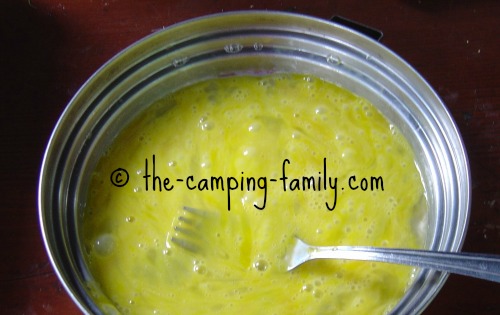 Place a piece of bread in the pan. Let it sit for a moment to soak up the liquid.

Turn the bread over and soak the other side. Don't let it get too soggy, though, or it will break when you try to pick it up!

Using a fork, transfer the soaked bread to the hot skillet.
Cook for a couple of minutes, until the underside is golden brown and the egg coating is firm.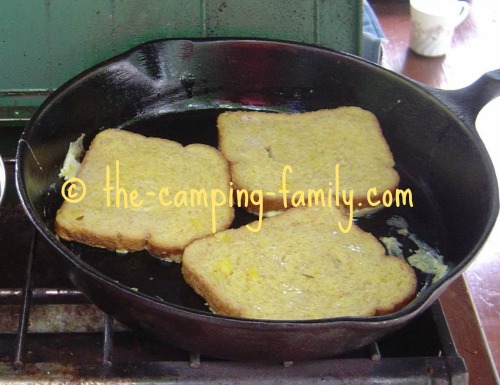 Flip the bread and cook the other side.



Spread with your choice of toppings.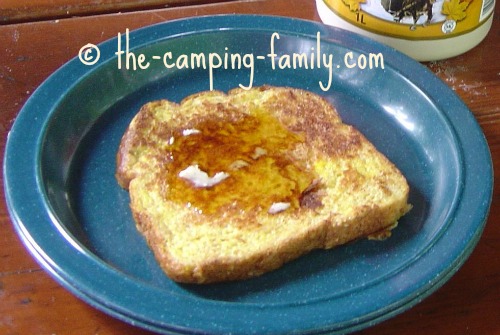 Eat immediately, while it's still hot.
---
Now that you know how to make French toast, check out the rest of my camping breakfast recipes!

Before you start packing for your next camping trip, be sure to check out The Camping Family home page. It will lead you to all of the information you need!