Search this site.

Easy Baked Beans Recipe

This easy baked beans recipe is just the thing for a quick and tasty camping meal!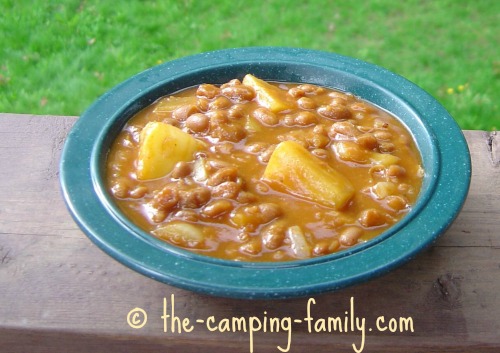 I love baked beans. I like to make my own, from scratch - but when I am camping I want quick and easy meal options. Fortunately, canned baked beans are pretty tasty! Adding a few additional ingredients makes them taste extra special.

This easy baked beans recipe makes enough for a side dish for four people. It is easily doubled, to serve more people or to make it a main dish.

Served on toast, these beans make a nice lunch - especially on a cool or rainy day.
Feeling ambitious? Here's the recipe I use to make baked beans from scratch.


At home

What to pack

Food

In food box
2 cans baked beans
1 can pineapple chunks
vegetable oil
In cooler
1 large onion
prepared mustard
ketchup

Pots and utensils

cutting board
sharp knife
can opener
1 pot
wooden spoon (or your favorite stirring spoon)

At camp

Heat 1 tsp/5 mL oil in a pot.
Sauté the onion until it's soft.
Add the beans to the pot.
Pour off most of the pineapple juice. Add the pineapple chunks (and a bit of its juice) to the pot.
Add 1 Tbsp/15 mL prepared mustard and 1 Tbsp/15 mL ketchup to the pot.
Heat gently, stirring occasionally, until heated through.
Make this recipe your own!

Now that you have the idea, add your own great ideas. What else could you add to make these beans unique?
How about a bit of brown sugar or maple syrup? 
Some Worcestershire sauce?

You could even cook up a few slices of bacon and add them to the mix.
---

Need more easy camping recipes?

I have lots!

Now that you have an easy Baked Beans recipe, visit my Easy Camping Recipes page for lots more camping food ideas.
There's more to a camping trip than the food! For help with every aspect of your trip, visit The Camping Family home page.