Search this site.

Camping Meal Ideas

One-Pot Macaroni with Tuna and Veggies

The best camping meal ideas have a few things in common:
you can do some of the preparation at home
meal prep at camp is quick and easy
you don't need many pots or utensils
the ingredients are nutritious
One-Pot Macaroni with Tuna and Veggies fills the bill!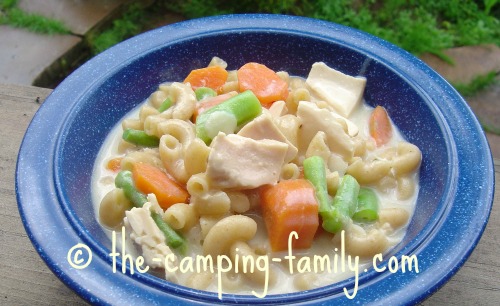 There is so much to like about this recipe!

Since you carefully measure the water and the pasta, you don't even have to drain the pasta.
This makes 4 smallish servings. The recipe is easily doubled.
---

At home


Prepare the ingredients

grate and package 2 cups/500 mL Cheddar cheese
measure and package 2 cups/500 mL uncooked elbow macaroni

Pack

Food

In the food box

2 vegetable bouillon cubes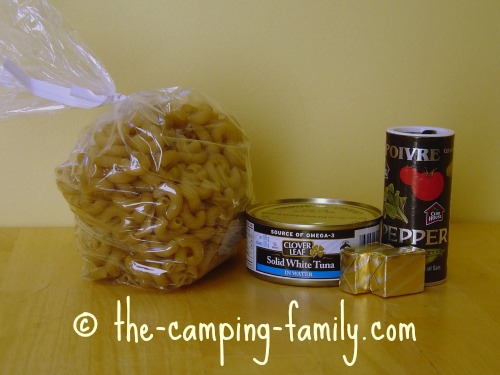 In the cooler

the package of grated cheese


Pots and utensils

a 2 cup/500 mL measuring cup
a vegetable peeler (optional)
---

At camp

Measure 2 1/2 cups/625 mL water into the saucepan.
Add the 2 bouillon cubes.
Open and drain the can of tuna.
When the water boils, add the 2 cups/500 mL macaroni.
Bring back to a boil, stirring.
Lower the heat to medium and cook for about 5 minutes, stirring occasionally.
Meanwhile, wash and chop some carrots and beans. (Peel the carrots if you like.) You'll need 2 cups/500 mL of chopped veggies in total.
Add to the pot 1 cup/250 mL milk, the chopped vegetables and about 1/4 tsp/1 mL pepper.
Continue cooking until the pasta is tender and the vegetables are as soft as you like.
Add the 2 cups/500 mL grated cheese and the 1 can tuna.
Stir until the cheese is melted.

Tips
Like all good camping meal ideas, this can be modified to suit your family's preferences.
Use whatever vegetables you like - as long as you cut them into smallish pieces. How about trying broccoli, peas or asparagus?
You can leave out the bouillon cubes if you want. The meal will be less flavorful, but still tasty.
Use frozen or canned veggies instead of fresh.
If you'd rather make the pasta the usual way (using lots of water, boiling the pasta until tender and then pouring off the water), you can do that too! Look for a collapsible colander that takes almost no room to pack.

---
Now that you know one of my favorite camping meal ideas, click here for lots more easy camping recipes.
Before you start packing for your next trip, be sure to visit The Camping Family home page. You'll find lots of helpful information to make your vacation a success!