Search this site.

Lentil Salad Recipe

One Of The Best Camping Recipes I Know

This lentil salad recipe makes a perfect camping meal. You do all the prep work at home, so at camp there is nothing to do but enjoy!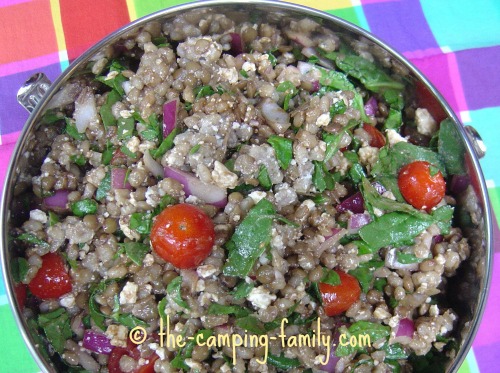 This salad is substantial enough to be a main course. It's a perfect entrée on a hot day.
It also makes a lovely side dish.
This recipe makes enough for 4 main dish servings. It's easily halved or multiplied.

Of course, this lentil salad recipe is not just for camping! It's a delicious summer meal to eat at home or at the cottage, or to take to a potluck.
This recipe his comes from one of my newest favorite cookbooks, Spilling the Beans by Julie Van Rosendaal and Sue Duncan.

It's filled with great recipes!

---

Making the lentil salad recipe at home

In a large pot, put
1 cup/250 mL dry green lentils
1 cup/250 mL pearl barley or pot barley

Add water to cover by a couple of inches.
Bring to a boil.
Reduce heat.

Simmer vigorously until the lentils and barley are tender (about 45 minutes).

Drain well and set aside to cool.

In the meantime, prepare
2 cups/500 mL cherry tomatoes, halved
2 cups/500 mL fresh spinach, chopped
1 cup/250 mL feta cheese, crumbled
1 small red onion, finely chopped

Get out a large bowl.
Put the cooled lentils and barley in the bowl.
Add the tomatoes, spinach, feta and onion.
Stir gently.
Grind some pepper over it all.

In a small jar with a tight-fitting lid, mix
1/4 cup/60 mL balsamic vinegar

Shake vigorously to mix.
Pour the dressing over the salad and toss gently.
Refrigerate.

Put the salad in a bowl with a tightly-fitting lid.
Place in the cooler.


| | | | | |
| --- | --- | --- | --- | --- |
| | | | Be sure to use real maple syrup in this recipe - not "pancake syrup" or artificial maple syrup. If you can't find maple syrup, use honey. | |
---

At camp


Eat this salad during the first few days of your camping trip.
Be creative!

Feel free to substitute your favorite ingredients. Here are some ideas to get you started.
Try using parsley or Swiss chard instead of the spinach. 
Use green onions instead of the red onion. 
Substitute lemon juice for the balsamic vinegar. 
Don't have maple syrup? Use honey instead.
Use your imagination!
---
I have lots of other great camping food ideas, too!
Click here to go to The Camping Family home page.