Search this site.

Coconut Chicken Recipe

This Thai Coconut Chicken Recipe is one of my favorite easy one pot camping meals.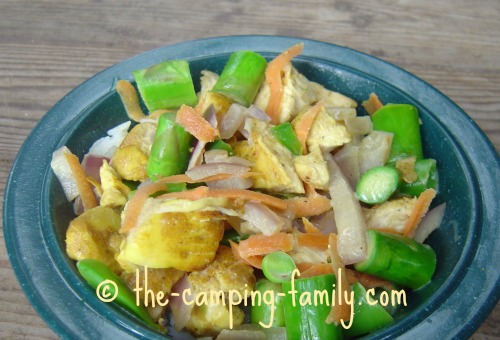 There are lots of reasons why it is the ideal camping recipe:
It uses nutritious ingredients that are easy to pack.
It can be cooked on a two-burner stove.
This recipe makes 4 smallish servings. To serve more people - or big eaters - double the recipe. (It doubles easily.)
---
What to pack

Food
In the food box

jasmine rice
curry powder
vegetable oil
1 can coconut milk
In the cooler

boneless chicken breasts (2) - frozen
asparagus spears (6)
red onion (1)
large carrot (1)
snow peas (1 cup/250 mL)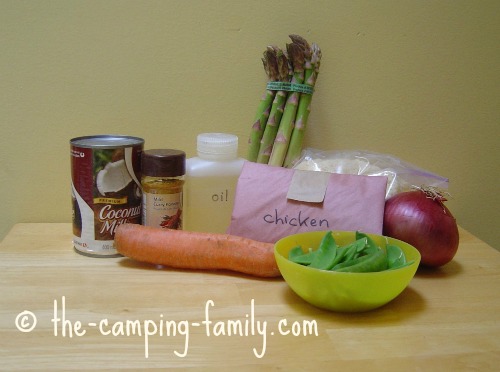 Pots and Utensils

saucepan with tight fitting lid
large skillet or another pot
cutting board
sharp knife
measuring cup (1 cup/250 mL)
measuring spoon (1 Tbsp/15 mL)
plastic baggie
vegetable peeler
can opener
wooden spoon (or your favorite mixing spoon)
serving spoons
How to make this Coconut Chicken recipe

Put the rice on to cook. (Put 2 cups rice and 3 cups of water in the saucepan. Cover. Bring to a boil. Lower heat. Simmer for 20 minutes, or until rice is cooked.)
Cut

the chicken into 1 inch/2 cm cubes. 
Put 1 Tbsp/15 mL curry powder into the

baggie

. 
Add

the

chicken cubes. Shake

until they are coated with curry powder.
While the rice simmers,

heat

1 Tbsp/15 ml of oil in the skillet.

Add the chicken cubes

to the skillet. 
Cook

until the chicken is no longer pink (about 5 minutes or so).
Chop

the asparagus into 1 inch/2 cm pieces.
Use the vegetable peeler to turn the carrot into little

strips

.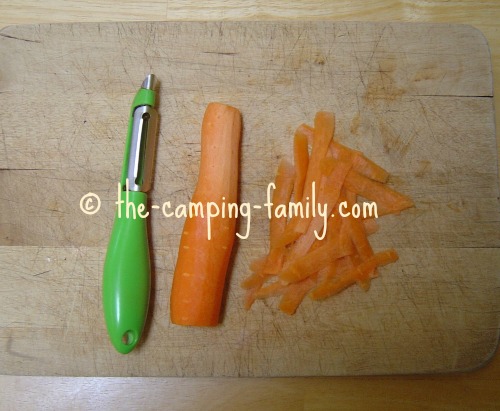 Cook

for about 3 minutes.
Open

the can of coconut milk. Pour it into the skillet. Cook until heated through.
When the

rice

is ready, spoon it into individual

bowls

.
Top with the chicken

mixture.
Tips
Next time there is a good sale on boneless chicken breasts, buy lots. Freeze them in packages of 2. When you pack for your camping trip, put a

package of

frozen chicken in your cooler with lots of ice.
Plan to have this coconut chicken recipe on the second or third day of your trip, when the chicken has thawed but is still cold.
---
I hope you enjoy this easy Thai Coconut Chicken recipe! For more tasty camping food ideas, click here.
Are you planning a camping trip? Please visit the The Camping Family home page. You'll find lots of helpful ideas.