Search this site.

Hamburger And Rice Meal

Mexican Skillet Supper

My mom used to make this hamburger and rice meal when she wanted a quick supper. When I left home, this was one of the cards from her recipe box that I made sure to copy.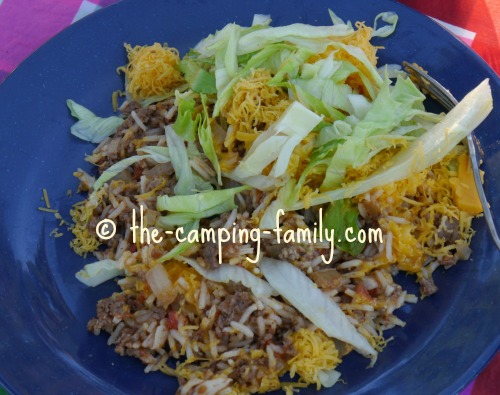 This is a perennial favorite in my family. Even my pickiest eater has always enjoyed this meal.
If you have some rice left over from last night's supper, this is an extremely quick meal - and it uses just one pan! If you don't have leftover rice, be sure to put the rice on to cook well before the time you want to eat.
I was delighted to discover that this makes a perfect camping meal! All of the ingredients are easy to pack.
You need just simple utensils. Making this doesn't take much energy or effort; it's the perfect supper after a full day at the beach.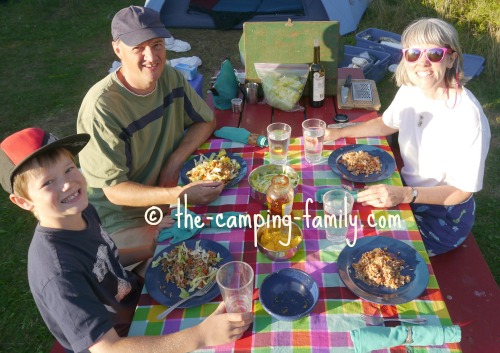 You'll need a two-burner stove for this recipe: one burner for cooking the rice, and one for the skillet.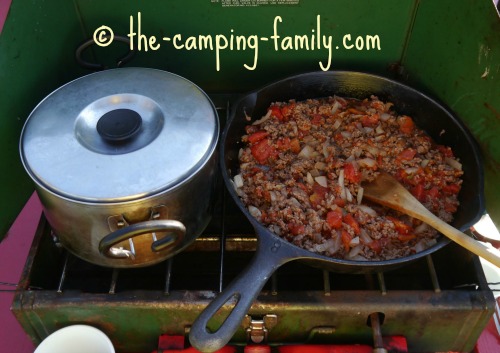 If you have just one burner, cook the rice in advance.

What to Pack
Food
In the food box

1 can (14 oz/412 mL) diced tomatoes
chili powder
white rice
In the cooler

1 lb/500 g ground beef
a large onion 

a head of lettuce
 Cheddar cheese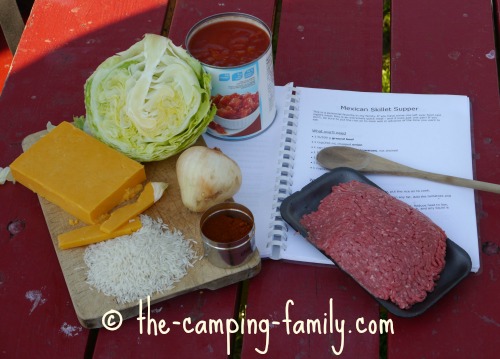 Pots and Utensils

a pot with a tight-fitting lid
a skillet with a lid

a wooden spoon
a cutting board
a sharp knife
a can opener
a measuring cup (1 cup) and measuring spoon (tablespoon) - optional
a grater


How To Make This Hamburger and Rice Meal

Before you even gather the rest of your ingredients, put the rice on to cook. You'll need 1 1/2 cups/375 mL cooked rice, so you'll start with about 1 cup/250 mL uncooked rice. Follow the package directions.
Dice the onion. You'll need about 1 cup/250 mL of diced onion.

Brown the ground beef and diced onion together in a skillet.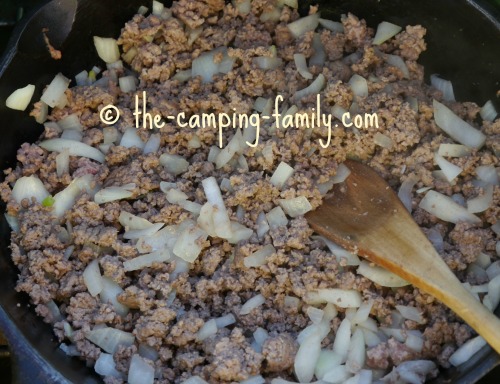 While they cook, grate some Cheddar cheese and shred some lettuce. You'll want about 1 cup/250 mL of each. Put in bowls, and set aside.

Drain off any fat from the beef.
Open the can of tomatoes, but don't drain it.

Add the undrained tomatoes and 1 Tbsp/15 mL chili powder to the skillet. Cook over medium heat until warmed.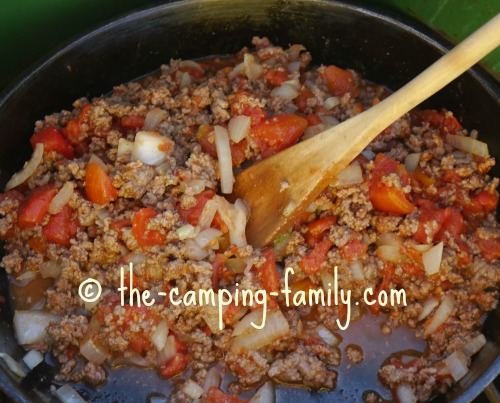 The rice should be ready! Stir about 1 1/2 cups/375 mL cooked rice into the skillet.

Reduce heat to low, cover, and simmer for about 5 minutes, until everything is heated through and any liquid is absorbed.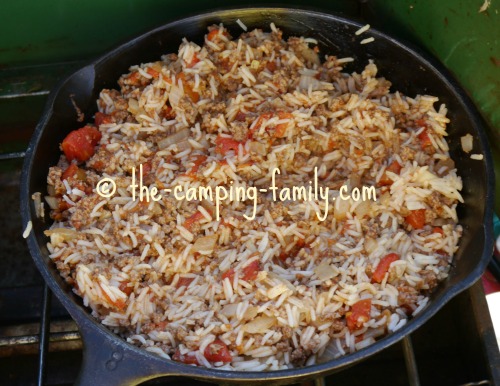 Spoon into individual bowls, and top each bowl with grated cheese and shredded lettuce.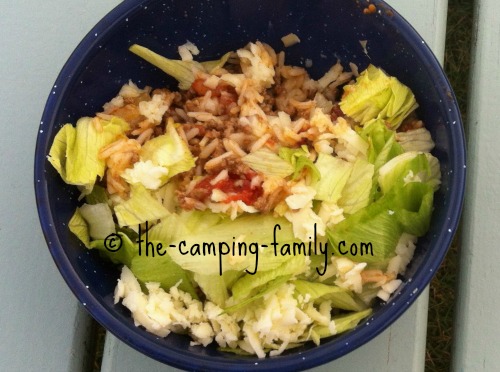 Tips
You might want to grate the cheese at home. Pack it in a ziploc bag or a container with a tight-fitting lid. I find that it's much nicer to grate cheese on my kitchen counter than on a picnic table!

All of these measurements are approximate. Don't worry about measuring; just estimate.
I like using Basmati rice in this recipe, but any white rice would do. (You could even use brown rice - but keep in mind that it takes longer to cook, and you'll use more stove fuel.)

---
Now that you have a good hamburger and rice supper recipe, have a look at the rest of my easy camping recipes!
Before you start packing for your next camping trip, come on over to The Camping Family home page. You'll find scads of useful information!