Search this site.

Easy Camping Food Ideas

Balsamic Black Beans

One of my favorite easy camping food ideas is Balsamic Black Beans. It's quick and easy to make, it tastes great, and it's made from simple, easy-to-pack ingredients.
Balsamic Black Beans makes a great camping lunch. It's hearty enough for a main course for supper, too. Add some raw vegetables on the side and you have a complete meal!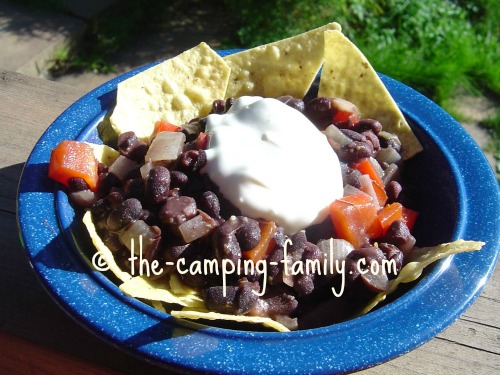 This meal takes very little time to prepare. You can probably make it in less time than it will take your kids to stop playing, put away their toys and wash their hands!
---

What to pack

Food
In the food box

2 cans of black beans, each 19 oz/540 mL
In the cooler

an onion and a bell pepper (any color)

Pots and utensils

measuring spoons - teaspoon/5 mL and tablespoon/15 mL (optional)
skillet (I use a deep cast iron skillet very much like this one.

What to do

Chop the onion and peppers.
Heat the skillet over medium heat.
Add about 1 tablespoon/15 mL olive oil. Let it warm for a minute or two.
Add the chopped onion.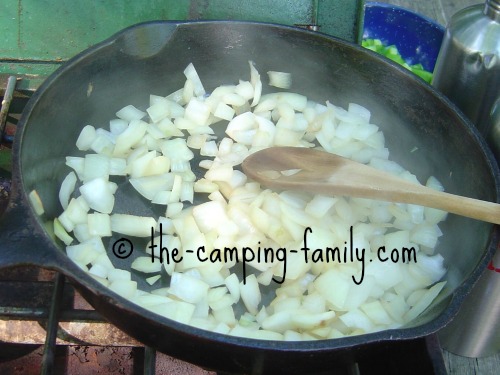 Cook, stirring occasionally.
While it cooks, peel a clove of garlic.
When the onion is soft, press the garlic into the skillet.
Add the chopped bell pepper and cook until it is soft.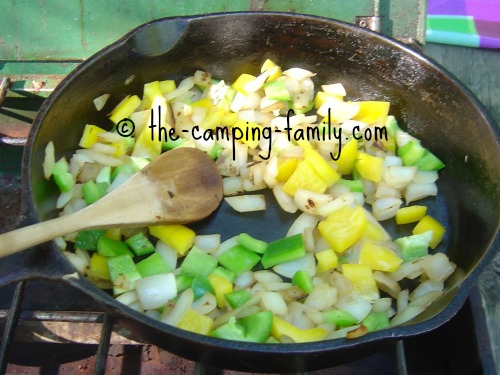 Open the cans of beans. Drain the liquid from one can but not the other.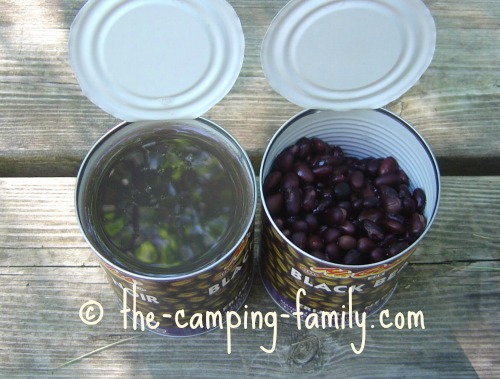 Add the drained beans and the undrained beans (and their liquid) to the skillet.
Add about 2 teaspoons/10 mL oregano and about 1 tablespoon/15 mL balsamic vinegar to the skillet.

Stir to mix well.
Cook until the mixture begins to thicken (about 5 minutes).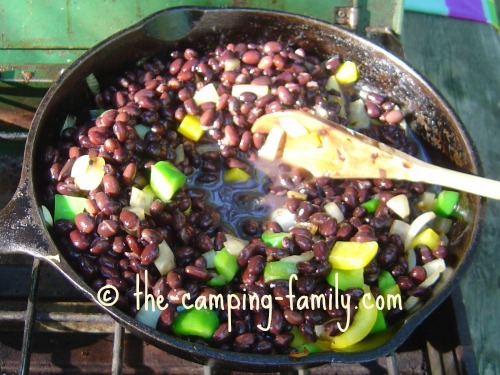 Use a fork to mash some of the beans.
Place a handful of tortilla chips into each person's bowl.
Spoon the beans over the chips.
Top with salsa and sour cream.

Tips
To simplify meal preparation, do some of the prep work at home!
Chop an onion and package it in a container or ziploc bag.
Chop a bell pepper (red or green) and package it in a container or ziploc bag.
My favorite easy camping food ideas don't require exact measuring - so don't stress about the exact quantity of oregano or vinegar. Leave your measuring spoons at home if you like, and just use your good judgment!
You can bring along a strainer if you like - or just drain the beans by holding the lid closed with one finger while you hold the can upside down.

---
Now that you know one of my favorite easy camping food ideas, visit this page for lots more easy camping recipes!
Before you head off on your next camping trip, be sure to visit the The Camping Family home page! You'll find the information you need to make your trip a success.