Search this site.

Healthy Camping Recipes

Mandarin Black Bean Salad
In my search for healthy camping recipes, I was delighted to come across Mandarin Black Bean Salad. Like all good camping recipes it is easy, uses easy-to-pack and non-perishable ingredients, tastes great, and is nutritious.
This mandarin orange, corn and black bean salad recipe makes a nice lunch on a hot day.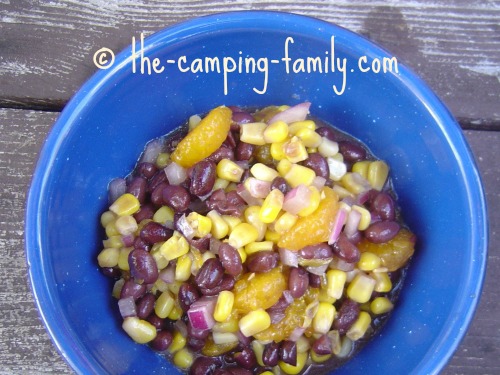 It can also be a side dish for dinner.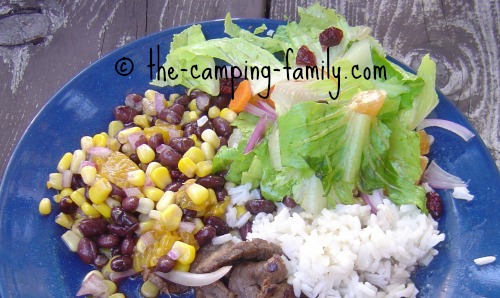 This is a great salad to take to a potluck supper!
I especially like that this mixes up in just one bowl! When I'm camping, I want to wash as few dishes as possible!
You might want to make a double batch so that you can enjoy the leftovers. This will keep for a couple of days in the cooler.

This is one of my very favorite healthy camping recipes. I hope you enjoy it too!
---
What to pack

Food
In the food box

2 cans (each 19 oz/540 mL) black beans
2 cans (each 10 oz/284 mL) mandarin oranges
2 cans (each 12 oz/341 mL) corn
In the cooler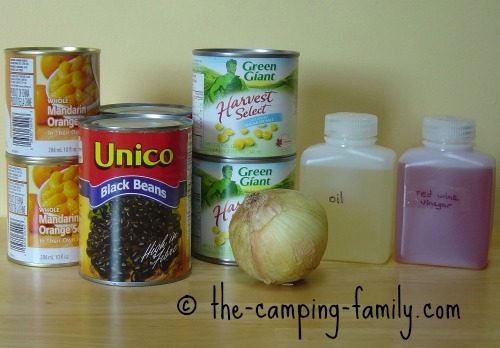 Pots and utensils

measuring cups (1/4 cup/60 mL and 1/3 cup/80 mL)
metal strainer (optional - for draining the cans)
---

At camp

Assemble your ingredients.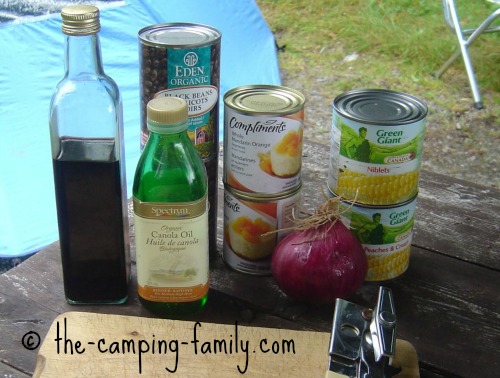 Dice some onion. (You'll need about 1/2 cup/125 mL.) Put it in the large bowl.

Open and drain the cans of beans and corn. Dump them into the bowl with the onions.

Open the cans of mandarin oranges. Save 1/3 cup/80 mL of the juice. You can drink or discard the rest. Put the orange slices into the large bowl, and stir gently to mix with the beans and corn and onion.

In a small bowl or mug, whisk together 1/4 cup/60 mL oil, 1/4 cup/ 60 mL vinegar, and the reserved 1/3 cup/80 mL mandarin orange juice. A fork works well for mixing, if you didn't bring a whisk.

Add this dressing to the large bowl. Stir gently until everything is well mixed.


Substitutions
Use your favorite vinegar in place of red wine vinegar. How about balsamic vinegar, or cider vinegar?
Try using another variety of beans. (Black beans are my favorite, so I've never experimented with others, but I bet that pinto beans would be tasty, or romano beans, or chickpeas!)


Tips
These instructions are for making the salad at camp - but you could also make it at home and bring it along - as long as you put it in a leak-proof container.  A large ziploc bag works well.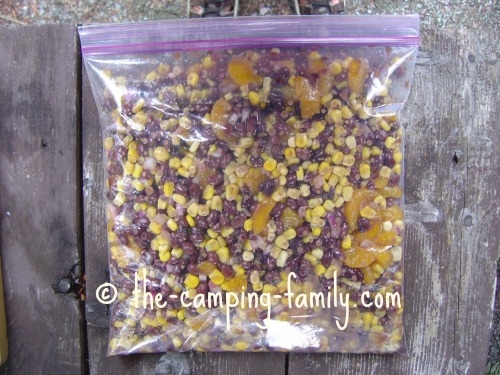 I prefer using a red onion (because it is sweet and colorful), but any onion will work.
Looking for more healthy camping recipes? I have lots!

Click here to go to The Camping Family home page.