Search this site.

Types of Sleeping Bags

Learning about the different types of sleeping bags can be confusing at first - but it's worth the trouble.
When you have the ideal bag, you'll sleep soundly and awake refreshed.
Here's what you need to know to choose the perfect bag for you!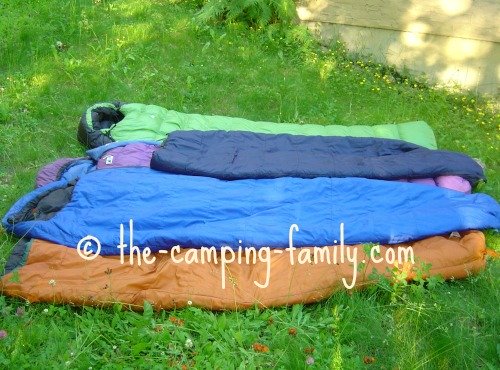 Sleeping bags can be classified according to their materials, their shape, their recommended temperature range and their size.


Click on the links for detailed information about each type.
---

Materials
Most good quality sleeping bags today are down-filled or synthetic. Cotton bags are available too, and you might even come across a wool-filled sleeping bag.


Down
Down filled sleeping bags are warm, comfortable, durable - and expensive.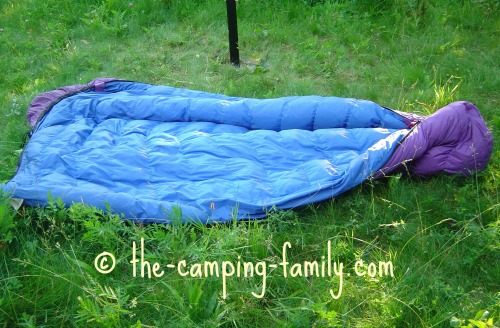 Their only major drawback is that they lose their insulating abilities when wet.
Click here to learn more about down filled sleeping bags.


Synthetic
A synthetic bag is filled with polyester fibers. These bags are less costly than down, but not as luxurious-feeling. They keep you warm even when wet.
Learn more about synthetic sleeping bags here.


Cotton
Cotton is the cheapest of all the types of sleeping bags. This type of bag is handy to have at home for sleepovers and unexpected guests. Like down, it is useless when wet. A cotton sleeping bag is heavy and bulky, too, so it's not ideal for a camping trip.


Wool
Wool sleeping bags insulate well, even when wet. They are very heavy and bulky. There aren't many of them on the market, and the ones that exist are very pricey.


Which types of sleeping bags are best?

For most family camping trips, I recommend synthetic sleeping bags. They keep you warm even when wet, they are easy to clean, and they dry quickly. They are less expensive than down.
If you are camping with small children, you know that the sleeping bag is going to get wet sooner or later, one way or another. Having a quick-drying, warm-even-when-wet sleeping bag is the way to go!
If you are planning any winter camping trips, you'll want cold weather sleeping bags - which will probably be down-filled.

---

Shape

You may have heard of mummy bags, rectangular bags and barrel bags. What is the difference between these types of sleeping bags?

As the name suggests, these bags are shaped like Egyptian mummy cases. They are wider at the shoulder and narrower at the feet.
Since there is a relatively small area of empty space in such a bag, it warms up quickly and stays warm. It has an attached hood to prevent heat loss from the head.

You guessed it! These are rectangular in shape.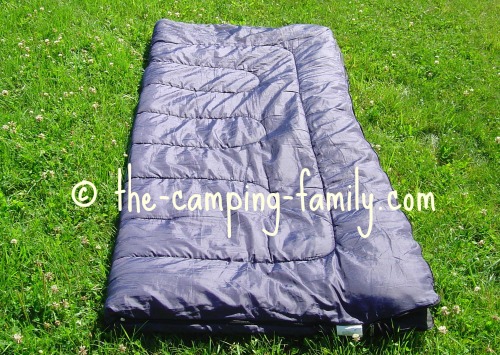 They are heavier and bulkier than mummy bags, but nice and roomy. They are suitable for warm weather camping. They are the most economical choice.

These are also called hybrid or semi-rectangular bags. They are slightly tapered in shape, but not as much as a mummy bag.
Most have no hood. They are a good compromise between the other two types of sleeping bags shapes: they are lighter and warmer than a rectangular bag, but roomier than a mummy bag.


Which is best?

That depends on when and where you are planning to camp.
If you're going to do any winter camping, a mummy bag is the way to go.
If you're not, choose a rectangular bag if comfort and economy are your main criteria, or a barrel bag if you need something lightweight.
---

Temperature
Some companies rate their bags by temperature. Others rate their bags by season.
Here's how to understand those rating systems.


But beware: the temperature rating systems don't take into account your own personal needs for warmth.
Are you a "cold sleeper"?

Do you wear your socks to bed? Are you the one who always wants an extra blanket? Here are some tips for you:

Get a bag rated for temperatures colder than you expect to encounter.
---

Size
Some sleeping bag models offer small, regular and long options.
It's best to get a sleeping bag that fits your frame.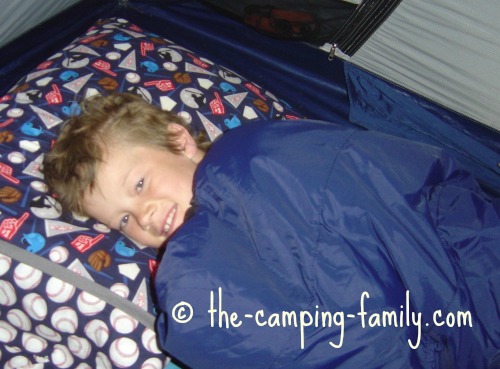 If the bag is too long, there will be extra empty airspace that your body will have to heat. It will take longer than necessary for you to feel warm.

And no one wants to sleep in a bag that is too small!
Some types of sleeping bags are designed especially for women. These bags are narrower at the shoulder, wider at the hips, and have extra warmth at the foot.


Youth sleeping bags are designed especially for children.
There are even toddler sleeping bags!
---

The bottom line

Choosing among all of these types of sleeping bags is not as complicated as it appears.  If you need additional information about camping sleeping bags before making up your mind, click here.
Please visit The Camping Family home page! I'd love to share with you everything that I know about planning a camping trip.