Search this site.

A Synthetic Sleeping Bag: 

The Best Sleeping Bag
For Most Family Camping Trips


Synthetic sleeping bag choices have come a long way in recent years!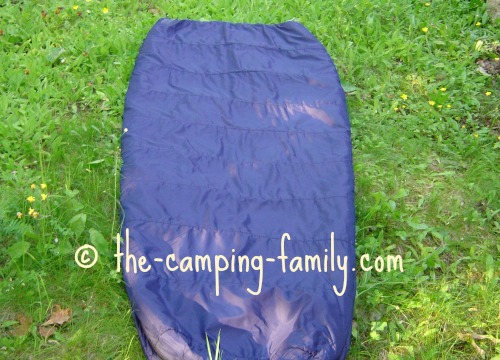 At one time, synthetic bags were considered inferior to down filled sleeping bags. That isn't necessarily the case anymore.
---

Advantages of synthetic


Performance when wet

This is the most important factor to me, and it's why I think a synthetic bag is the best sleeping bag for most family camping trips.
A synthetic bag can keep you warm even when it is wet.
A down filled sleeping bag is completely useless when it gets wet. Click here to learn why.
If there is any chance that your tent will leak, or if you are camping with children who may have the occasional accident in the night, a down filled bag is probably not a good choice.
(Of course, there's no reason for your tent to leak! Read about tent waterproofing to ensure you and your bedding stay dry!)


Price
A synthetic sleeping bag is cheaper than a similarly-rated down bag.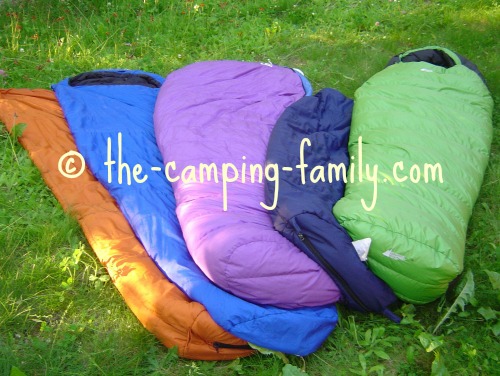 If you are outfitting your whole family, that might make the decision easy for you!

Non-allergenic properties
Synthetic bags are non-allergenic. If someone in your family is sensitive to the allergens in down bags, your choice is made.


Care
Synthetic bags are easy to care for. Read about washing a sleeping bag here.
They dry faster than down, too.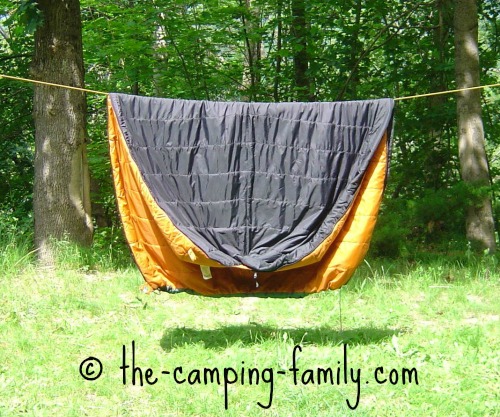 If a bag does happen to get wet in the night, just hang it in the sun for a couple of hours and you're all set!
---

Disadvantages of synthetic

Comfort
Synthetic bags are not quite as comfortable as down.


Durability
They won't last quite as long as down.


Size
They are not quite as compressible as down.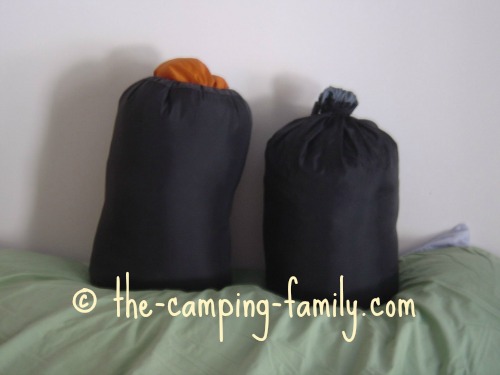 These two bags are rated for about the same temperature. The down bag on the right packs smaller than the synthetic bag on the left.


Weight
Synthetic sleeping bags are not quite as warm for their weight as down bags are. A synthetic bag will be heavier than a down bag with the same temperature rating.


However...
A good synthetic bag performs nearly as well as a good down bag, on all factors.
Synthetics are being improved upon all the time, and the gap between down and synthetic is narrowing.
---

Types of synthetic fills

If you've decided to purchase a synthetic sleeping bag, you must now choose among a vast variety of fills.
Most synthetic fills are made of some sort of polyester. New ones are being developed constantly, and choosing among them can be confusing.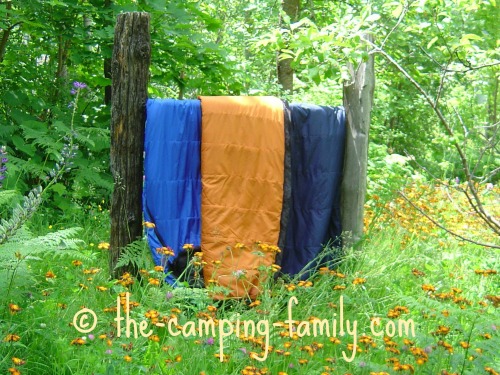 Short staple fibers

Most bags are filled with short staple fibers. As the name suggests, this fill is made of short synthetic fibers, about 2 in/5 cm long, densely packed together. This type of bag compresses well and feels soft and flexible.

Continuous filament fibers
These fibers are longer, thicker and more durable than short staple fibers. In general, these bags don't feel as "down-like" - especially if the fibers are solid.
In recent years, manufacturers have introduced channels (tiny hollow tubes) inside the fibers. The more channels in the fibers, the lighter, softer and more "down-like" the bag.
---

Choosing a synthetic bag
The best way to choose among synthetic sleeping bags is not to read about their fibers, but to go to a camping store and try them out.
Keep in mind these three factors:
A knowledgable salesperson at a reputable outdoor store like REI or MEC will be able to advise you about the first two factors.
To judge comfort, try out a few bags. Unroll them right there in the store, take off your shoes, and crawl in. Don't worry - this is encouraged and expected in a good camping store!
---

The bottom line

A synthetic sleeping bag is a good choice for most family camping trips.
Now that you know whether a synthetic sleeping bag is the right choice for you, learn more about camping sleeping bags here.
Click here to visit The Camping Family home page.