Search this site.

Games For Camping

Fun Outdoor Games For The Whole Family

Our favorite outdoor games for camping have few rules, lots of action and plenty of fun for the whole family.


Campsite games

Campsite games are perfect for camping because they get everyone involved, they have simple rules and they are fun without being overly strenuous. They can be played in teams or by individuals.


Cornhole
Cornhole is a beanbag toss game.
It's easy to learn, and fun for the whole family.

| | | | | |
| --- | --- | --- | --- | --- |
| | Here's an economical cornhole set. You can paint it with your own design, or just apply clear polyurethane. | | | |
Make it as competitive or as relaxed as you like!
Click here to learn how to play cornhole.


Ladderball
This game can be addictive! You throw the "bolo" at the "ladder" and hope that it wraps itself around one of the rungs.


| | | | |
| --- | --- | --- | --- |
| | | | Each rung is worth a number of points. There are bonus points for getting all three balls on the same rung, or one ball on each rung. |
Read about the ladderball game here.


Washer Toss
This is yet another variation on "throw something at a target".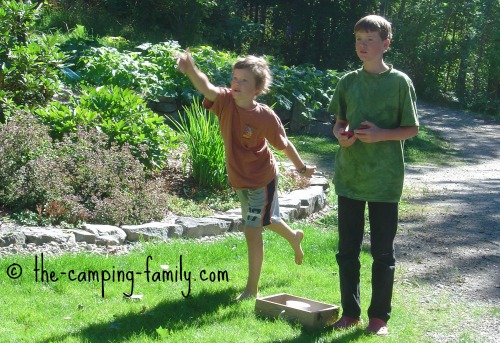 | | | | | |
| --- | --- | --- | --- | --- |
| | In this version you are trying to get the painted washers into the box - or even better, into the circle. | | | |
Learn more about the washer toss game here.

---

Games to play on a field or at the playground
Bocce
Bocce is related to lawn bowling. You toss a small target ball, and then throw larger balls towards the target.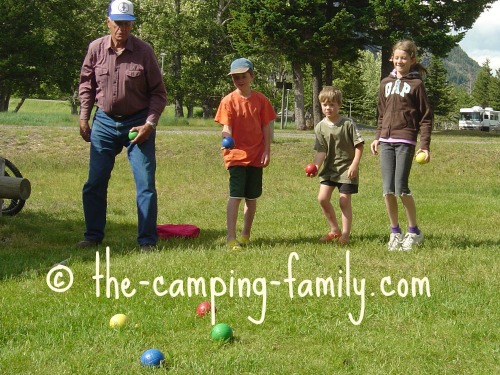 Whoever gets a ball closest to the target wins the round.

Baseball
Have an informal game of baseball with just your family - or round up the neighbors, choose teams and play ball!
If you don't have a bat, improvise!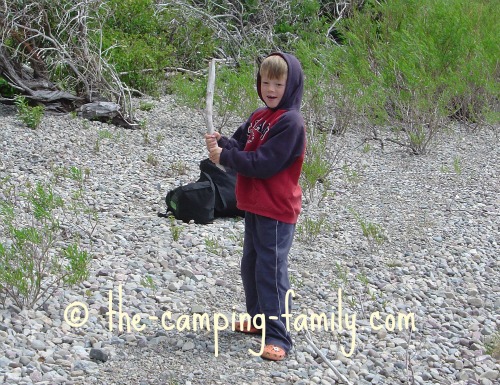 Soccer

The beauty of soccer is that it requires very little equipment.
Just bring along a soccer ball, find a couple of sticks or sweaters to use as goals, and start playing!


Frisbee
Frisbee is the perfect game for a summer day at the beach.
| | | | | |
| --- | --- | --- | --- | --- |
| | | | This flying disc is made of soft rubber, so you won't hurt your hands! It flies smoothly and accurately, too. | |
As with all of these games for camping, you can play competitively, or just for fun.


Badminton
Badminton is easy to learn, and not too hard to play.
The nice thing about badminton is that the racquets and the birds are relatively light. This makes it a safe first racquet sport for children.
Some campgrounds have nets set up for badminton or volleyball.

---
One of the many things I love about camping is the time and space to play with my kids. Try out these games for camping and enjoy having fun together!
Now that you know about our favorite games for camping, click here to learn about some more camping games.
Please visit The Camping Family home page. You'll find lots of great ideas for making next camping trip a success.