Search this site.

Canoe Camping Gear

Having a good canoe camping gear checklist is important! You don't want to paddle across the lake only to discover that you have left an important item at home!

How to use this list
Use this list as a starting point to make your own family's list.
Remove any items that you won't need.
Add other items you know you'll use.
After each trip, you'll probably think of more things you wish you'd had along. Add them to the list.
Make the list as specific as you can. For example, list exactly how many bowls you'll need.

Before you know it, you'll have the perfect canoe camping checklist, and preparing for a family canoe trip will be easy!
If you'd like to use this list as is, click here for a printable canoe camping list.
Keep your canoe camping gear dry!

Make sure that your bedding and clothing stay dry if they go for an unexpected swim! Pack them securely in garbage bags and put the garbage bags in duffel bags - or consider buying dry bags.

| | | | | |
| --- | --- | --- | --- | --- |
| | | | Compressible dry bags like this one really reduce the volume of your gear and let you fit more into the canoe. | |

The basics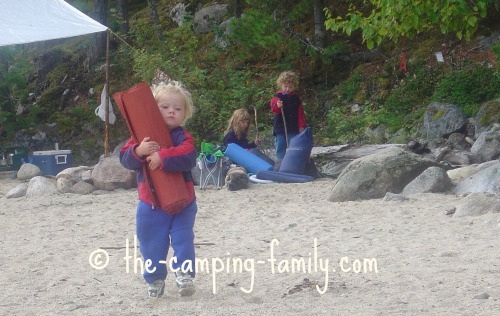 Canoe and gear

Cooking and Eating

stove, fuel and funnel
lighter and matches
pots and lids
skillet
knives, forks, spoons
bowls, plates
cups, mugs
serving spoon, wooden spoon
flipper
can opener
Swiss army knife
aluminum foil
water jug (full of water)
cooler and ice
stainless steel water bottles (filled)
Cleanup

Hygiene
washcloth
hand towels
beach towels
soap
toothbrushes and toothpaste
hairbrush or comb
sunscreen
lip balm
deodorant
women's sanitary supplies
toilet paper

Clothing
pants and shorts
T-shirts and long shirts
pajamas
underwear
socks
sunhats
warm hats
rain gear
warm layers (fleeces and jackets)
footwear (hiking shoes, beach shoes)
bathing suits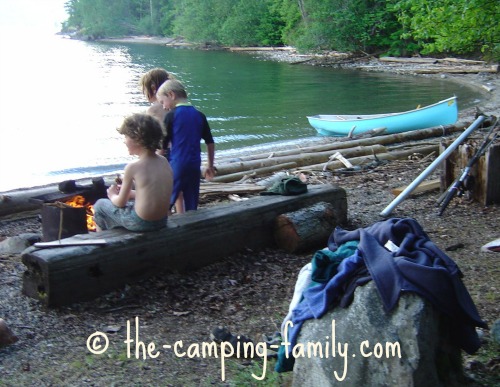 Other
books
deck of cards
pails and shovels
camera and batteries
cash (for fees or emergencies)

Don't forget

to tell someone where you are going and when you will return
this list


---
Having a good camping list will get your family canoe trip off to a great start!
Now that you have a good canoe camping gear list, visit this page for more camping list options.
Before you start packing for your next trip, be sure to visit The Camping Family home page. You'll find lots of helpful information!