Search this site.

Arches Utah
Arches Utah is one of the most famous of the US National Parks.
If you haven't been to Arches National Park in Utah, you should definitely put it on your bucket list!

There is something for everyone to enjoy here.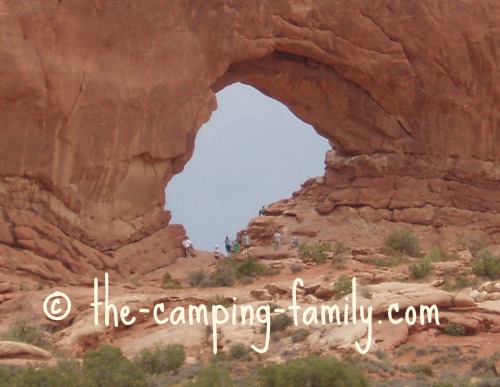 The beauty of the

natural arches

is breathtaking. 
Hiking and climbing over, under and among the arches is fun!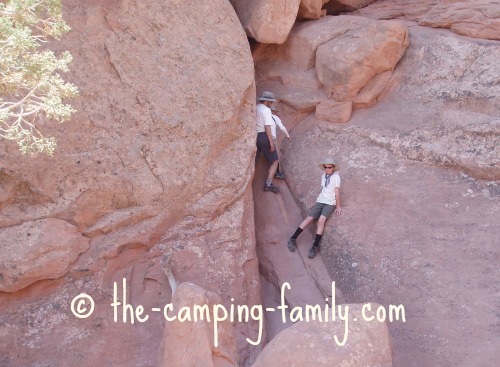 It's like a giant playground!

Have you visited Arches Utah? We'd love to hear about your trip! Click here to share your travel memories.
---

When to visit Arches National Park

We visited Arches Utah in early June. The weather was good - clear and sunny - but by midday, it was very hot. I think that visiting in early spring or even in the winter would be more pleasant.
The trails in Arches National Park stay open all year round. Although snow can close access to some of the remoter areas of the park, the visitors' centre remains open. You can get up-to-date trail information there.
If you visit in the winter, you'll want to be very careful when scrambling on slickrock when it is wet or icy!
---

Camping in Arches Utah

There is a campground in the park. It's called the Devil's Garden Campground, and the campsites are tucked amid fabulous rock formations.
We would have liked to stay there, but the campground was full. Reservations are definitely necessary, no matter what time of year you visit.
We stayed in a BLM campground near Moab instead, and visited Arches for day hiking.
---

Hiking in Arches National Park


Park Avenue Hike

We started with an easy hike: the 1 mile/1.6 km one-way Park Avenue hike.
My husband drove our vehicle to the parking lot at the end of the trail and walked back to meet us. (You could also just leave your car at the  trailhead, and walk back. Of course, this will double your hiking distance.)

Park Avenue was so named by early visitors who noticed that the rock formations look like the skyline in New York City.

We had fun trying to identify the rock formations that have names.
Here is Queen Nefertiti.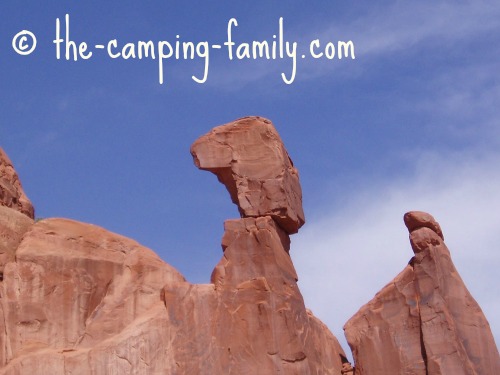 It was even more fun giving the formations our own names. This is called the Sausage, but we named it the Corn Dog.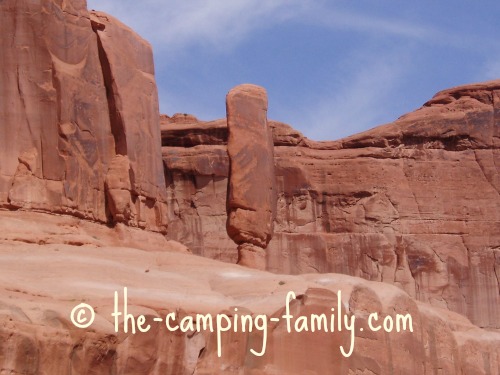 Balanced Rock hike

We drove the scenic highway through the park, and stopped for another short (.3 mi/.5 k) and easy hike - this time around Balanced Rock.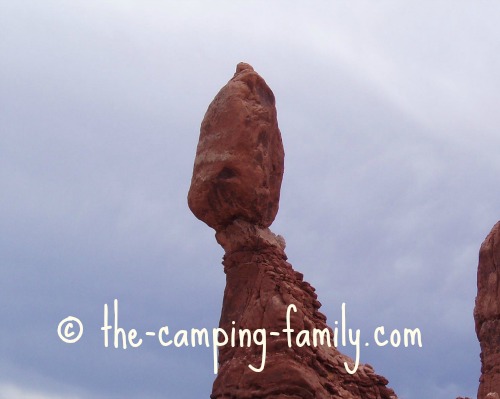 Delicate Arch hike
Delicate Arch is probably the most photographed arch in the park. This hike was longer (3 miles/4.8 km) and a bit more strenuous. It was definitely worth the effort for the opportunity to stand right underneath this spectacular arch.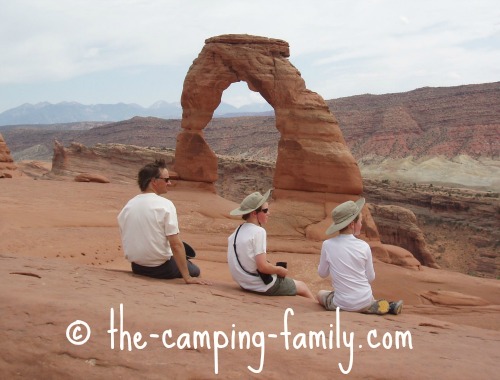 On the way back we took a short detour to see the Wolfe Ranch petroglyphs. These ancient pictures of a horse and rider surrounded by sheep were carved by Ute artists sometime between 1650 and 1850.  We all thought they were cool!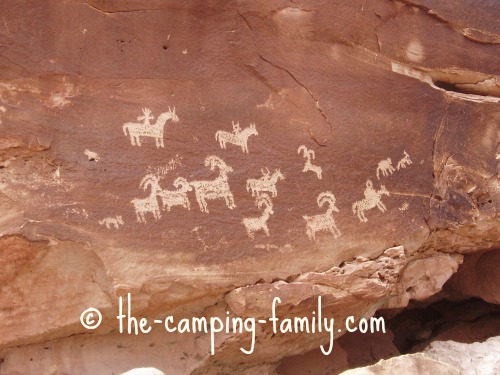 Nearby is an old cabin. Flora Stanley lived here with her husband and children for several years in the late 1800s. This is actually the second cabin; Flora was so appalled at the state of the original cabin that she convinced her father to build this new and improved one. I can only imagine what the first one looked like - and what it would be like to raise a family here.

We were hot and tired by the end of this hike, but overwhelmed by the beauty of the area.


Devil's Garden Hike
The Devil's Garden trail was our longest hike, at 7.2 miles/11.5 km.
We made sure that we were at the trailhead by 8 am so that we could be finished before the hottest part of the day.

This trail is fantastic! Each arch we passed was more interesting than the last!

We couldn't get too close to Landscape Arch. It has been off limits to hikers since 1991 when a chunk of it fell down!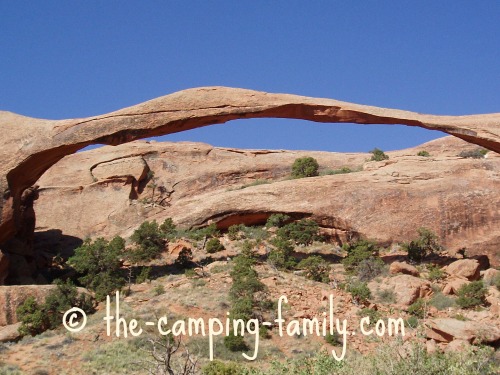 Navaho Arch leads into a cool and peaceful courtyard-like area where we sat and enjoyed a rest.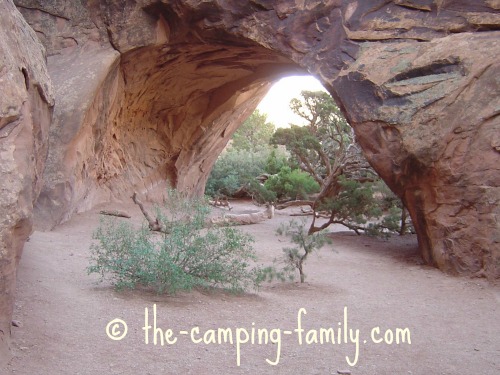 Double O Arch was easy to recognize.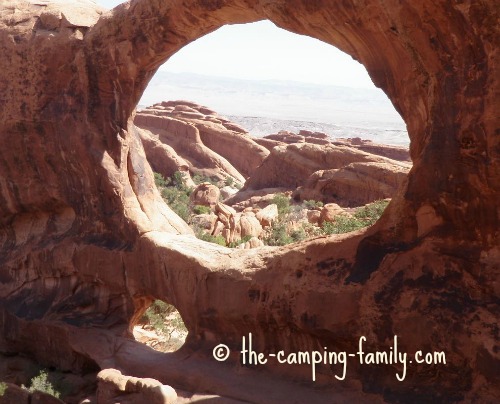 We were able to climb through the upper O and picnic on the other side!
---

Tips for hiking in Arches Utah


Hike during the coolest part of the day.
Even in early June, hiking in Arches was hot!

I can't even imagine how hot it would be there in the summer!
Know the symptoms of heat exhaustion and heat stroke, and learn how to prevent them.

Get up early and finish your hike before late morning. Then find a shady spot and relax - or head into Moab for gelato!

Dress for the weather.
Some trails - like the Delicate Arch trail - have no shade at all. There is no shelter from the unrelenting sun. You'll risk overheating and getting sunburned unless you come prepared. You can read more about sunburn here.

Wear light colors, broad brimmed hats, and sunglasses.

I was thankful for my gel-filled neck cooling neckerchief.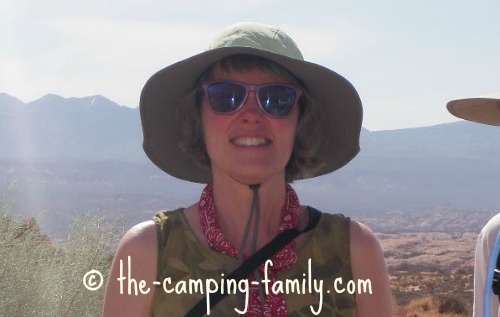 Soaked in water, it retained its coolness for hours, and really helped to keep me comfortable.


Carry lots of water.
We were surprised to see more than one hiking party set out without any supplies at all. That is a recipe for disaster! Carry at least one quart/one litre of water per person for any hike longer than a quick stroll.

By the end of a long hike, the water in our stainless steel water bottles was not just warm - it was hot! We all drank it gratefully anyway!


Stash some cold drinks in your vehicle.

We stocked our portable car fridge with cold drinks.
Looking forward to drinking them kept us going when we felt almost too hot and tired to continue. I don't think I've ever enjoyed a drink more than that first sip of cold spritzer after the Devil's Garden trail!


More information about Arches Utah

Visit the National Park Service website for detailed current information about Arches National Park. You'll find driving directions, prices, schedules, park regulations, maps and brochures and up-to-the-minute alerts.

---
Tell us about your trip to Arches!
What was your most memorable sight? How did you manage in the heat? Did you camp in the park? We'd love to hear all the details!
Now that you know why we loved hiking in Arches Utah, click here to learn about more spectacular US national parks.

Planning a family camping trip? Visit The Camping Family home page! You'll find camping food ideas, packing hints, gear reviews and more.