Search this site.

How to Treat A Sunburn
Knowing how to treat a sunburn is the second most important thing you should know about sunburns.
Knowing how to prevent a sunburn is even more important!
A sunburn can turn a wonderful day at the beach ...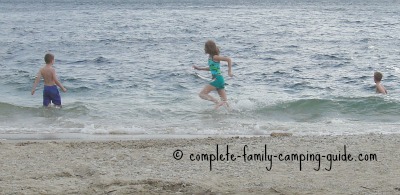 ... into a miserable evening.
Even a mild sunburn is painful - and a severe sunburn can be excruciating!
---

Symptoms of Mild Sunburn
A mild sunburn is actually a first degree burn.
I'm sure you don't need me to tell you the symptoms of sunburn! As you know, after spending too much time in the sun, you will have
red skin that is
warm to the touch and that
hurts, with
no blisters or open wounds.
Here's what my leg looked like after a day by the lake. As you can see, I was wearing short socks, and no sunscreen.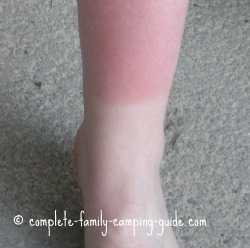 Symptoms of Severe Sunburn
An extreme sunburn is a second degree burn. As well as the redness and heat, there will be
blisters, similar to the friction blisters you get from wearing poorly-fitting shoes
oozing
intense pain
---

How to Treat a Sunburn

Mild

Here are the basics on how to treat a sunburn:
Keep the burned area clean.
Drink plenty of water, since a burn draws fluid to the surface of the body and away from the vital organs.
To relieve pain, apply any of these:
cool compresses
a paste of baking soda and water
calamine lotion

aloe vera gel - either straight from the plant or from a bottle (Read the label! I prefer 100% aloe vera gel. Some products are mostly chemicals with just a dab of aloe gel.)
Here's my son after a full day in the lake. I applied sunscreen thoroughly in the morning, but neglected to reapply it soon enough. He was very sore that evening and night - and all the next day!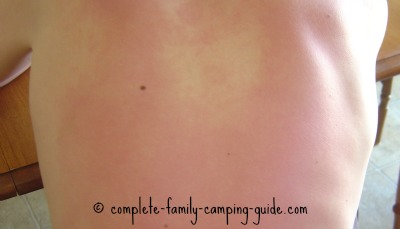 Severe
If you have a severe sunburn, you'll need to take extra care. Here's how to treat a sunburn that is serious:
Keep the area clean.
Drink plenty of water.
Apply the pain relieving remedies listed above.
Watch for signs of infection.
Do not break sunburn blisters. The skin of a blister provides a sterile covering that protects the body from infection. Cover the blisters if necessary to keep them intact. Read about first aid for blisters here.

Seek medical attention if the patient
doesn't begin to improve after a few days
has severe blisters over most of the body
develops a high fever
has chills, fever or nausea
becomes delirious
has unbearable pain
---

Home remedies for sunburn

The goal of any remedy is to relieve pain while the burn heals. Here are some interesting home remedies:
apple cider vinegar
fresh cucumber slices
grated potato
yogurt
cold tea bags
oatmeal mixed with egg whites
honey
(Please note that I haven't tried any of these, and I'm not making a recommendation! Use your own common sense, and check with your doctor if you are unsure about how to treat a sunburn.)
---
Preventing a sunburn is much easier than treating a sunburn!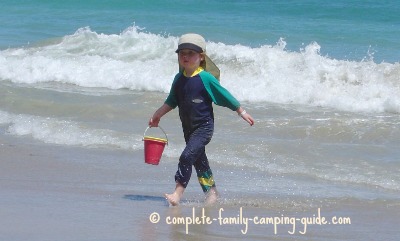 Click here to learn about how to apply sunscreen, and for other strategies for preventing sunburn.

Now that you know how to treat a sunburn, click here to review more first aid skills you may need while camping.
Click here to return to the Complete Family Camping Guide home page.