Search this site.

Vegetarian Camping Recipes:

Baked Tofu

This easy meal is one of my favorite vegetarian camping recipes. It's quick and easy to make, and it will keep for a couple of days in a cooler.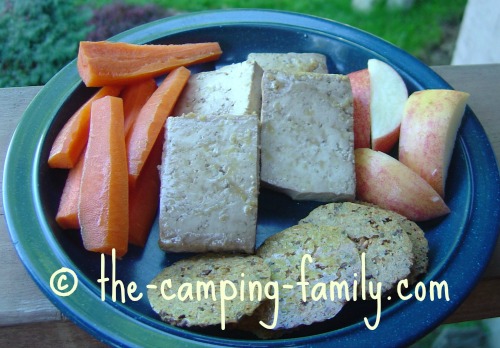 This makes a nice cold lunch or a tasty finger food snack. It can also be the basis of your supper.

Tofu lovers will enjoy this meal. It's really tasty!
Those who think they don't like tofu probably won't! You'll have to find some different vegetarian camping recipes for those folks.
(By the way, this is one of those dishes that tastes better than it looks.)
This recipe is easily multiplied.
---

When to make it
I make this at home the day before we leave for a camping trip and chill it overnight.
---

Ingredients
1/4 cup/60 mL soy sauce or tamari
2 Tbsp/30 mL minced ginger root
1 lb/500 g extra-firm tofu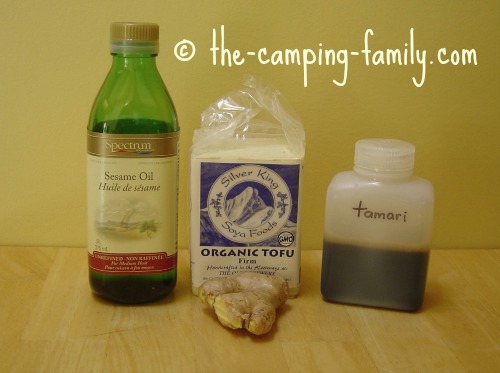 Preparation
In a glass baking dish, mix the soy sauce, sesame oil and ginger.
Cut the tofu into slices about 1/2 inch/1 cm thick.
Arrange the tofu in a single layer in the baking dish.
Turn the tofu so that both sides are coated.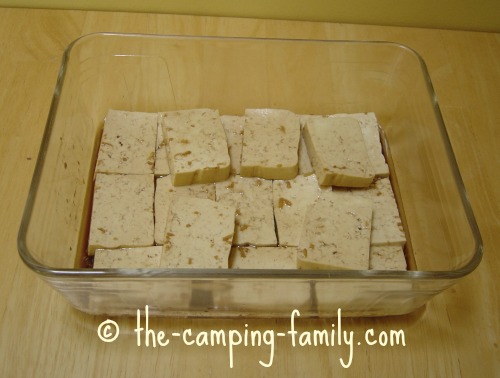 Marinate for at least 20 minutes.


Baking

Preheat oven to 375F/190C.
Turn the tofu over in the marinade again.
Bake for 20 minutes.


Cooling
Let cool to room temperature.
Refrigerate.

Serve cold.
---

Tips
For better flavor and texture, press the tofu.

Removing most of the water allows the tofu to absorb the marinate more effectively.


The longer you marinate the tofu, the better it tastes.
All day marinating is best.
If you think of it, turn the tofu over every now and then so that both sides get well soaked in the marinade.


If you don't have fresh ginger, you can leave it out.

You could also substitute 1 tsp/5 mL ground ginger.
---

What is tofu, anyway?

Until relatively recently, I had never heard of tofu.
When I did see tofu for the first time, I was not impressed. Plain tofu is pale and tasteless, with a weird texture. I wondered why anyone would ever eat such a thing.
My mom still feels that way about tofu. She has a fridge magnet that reads, "Tofu: looks like styrofoam, but tastes much worse!" I served her a tofu dish just once, and she politely declined to eat it.
If you want to introduce tofu to non-tofu eaters, try this recipe for chocolate tofu pudding - but don't tell them about the tofu until they have enjoyed the pudding!

Tofu is made by first crushing and heating soybeans. The resulting liquid is saved, and a firming agent is added, causing curds to form.
The curds are poured into a press and the excess liquid is squeezed out.
That doesn't sound very appealing, does it?

So…why eat tofu?


It's good for you.

Tofu is rich in calcium, iron and B vitamins.
It's a complete source of protein.
It's low in sodium, and has no cholesterol.
It's very easy to digest.


It's versatile.

Tofu can be used to make a dazzling variety of foods - everything from soups to puddings to cheesecake to "tofurkey".


It can be made to taste delicious.

No, tofu on its own doesn't taste great. It has no real flavor at all. But it absorbs flavors amazingly well, and in a good recipe it can taste wonderful!
---

Types of tofu
Firm tofu
Firm tofu holds its shape well. It's sturdy enough to be used in vegetarian camping recipes.

I use firm tofu in stir fry and soups.

Be sure to use firm tofu in this recipe.

Tofu in tetra packs, like this,  can be stored in the refrigerator for several months.
Soft tofu

Soft tofu can be easily blended. I use soft tofu in smoothies and desserts.

Do you have some good vegetarian camping recipes?

I'd love to have some more! Please contact me to share your favorites.
---
Now that you have one of my tasty vegetarian camping recipes, click here for lots more easy camping recipes.
Before you start packing for your next camping trip, check out The Camping Family home page. You'll find tons of great food ideas, helpful hints, and important information.