Search this site.

Goblin Valley State Park, Utah
Goblin Valley State Park is like nowhere else you have ever been!

Visiting this state park takes a bit of effort. It's off the beaten track, but it's definitely worth the trip.

The area around Goblin Valley is a popular destination for hikers, bikers and ATV riders - but the most memorable part of the trip is seeing the "goblins":  weirdly shaped sandstone hoodoos scattered about the valley.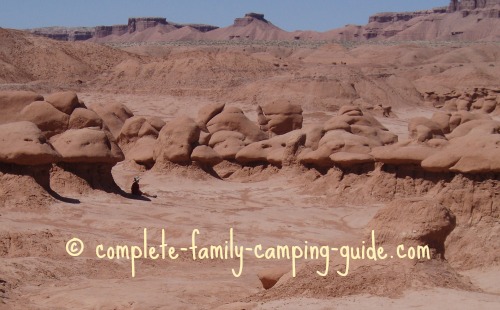 Goblin Valley is about 200 miles southeast of Salt Lake City. The closest community (12 miles from the park) is Hanksville, which boasts a couple of gas stations and restaurants.
---

The campground

Goblin Valley State Park has a well-maintained campground.
Campsites are tucked in neatly among cliffs and bluffs.
There's even a camping yurt.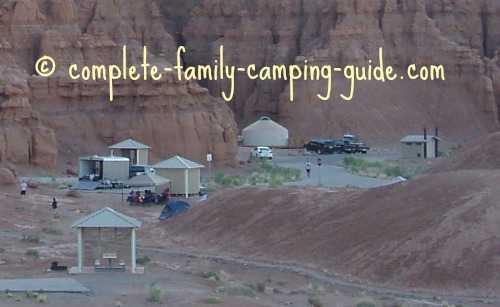 The restrooms are modern and clean, with flush toilets, hot water, and pay showers.
The small but well-equipped Visitors Center has attractive displays about local history, geology and animals. There's a good selection of books for sale, a small selection of camping gear - and most importantly when you are camping in the desert - a freezer full of Freezies!!

Each site has a sun and sand shelter, a fire pit and a picnic table.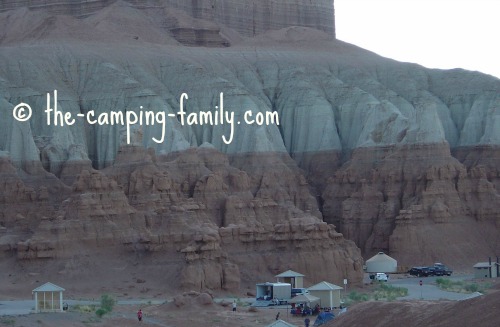 There's an amphitheater where evening programs are held during the busy season. We learned a lot about the solar system at program hosted by a retired astronomer.
---

The Valley of the Goblins
From the campground, it's a moderate hike (or a quick drive) to the Valley. There's a parking lot, sun shelters, picnic tables and interpretive signs.

This place is fascinating!  The sandstone has been eroded over the millenia until it really does look like rows of goblins!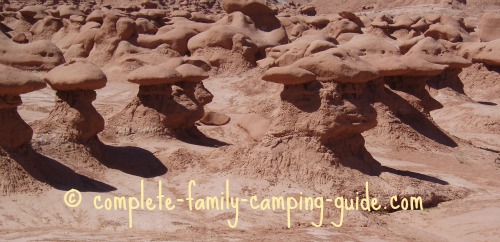 Visitors are welcome to touch the formations - and even to climb on them.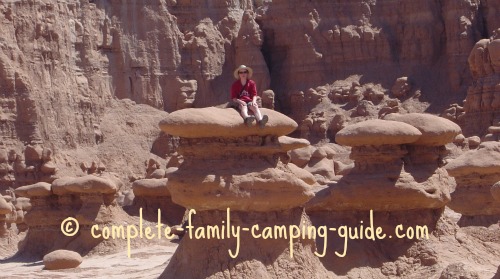 Research is ongoing to determine how humans are affecting the formations.
If it turns out that human contact damages the goblins, the day may come when climbing is forbidden.
For now, though, this is a great place to play hide and seek!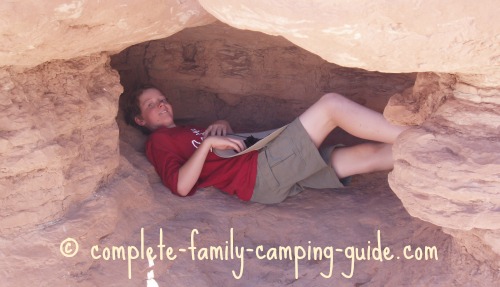 That shade is very welcome on a hot day!
---

The slot canyon

A short drive from Goblin Valley State Park is a great place for a day hike: Little Wild Horse Canyon and Bell Canyon.

If you're at all claustrophobic, you'll probably want to skip this hike. At some points, the walls of the canyon are just a couple of feet apart!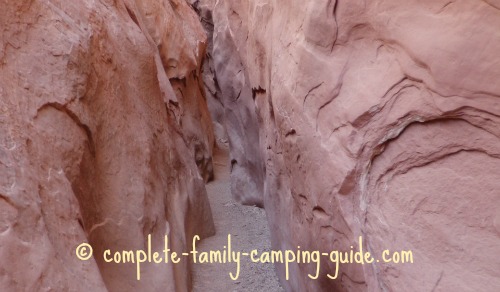 If you don't mind narrow spaces, I highly recommend a visit! A hike through this canyon was one of the highlights of our trip.
It's and easy, non-technical hike with just a bit of scrambling. An added bonus on a hot day is that it's shady and cool in there!

Be safe.

if you decide to hike Little Big Horse, check the weather report at the Goblin Valley Visitor's Center first.
Flash floods are a real danger here.
They are especially likely from July to September, but they are possible at any time.
Read and follow the guidelines at the trailhead.


If you go...

Bring your own water. There is no water at the trailhead.

You might want to do the full 8 mile hike through Bell Canyon, or you might just want to hike into the slot canyon and return the way you came.

The slot canyon is the fun part!
---

Tips for camping at Goblin Valley


Make reservations!

If the park is full - which happens often during the busy seasons - there is no other developed campground for many miles.
If you are self-sufficient, you can camp for free on BLM land near the park.  Be sure to carry lots of water!

We were lucky when we visited: we hadn't made reservations, and we got the last site in the park!

It gets hot here!

It's sweltering here during the heat of the day.  Do your exploring in the early morning or late evening, and spend your afternoons relaxing in the shade.

We visited in the spring and found it almost too hot. I can't imagine how it must be in the summer!

I think that winter camping at Goblin Valley State Park would be lovely. The campground is open all year.


It can get very windy.
When the wind gusts, fine red sand blows everywhere. It's a good idea to have a plan, just in case this happens when you are there.

If you have an RV, you can hole up inside. Make sure you bring the camping board games, because you might end up staying inside for a while!

If you are staying in a tent, dealing with the blowing sand is not so easy. Bring a tarp - or two, or three! Use one to cover your tent - even if your tent is weatherproof. On an especially windy day, sand blew right through the seams of our tent. There were red drifts of sand on our pillows!

Use another couple of tarps to protect the picnic table. The sun shelters have only two sides. We rigged up our picnic blanket on another side and took shelter as best we could. We draped a blanket over the picnic table, and our boys holed up under the picnic table and read books. Even so, we all had sand in our ears, our eyes and our hair.

Keeping sand out of our food was a challenge! We had to cover our bowls  between bites.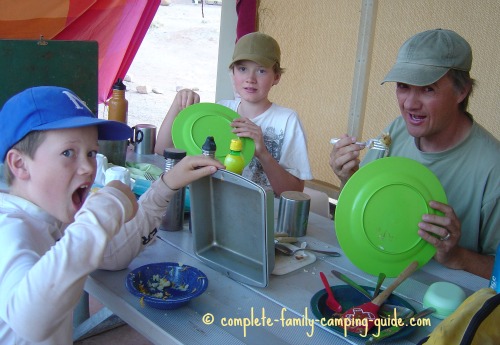 In spite of the challenges, our trip to Goblin Valley State Park was a huge success and is a favorite memory. I recommend that you make a visit!
---
Now that you've read about Goblin Valley State Park, click here to learn about more U.S. State Parks - and to tell us about your favorites!
Before packing for any camping trip, be sure to visit the Complete Family Camping Guide home page. You'll find all of the information you need to make you trip a success.