Search this site.

Board Games
to Play While Camping

Create warm family memories with these wonderful games to play while camping.
We love playing board games at camp!
We love playing board games at home, too - but life tends to be so busy that we don't often have the time. A family camping trip is the perfect opportunity to catch up on game playing!
When to play games at camp

On a rainy day

I always hope for at least one rainy day per camping trip - really! - just so we can play board games.

When it rains, it's delightful to be in the RV or the tent, or at the picnic table under a tarp, enjoying the sound of the rain, and playing a game. Of course, that's fun only if there are lots of games that everyone loves - and that's why it's important to bring the right games.


In the late afternoon

You've been to the beach, you've gone for a hike, and everyone is tired. It's too early for supper. What to do? Play board games, of course!


On a very hot day

It's really too hot to do anything. The kids are getting cranky. What to do? Play board games, of course! Soon you'll all forget about the heat and be enjoying yourselves.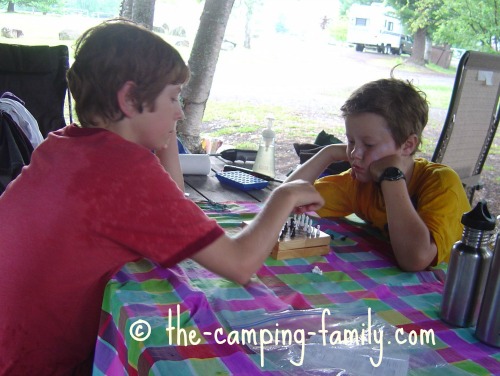 When you hear, "There's nothing to do!"

Once you get into the camping groove, you probably won't hear this at all. Your kids will invent their own activities and be busily occupied all the time.
If you are new to camping, though, and your kids are accustomed to screen time and scheduled activities, they may need to relearn how to entertain themselves. Pull out a board game - and play it with them - and they'll be engaged and happy.

---

Qualities of good board games to play while camping


Can be played in a small area
You might want to play on a tiny RV table, in a tent or at a crowded picnic table.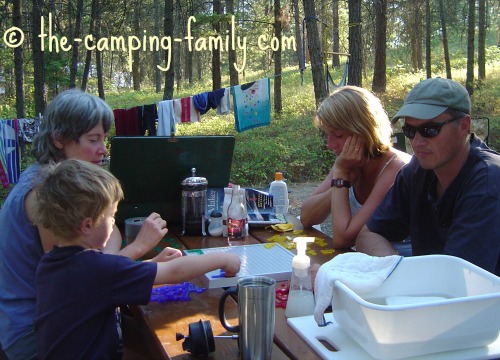 Can be played fairly quickly
You have a lot of fun things to do when you go camping! A short board game can fit into your day and leave time for a trip to the beach too!


Suitable for children of different ages
The perfect game lets the whole family play together.


Fun for adults
When I go camping, I want to have fun too! The best games to play while camping are enjoyable for the big people as well as the little ones.

---

Our Favorite Games to Play While Camping

Here are the games that we love to play again and again. I'd love to hear about your favorites, too!


Games for backpackers
When you are backpacking, packing space is at a premium! You need games with lots of play value in a very small package.
Leave the boxes at home, and carry the game pieces in a ziploc bag.
Always pack a deck of playing cards, and one or more of these games:

Uno
My children will play Uno for hours at a time!
You can play this game anywhere.

You can read more about the Uno card game here.

Farkel
All you need to play this game (once you know the rules) is a piece of paper, a pencil and 6 dice.

Be warned: this game is addictive!
Click here to learn more about the Farkel dice game.
Yahtzee
Yahtzee is really just a scorepad, a set of instructions, 5 dice and a pencil. Take the scorepad and instructions out of the box, pop them in the ziploc with the Farkel game and you are set for hours of game playing! (If you don't need the instructions, you can buy just the scorepad!)

| | | | | |
| --- | --- | --- | --- | --- |
| | | | If you played Yahtzee as a child, you remember how much fun it is. If you didn't, buy a game right now and get started! | |
---

Games for tenters
When you are car camping, you'll be able to bring larger games, but you probably won't want to bring any with lots of small pieces that could get lost. These games are ideal for a tenting trip:

Rat a Tat Cat

This easy-to-learn card game is surprisingly addictive!

It's easy for young children to play, but holds the interest of the big guys too.

Since it relies on memory, you may find that the little kids beat you regularly!
Zeus on the Loose

This game is from the same company that makes Rat a Tat Cat. They make really good games!

This game is most suitable for older children, since it uses math. (Don't worry; they won't notice.)

The little ones can help, though.
Gobblet
Gobblet is a variation of Tic Tac Toe.

It's sturdy and portable - the perfect camping game.

It's easy to learn, so you can begin playing instantly - but there are layers and layers of strategy.
We highly recommend this game!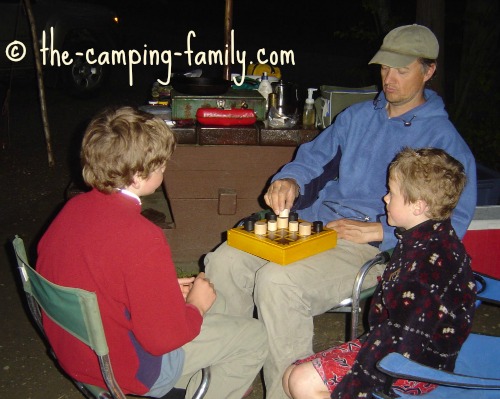 A game can last just a few minutes - or you can organize a tournament and play for hours!
There are several versions of the Gobblet game for different ages. Read more about the various Gobblet games here.
Quiddler
This is an awesome word game!

Even less-than-confident spellers can play, because you use just very short words.
Connect Four

This old classic is still lots of fun. My kids play it again and again .... and again ....

If you have the travel version, you can even play in the car!
---

Games for RVers

If you have a trailer or fifth wheel with lots of cupboard space, you can bring any games you like!
If they have lots of small pieces, you may choose to play them only at the table inside the RV.
These are some of our favorite bulkier games to play while camping
Tip: To reduce the chance of losing pieces, pack all of the small bits in a ziploc bag. Put the bag inside the game box.
Monopoly Deal
This card game provides all the fun and excitement of the classic board game - but it can be played in a much shorter time.

The game box itself is small, but you'll need to spread the cards out on good-sized table.
The Amazing Labyrinth
No reading is required to play this interesting game.

Little kids will enjoy sliding the pieces around.

Big kids (and adults) will enjoy refining their strategy.

Carcassonne
This is a strategy game designed for older children and adults, but it's so beautifully designed that the little ones will want to play too. (You can get them to place the cards for you.)

You'll need a good-sized table to play Carcassonne.

Cooperative board games
Cooperative board games are especially good someone in your group has a hard time with competition.
We find that playing these games fosters warm family feelings. My six year old referred to these as "the games where we are all on the same team".
Here are some of our favorite cooperative board games to play while camping:
Caves and Claws
| | | | | |
| --- | --- | --- | --- | --- |
| | | | You are archaeologists, hunting for artifacts in a dangerous jungle. Watch out for The Nasty Hairy Thing! | |
Bus Depot Diner

| | | | | |
| --- | --- | --- | --- | --- |
| | Work together to get all of the customers fed before the bus driver finishes his meal and heads out the door! | | | |
The Secret Door
---

Of course, if your favorite game doesn't fit the criteria for "good games to play while camping", bring it along anyway.
For example, Blokus is big and bulky and full of small pieces - but I always bring it on a camping trip because I love playing Blokus! (We haven't lost any pieces yet!)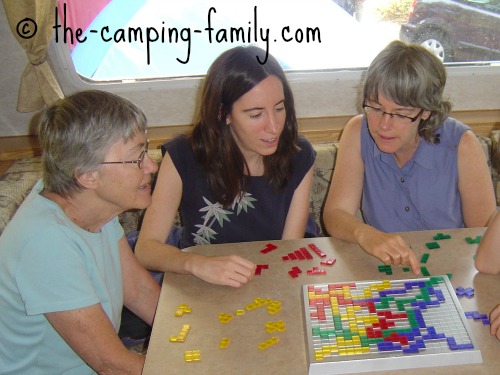 Pack your favorite games to play while camping and you just might find yourself wishing for a rainy day too!
---
Now that you know about our favorite board games to play while camping, read about more fun camping games and activities here.
Please visit The Camping Family home page. I have lots of tips and ideas to help you make your next camping trip a huge success!