Search this site.

Is A Camping Vacation
Right For You?
Are you trying to decide whether to take the plunge and try a camping vacation for the first time?
Maybe you've already decided - but the rest of your family still needs persuading.
Let me convince you (or help you convince them!)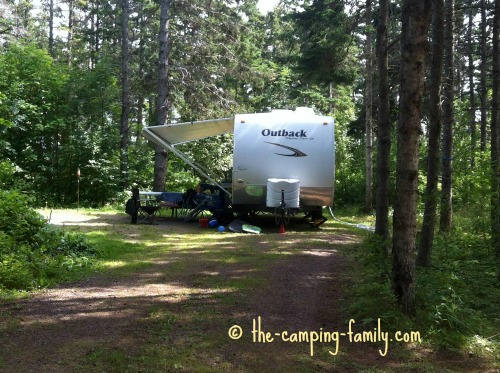 Here's why camping is the perfect family vacation:

It's easy.

When you know how to do it, planning for a camping trip can be almost effortless. Actually, planning is part of the fun.
Fortunately, learning is easy! 

It's inexpensive.
Accommodation is cheap.
Campground fees are a fraction of the cost of any other holiday accommodation.
Do some quick comparisons in your area. You'll find that staying in a comfortable campground - with hot showers! - is much less expensive than staying in even the cheapest motel.

Food costs are low.

There's no need for expensive restaurant meals because you cook your own delicious food. 
Click here for lots of easy camping recipes.
When you do decide to treat yourself to a restaurant meal, it will be because you want to - not because you have to.
You don't need much gear.

You might be surprised at how little gear you need to get started. You might be able to borrow or rent most of it. Here's a list of the basics:

Each trip you take is an investment.

Each piece of camping equipment you buy becomes an asset for your next trip.
Each new skill you learn will make your next trip even easier.

You can tailor the trip to your family's preferences.

Have you always dreamed of camping in an isolated valley, miles away from anyone?
Or does your ideal vacation include a games room, a swimming pool and a mini golf course?
Whatever your dream, you can create a camping vacation that fits!

It gets you outdoors, and lets you see incredible places.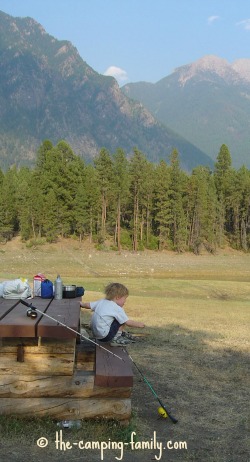 Being outdoors is healthy - but the reality is that we spend most of our lives in buildings.
Camping forces us to get outside.
Spending time together in the natural world is restful and healing for the whole family.
We live in a beautiful world. Camping lets us explore and appreciate it.

It slows you down.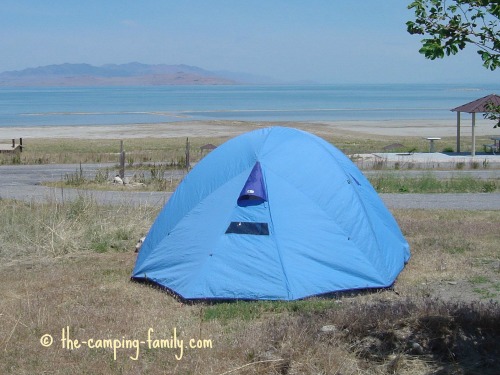 Life seems to get busier all the time.
When you go camping, you have time - time to hang out, time to catch your breath, and time to enjoy one another.

It's an opportunity to be together.

When you go family camping, you get to hang out with the most important people in the world: your family.
Without the usual distractions, you connect more deeply and have more fun together!

The memories last forever.

Talk to any adult who camped with family as a child. Chances are that those memories are still vivid, warm and treasured.
Now you have the opportunity to create wonderful memories for your own children!
---

How to go camping

Making the decision to go is probably the hardest part! Actually doing it is easy! Just follow these easy steps.

Make a plan.

Decide when, where and how you'll camp. This page will guide you through those questions and help with every aspect of planning your family camping trip.

Choose the campground.

For your first trip, you might want to stay relatively close to home. Read campground reviews and choose a well-managed place with the facilities that are important to you.

Make a packing list.

Don't even think about packing until you have a good list. Here are lists for every type of camping.

Plan your meals.

An important part of any camping trip is the food! Plan meals that are simple to make so that you can spend most of your time having fun. Visit this page for easy camping food ideas.

Assemble your gear.

If you visit a camping store, you might get the impression that you need mountains of gear.
In fact, you really just need somewhere to sleep, food and a way to cook it, your clothing, some camping lights and the same basic cleaning and hygiene items you use at home.

Everything else is optional.
Once you realize how much you enjoy camping, you'll probably want to get some of the extras - but for your first trip, you can stick to the basics.

Pack.
Don't worry. As long as you have your excellent list in hand, this part will be easy.

Load the vehicle.

Now, this part can be tricky! If you've followed my advice to pack just the basics, though, you'll be able to fit everything in.

And that's it! Have a wonderful family camping vacation!

If you have questions about any aspect of planning your trip, visit The Camping Family home page. The answers are probably there.
You can also contact me. I'd love to help!

When you get home, I'd love to hear about your experiences!