Search this site.

Camping Tips

We've collected lots of camping tips over the years. We've read about some in camping books and online. We've learned some from friends. We invented some ourselves!

Using these camping tips can make your trip go more smoothly!
---

Packing Tips


Make a good list - and use it!

With a good list, preparing for a camping trip is a breeze! On this page you'll find a camping packing list for every type of trip. Choose the list that matches your favorite type of camping, and modify it to suit your family's needs exactly.


Have a separate bag for each member of the family.

We use colored duffle bags.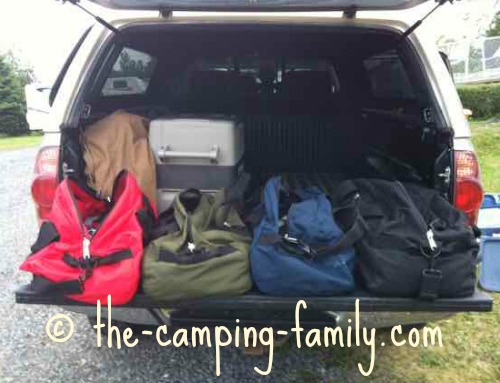 It's easy to see at a glance if each family member's bag has been put in the vehicle, and it's easy to find the bag we want.

Store socks and underwear in small cloth bags.

Having smaller items in a separate bag inside the duffle bag or cupboard makes it easy to find them.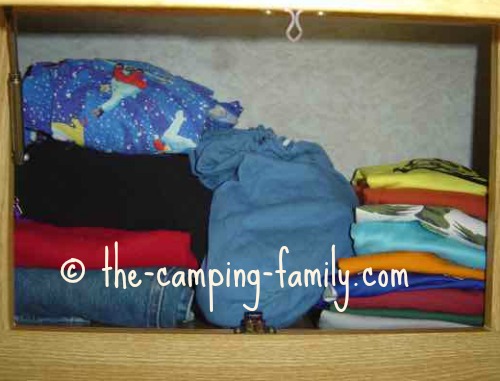 In the morning, everyone is in a hurry to get dressed and out of the tent or RV as quickly as possible - whether it's to eat quickly or to rush to the outhouse! Being able to speed up the morning routine is wonderful.


Store your gear in plastic tubs.

I have one large tub for food, another for cooking, and another for eating. I label the tubs with color coded electrical tape.
---

Tent Camping Tips


Keep the tent door zipped at all times.

Keeping the door zipped will keep out insects. Of course, if you are camping in mosquito country, a few mosquitoes will get in anyway. Go on a mosquito hunt before bed. The person who catches the most mosquitoes wins! For more tips on mosquito bite prevention, visit this page.


Keep your tent tidy and organized.

Decide where you'll store everything, and stick to that plan. After a while it will become second nature to put things where they belong. Everyone will appreciate being able to find what they need without searching the entire tent.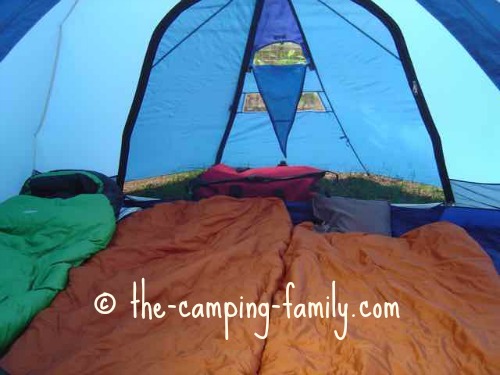 We store duffle bags at our feet, flashlights and headlamps in the side pockets, footwear in the vestibule, and pajamas under our pillows.

Place a mat in front of the tent, and make a "no shoes in the tent" rule.
This is especially important if you are camping on sand! This is the perfect place to take off shoes and brush off sand.


Get a mini dustpan and broom.

No matter how hard you try to keep it out, sand will creep into your tent. With one of these, tent cleanup is quick and easy.

| | | | | |
| --- | --- | --- | --- | --- |
| | | | This low profile dust pan and broom gets good reviews from campers. It works well, and doesn't take up much space in the tent. | |

Set up a handwashing station.

This is a must for tenters. Even if you are staying in a trailer or motorhome, it's nice to be able to wash hands outside, without tracking sand into the RV!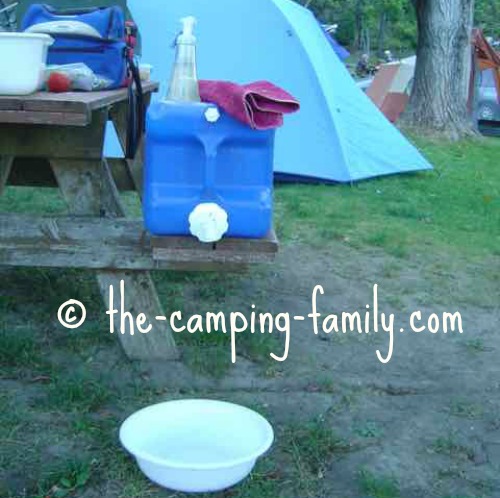 My handwashing station includes a water jug, a plastic basin, a refillable soap pump and a dark colored towel.
---

Camping Tips for Cooking and Eating


Do your prep work at home.

It's much easier to get things done at home, where there is unlimited running water, your choice of pots and utensils, more counter space and no wind or rain or insects!
Besides, this is your vacation! If you are like me, you don't want to spend your days cooking.
There are lots of things that can be done at home:

Chop vegetables and store them in Ziploc bags.
Make soups, stews and casseroles. Freeze them in plastic containers and put them in your cooler. They will act as ice packs. When they have thawed, just heat them up!
Grate cheese and store in Ziploc bags.
I have lots of easy camping food ideas! Check them out.
---

Food Storage Camping Tips


Keep your cooler cool!

For a short trip, freeze juice boxes and use them instead of ice blocks or ice cubes. When they thaw, you'll have juice to drink instead of a cooler full of water to clean out!
If you have to purchase ice, get blocks instead of cubes. Blocks last longer.
Keep your cooler in a shady spot. Cover it with blankets for extra insulation from the heat.
Consider having two coolers: one for drinks and the items you use frequently, and one that will stay closed most of the time. That way, each time you grab a cold drink you won't be letting the cold out of the storage cooler.


Consider investing in a camping fridge.

This was one of the best camping investments we ever made. It was expensive, but it has saved us money - both in the ice we haven't had to buy and the food we haven't had to throw away! Read about camping refrigerators here.


Plan a meal for the night you return home.

You'll be tired when you get home, and you'll need time and energy for unpacking.
If I don't plan to eat out on that night, I make sure that I plan an easy meal, and that all the ingredients are in the house. I don't want to arrive home and have to wonder what we'll eat - or discover that we are out of pasta sauce!

---

Campfire Camping Tips

Campfires are an important part of a camping trip.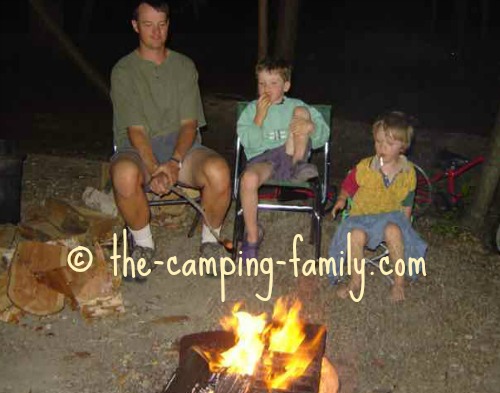 Remembering a few simple things can make campfires easy and enjoyable.


Remember to pack firestarter.

Firestarter is a necessity! You might want to purchase some, or you might like to make your own.
If you use newspaper as firestarter, store it in a sealed ziploc bag to keep it from getting damp.


Bring roasting sticks from home.

Don't count on being able to find marshmallow sticks at the campground. Some campsites have rules against gathering any type of wood, and others simply don't have sticks lying about. The chances of finding a perfectly straight stick are slim.
There are many types of marshmallow roasting sticks. Read about them here.


Save your dishwater.

Use it to douse the fire before you go to bed.
---

Backpacking Camping Tips


Try out your gear before the trip.

You don't want to get half a mile down the trail before discovering that your new hiking shoes are too small, or that your backpack rubs your shoulder.

Buy any new gear well in advance of your trip. Break in new shoes. Try out your pack in your own neighborhood.


Plan carefully if backpacking with kids.

Backpacking with children is a joy, but it presents its own challenges.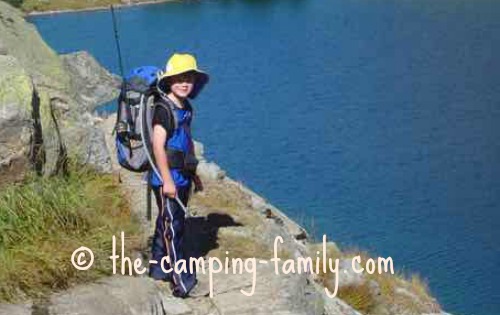 We have learned a lot over the years about how to plan for a successful family hiking trip. Read our tips for backpacking with kids here.


Hide a drink in the creek!

At the end of the trip, you'll be hot, dusty and thirsty. Imagine getting almost back to the trail head and finding a cold can of your favorite beverage waiting for you!
Bring a can for each member of the family. As you start up the trail, watch for a stream or creek, and hide the cans in the stream. Anchor them with rocks. Be sure to take note of the surroundings so you'll recognize the creek on your way out!
---

Tips for Camping with Kids

Bring along some glow bracelets.

This tip was shared by Nicole.

"Bring glow bracelets for the kids. You can see them playing in the dark and at bedtime, you can hang the bracelets from the top of the tent as a night light."
Great idea, Nicole! Thanks for passing it along.
---
Share your camping tips with us!
What do you do to make your camping trips go smoothly? Please share your best ideas.
Read more camping ideas and tips here.
For everything you need to know about planning a successful family camping trip, visit this page.