Search this site.

Camping Candle Lantern

A camping candle lantern is the perfect camping light to use in a tent. It has other uses too!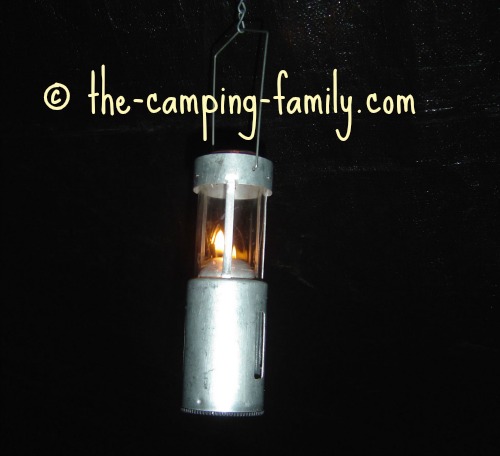 I've been a fan of the UCO camping candle lantern for years.
There's nothing like being in a tent, warm and cozy in the warm flickering glow of a candle - especially if the wind is howling outside!
---

What is a candle lantern?

A candle lantern consists of a glass chimney tucked into an aluminum or brass base.
A candle sits in the base. The chimney is pulled up for use and pushed down for storage and transport.
---

Models
UCO camping candle lanterns come in three sizes:
A standard one-candle model (That's what I have.)
A mini model that burns a tealight

The "Candlelier" that burns up to three candles at once
---
How to use a camping candle lantern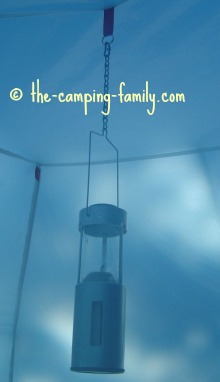 Insert a candle in the base.
Insert the base in the chimney and screw it in securely.
You can use the attached stainless steel handle to hang the lantern from a loop on your tent ceiling.
The flame is enclosed safely and is shielded from the wind.
As the candle burns, the spring loaded base keeps the candle flame at a constant height.
---

What is so great about candle lanterns for camping?

They really are wonderful! Here's why:


They can be safely used in a tent.
As you know, you should never have an open flame in a tent.
A properly used UCO lantern can be used in a tent.

They always work.
Candle lanterns are simple to use.
Unlike most other camping lights, they don't have parts that break or batteries that die.
As long as you have matches and spare candles with you, you can have unlimited light.


They can help to keep you warm.
A candle lantern gives off enough heat to actually warm a small tent on a cool night!
Using a camping candle lantern will help to reduce condensation in a tent, too.


They are small and light.
These are ideal backpacking lanterns.
The aluminum model weighs just 7.5oz/210 g.
---

Tips

You need special candles.

You can't use just any candle in these lanterns. You have to purchase UCO candles.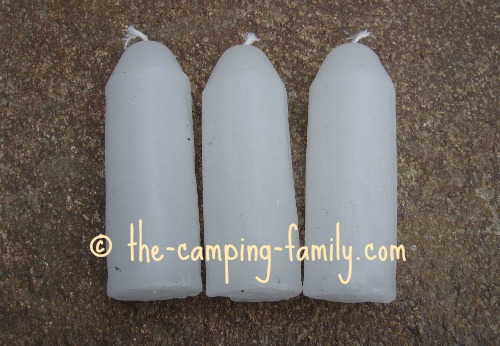 The candles are fairly economical.
Each burns for about 9 hours at a cost of less than 25 cents per hour.
You can even get
beeswax candles
or
citronella candles!

Be careful!

These units get hot!
Never touch the heat shield (the round metal top) - even after you have blown out the candle.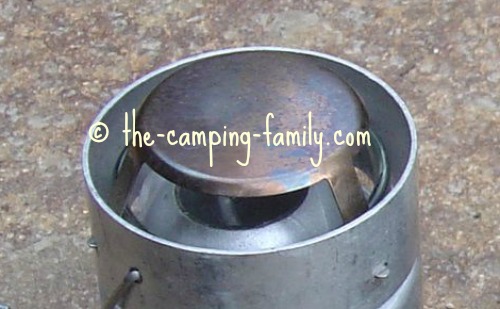 It stays hot for quite a while - hot enough to burn your skin.

I'm speaking from experience here. It really hurts!

Teach your children never to touch that piece of metal.


Keep the unit upright

When the candle is burning, be sure to keep the unit straight.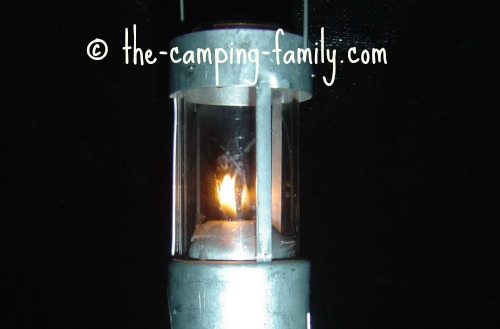 If you tilt it, the wax will spill.  
It won't hurt anything, but the wax will splash on the inside of the glass chimney, making a mess.


Bring a flashlight or headlamp.

A candle lantern is almost bright enough to read by - but not quite!
I prefer to use a headlamp for reading, and a candle lantern for playing cards and getting ready for bed.


You can use your candle lantern at home, too.

When you get home from camping, you might want to use your candle lanterns on your patio.
They make great decorative outdoor hanging lanterns!
---

Accessories
There are lots of optional accessories for the candle lantern:


A case

A
fleece case
will protect the glass chimney from scratches.
A
Neoprene case
case will provide even more protection. This is a good idea when you are stuffing the candle lantern into a backpack.

Reflectors
You might want to buy a
top reflector
that focuses the light downwards and a
side reflector
that focuses light horizontally. Each of these will increase the light put out by your lantern.

An LED kit

For the best of both worlds, use an
LED Upgrade Kit
to attach an LED to the base of the lantern. Then you can enjoy the ambiance of a candle when you want it, and the brightness of an LED when you need it.

A repair kit
I've had my candle lantern for more than 15 years and it has never needed repair.
If it ever does, though, I'll buy the
Repair and Refurbishment Kit
and be able to replace virtually any part.
---

The bottom line

Candle lanterns are effective, economical and practical. I recommend them for all tent campers, but especially for backpackers.

Now that you know whether a camping candle lantern is for you, read about the other types of camping lights.
I have lots of practical ideas about planning your next camping trip! Visit the The Camping Family home page to get started.