Search this site.

The Best Sleeping Bag
For You

Choosing the best sleeping bag can be confusing. There are so many options out there!
Until you have actually slept in a sleeping bag, you might not know what matters and what doesn't.

There are really just two important considerations:


Is the sleeping bag warm?


Is it comfortable?

Everything else is just details. 

---

Warmth
Be sure to get a bag that is warm enough for your conditions.
Pay attention to the sleeping bag temperature ratings. 

Here's an explanation of how those sleeping bag ratings work.
No matter when and where you camp, learn how to stay warm in a sleeping bag.


Comfort
Sleeping bags come in a variety of shapes and sizes and are made of a variety of materials. Read about the various types of sleeping bags here, and get a general idea of what sounds comfortable to you.
Then, if possible, go to a camping store and try out different bags to find out which kind is the best sleeping bag for you.

---
Once you understand how to choose a bag that is warm and comfortable, you can explore the many other available features.
Some of these features are important.

Some of them might be nice to have, but they won't make or break your trip. You can decide which combination of these features will make the best sleeping bag for you.
---

Best Sleeping Bag Features

These features matter!


A good zipper

The best sleeping bag will have a zipper that glides easily, and that doesn't get stuck on the fabric.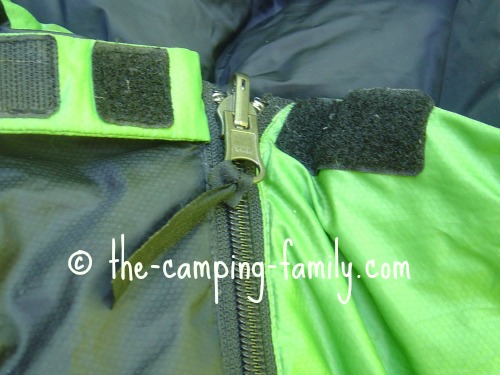 Some zippers are designed to push the fabric out of the way as they zip. This is a nice feature!
Try out the zipper in the store before you buy.
If you are buying online, read the product reviews to see what other people say about the zipper. Having a stuck zipper is no fun!


Loops for hanging
If you have a good-sized storage room or closet where you can hang your sleeping bags between family camping trips, look for a bag with sturdy attached hanging loops at the foot end. Double loops are best.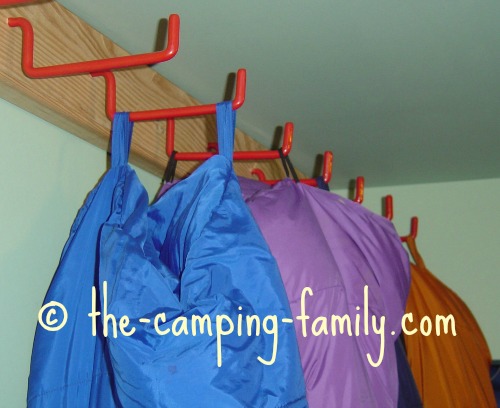 If you don't have a storage room, that's OK! There are lots of other good sleeping bag storage options.


A draft tube

Unless you are camping only in the full heat of summer, get a sleeping bag with a fabric flap that lies between your body and the zipper.

This flap (the "draft tube") will keep cold air from getting in through the zipper.
Be sure that the draft tube runs the full length of the zipper.


A stuff sack

If your sleeping bag doesn't come with a stuff sack, you'll need to buy one separately.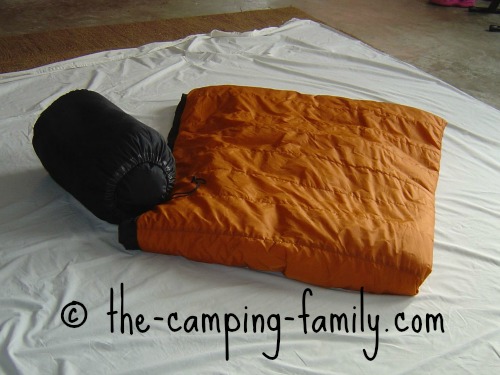 You'll use the stuff sack to transport your bag on the camping trip.

Don't use the stuff sack for long term sleeping bag storage.
---

Features That Are Nice, But Not Essential


A drawstring 

A drawstring that cinches the bag closed around your shoulders helps to keep cool air out of the bag on a chilly night. If you choose a mummy bag, there will most likely be a drawstring as well as a hood.

Take a good look at the drawstring. Is there any chance that it could wrap around the sleeper's neck? Always think safety, especially when camping with young children.



A pillow pad
This attached piece of quilted fabric extends past the top of the bag. You stick your head out of the bag and lay your head on this fabric so that the sleeping bag doesn't cover your face.

If the sleeping bag you choose happens to have this feature, great! Don't pay extra for this, though. A folded sweatshirt or fleece jacket would work just as well.


A zippered pocket
This is a handy place to store your things. It's nice to know exactly where your flashlight is when you wake up in the middle of the night.

It's a good place to put your car keys, too.


Arms and legs

| | | | | |
| --- | --- | --- | --- | --- |
| | | | The Selk bag lets you move around camp without ever getting out of your sleeping bag! I haven't tried one of these yet, but they look like fun! | |
---

Features to Avoid


A removable foam sleeping pad
In the models I've seen, this pad is made of open cell foam. Open cell foam soaks up water like a sponge.
Even if your tent stays dry, the perspiration your body produces in the night will dampen the foam, leaving you cold and miserable.
Open cell foam should never be part of a camping sleep system! If you want to use a foam sleeping pad, make sure that it is closed cell foam. Click here to understand the difference.


---

The bottom line
As long as you have chosen a warm and comfortable sleeping bag, any additional features are up to you!
Have fun choosing the best sleeping bag for you!
Now that you know how to choose the best sleeping bag for your family, read more about camping sleeping bags here.

Visit The Camping Family home page for oodles of ideas about planning your next camping trip!