Search this site.

Hybrid Travel Trailers

Hybrid travel trailers (or HTTs) combine some of the convenience of regular travel trailers with some of the roominess of pop up tent trailers. Here's how to decide if these expandable trailers are for you.


What is a hybrid travel trailer?
A hybrid travel trailer looks like a regular travel trailer - until it is set up.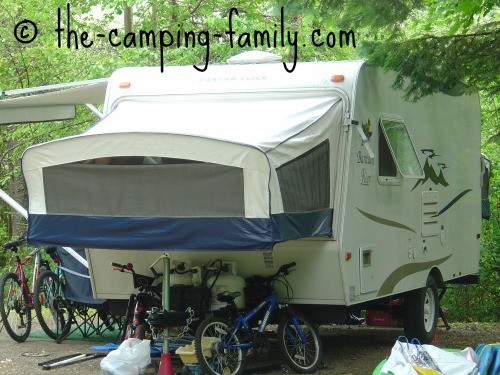 Then you notice a canvas projection on one or both ends - just like on a pop up tent trailer. 


There are beds in the projections, giving the trailer additional sleeping space without adding significantly to its weight.
---

Advantages of HTTs

Lots of sleeping space
A HTT has more room for its weight than a hard sided RV does. There can be lots of beds in a relatively small unit.


Spacious feeling

Since the beds are outside the floor area of the trailer, the trailer feels roomy.

Weather protection

An HTT has a solid roof and walls.
It gives more protection from the elements than a tent trailer does.

Fuel economy

Since it weighs less, pulling an HTT takes less gas than pulling a standard travel trailer with the same amount of usable space.


Ease of set-up

Compared to a tent trailer, hybrid camping trailers are easy to set up.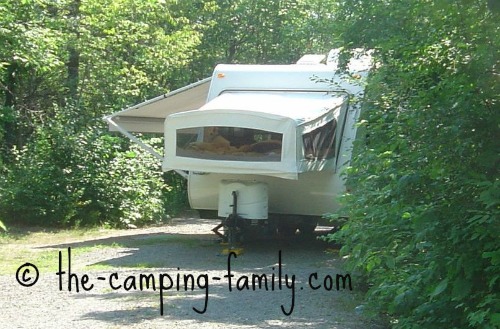 Set up is very quick with two people working together: one on the outside and one on the inside.
It's even possible for one person to do it alone, especially if she or he is tall and strong!

Flexibility
What if you arrive at your campground late in the evening - or in the rain?
If you have a tent trailer, you must do your set up before you can get into your shelter.
With a hybrid, you can go inside without opening up the beds - a practice known as "turtling".
Depending on your floor plan, you may be able to sleep on the couch or the fold down dinette.
This is crowded and less comfortable, of course, but when you arrive at your campground in the pouring rain it's nice to know that you have the option of scurrying indoors without doing any setup.
---

Disadvantages of HTTs

Leaking

Some owners of older model hybrids have issues with leaking around the tent ends - both when the ends are open and when they are closed. If you are buying a used HTT, be sure to check carefully for signs of water damage around the ends.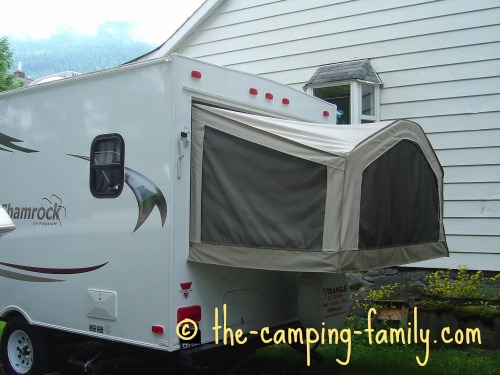 Condensation and temperature

In cool weather, many hybrid owners report issues with condensation. Moisture from people's breathing collects on the inside of the fabric walls, just as it does in a tent.
Leaving a window open overnight can help, just as it does in a tent. That means that you'll have cold air coming in, though.
And remember - the tent ends are not insulated. If being toasty warm is essential to you, you may prefer a hard sided trailer.


Set up
Of course, an HTT requires more set up than a regular travel trailer does.


Security concerns

A canvas-sided shelter cannot be as secure as a hard-sided trailer. If you will be traveling in areas where crime may be an issue, you might prefer a fully secure RV.


Limited camping options
There are a few campgrounds in the United States and elsewhere that do not allow tents or tent trailers, because of bear issues. They don't allow hybrid travel trailers either.
If you're worried about potential bear encounters, read this - and relax.
---

Other hybrids
You are probably familiar with the camper vans with beds that pop up out of the roof.
There are also truck campers with pop out beds.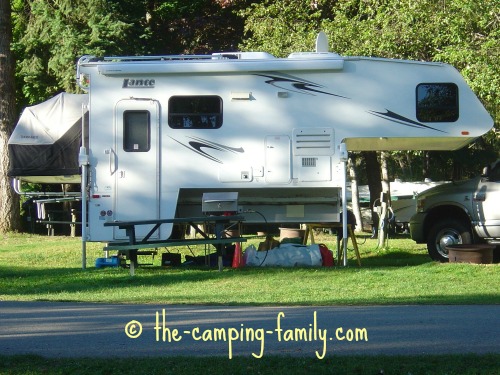 Like hybrid travel trailers, these options provide additional sleeping space without sacrificing floor space or fuel economy.
---

The bottom line

If you want the convenience of a travel trailer with some of the fuel economy and spaciousness of a tent trailer, a hybrid might be the perfect solution!
Now that you know about hybrid travel trailers, you might want to read about all of the different types of RV campers.
Planning a camping trip? Visit The Camping Family home page for practical help with every part of your trip.