Search this site.

Homemade Baby Wipes

Don't Go Camping Without Them!

Homemade baby wipes come in very handy when you are camping! Whether or not you have a baby, you'll find yourself reaching for these little reusable cloths again and again.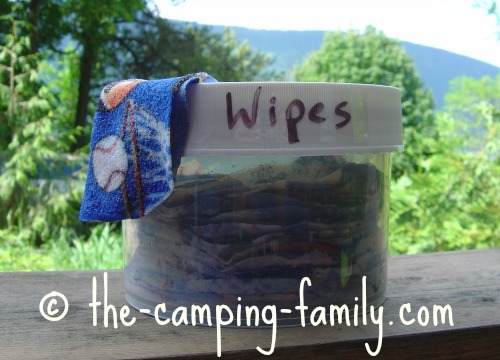 Uses for baby wipes on a camping trip

wiping faces and hands before meals
freshening up between showers
cleaning up spills on the picnic table
wiping the campfire grill
cleaning dirty feet before allowing them into the tent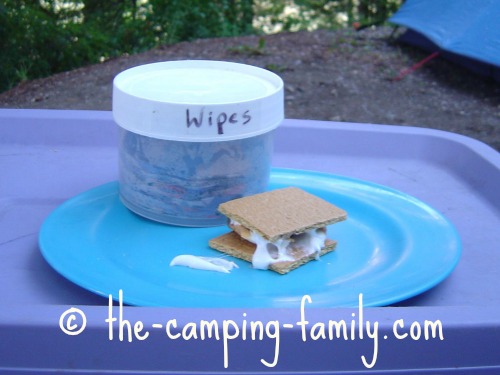 You'll discover more uses every day!
---

How to make cloth baby wipes

What you'll need

fabric

I use old flannel pajamas or worn-out cotton T-shirts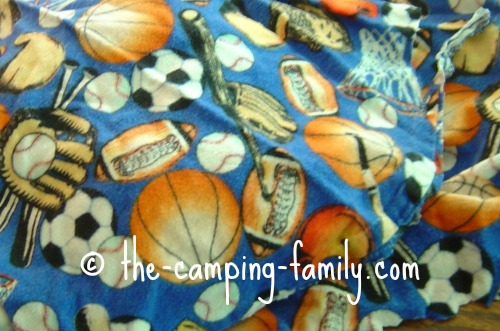 a container with a tight fitting lid
The tight-fitting lid is essential! Be sure that the container is as big as you want your wipes to be.
a marker

scissors
liquid castile soap

I buy this in bulk at my local natural food store. You can also buy it here.

water
You may want to boil the water and let it cool before making your wipes. This will ensure that the water is free of impurities, and may keep the wipes from developing a sour smell.
I don't do this, though, and have used my container of wipes for up to one week without noticing any unpleasant smells. It's up to you!
a measuring cup and measuring spoons


What to do

Place your container on the fabric and trace it.
Cut out the pieces.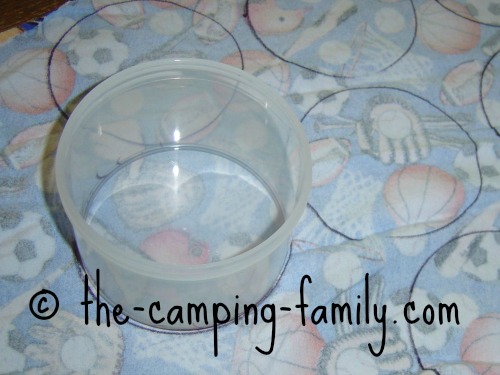 Put 1 cup/250 mL warm water into the measuring cup.

Add 2 tsp/10 mL of the liquid soap.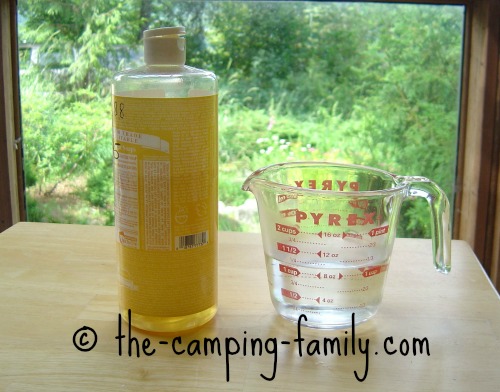 Put a layer of fabric pieces (an inch or two high) into the container.
Pour some soap solution over them.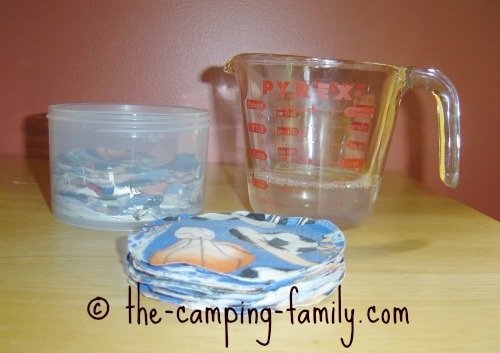 Repeat with another layer of fabric and more soap solution.
Repeat until you've used all of the cloth pieces.
Make another batch of soap solution if necessary.
---

Not feeling that ambitious? No problem!

Buy some premade cloth wipes.

Wet them, and carry them in a waterproof pouch.

Tips for making and using homemade baby wipes

Some people hem or serge the edges of their baby wipes. I am not one of those people!
Be sure to put baby wipes on your camping list. You'll want to have them along on every trip!
If I've used a wipe for something especially nasty or sticky, I throw it away. Otherwise, I put the used wipes in an empty plastic container with a lid, bring them home, wash them, and use them again.
Now that you know how to make homemade baby wipes, you can make Smores at your next campfire and not worry about getting sticky marshmallow goo all over everything!
Visit The Camping Family home page for multitudes of information about everything to do with camping.