Search this site.

Easy Pork Chop Recipe

Balsamic-Maple Chops

Enjoy this easy pork chop recipe when you are camping, or at home. It uses simple ingredients, is quick to make, and tastes delicious!
We like to eat these pork chops with nugget potatoes and mixed vegetables.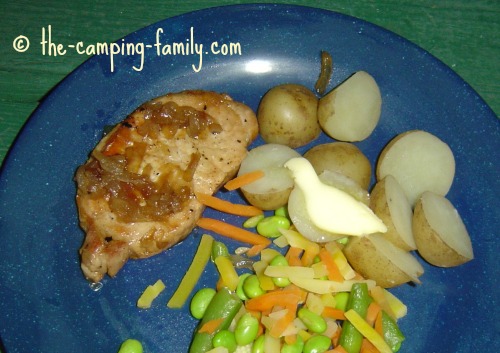 This is an ideal supper for your first night at camp. You want something quick and easy so you can spend most of your time and energy setting up the campsite - but you also need something substantial to fuel all of that work!
We ate this often on our cross-country camping trip. All of the ingredients for the recipe except for the meat were in our food box or cooler.
We'd stop at a supermarket and pick up some quick-fry pork chops, and then find a campground. I'd set up the stove and start cooking while the rest of the family set up camp. In no time at all, the tent was up, the beds were made and we were eating a delicious supper!
---

What to pack
Food
In the food box

vegetable oil
salt
pepper
apple juice
balsamic vinegar

In the cooler
butter
boneless, fast-fry pork chops
an onion
maple syrup


Pots and utensils

skillet
measuring spoons (Tablespoon) - or just estimate
measuring cups (1/4 cup) - or just estimate
fork or tongs (for turning and removing pork chops)
cutting board
sharp knife
wooden spoon (or your favorite stirring spoon)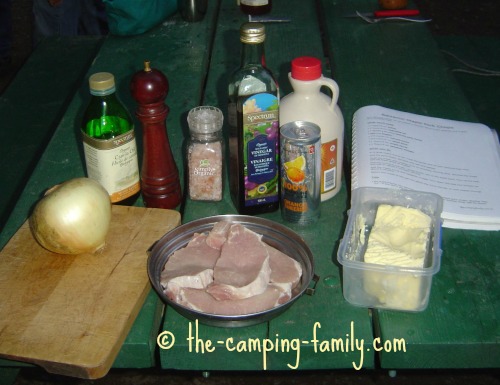 How to make this easy pork chop recipe

In a large heavy frying pan, heat 1 Tbsp/15 mL butter and 1 Tbsp/15 mL oil over medium-high heat.
Add 4 boneless pork chops. Sprinkle with salt and pepper.
Cook the chops until cooked (3 to 10 minutes), turning once.
While they cook, mince a small onion. (You'll need about 1/4 cup/60 mL.)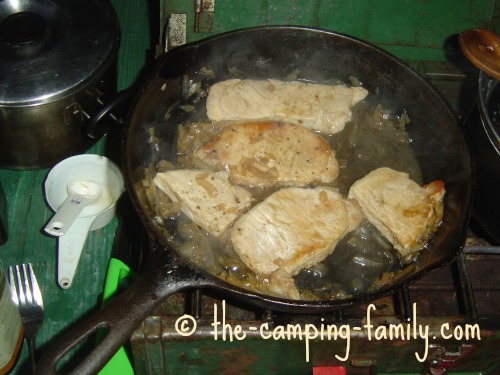 Remove the chops and set them aside on a plate.
Add the minced onion to the pan. Sauté briefly.
Stir in 3/4 cup/175 mL apple juice. Turn up the heat and boil for about 3 minutes, stirring.
Add 1 Tbsp/15 mL maple syrup and 1 Tbsp/15 mL balsamic vinegar.
Turn down the heat and simmer for about 2 minutes.
Return the chops to the pan for another minute, or until heated through.
---

Substitutions

If you don't have apple juice, use whatever juice you have on hand. As you can see in the photo, on this day all I had was an orange-mandarin spritzer! It worked just fine.
No maple syrup? Use honey.

 Tips
My supermarket has started selling thinly-cut boneless pork chops, labelled "fast fry". If you don't see them at your store or butcher shop, ask for them!
Cooking time will depend on the thickness and the temperature of the pork chops.
Don't stress about using exact measurements. If you didn't bring any measuring spoons, just make a good guess about how much onion, juice, balsamic vinegar and maple syrup to use.

---
If you enjoyed this easy pork chop recipe, please check out the rest of my easy camping recipes!
Before you start packing for your next camping trip, be sure to visit The Camping Family home page. You'll find lots of helpful information.