Search this site.

Backpacking List

You'll need a good backpacking list if you're planning a hiking trip with your family!
Here is the hiking gear checklist we use.
---

How to use this list

Modify this list to suit your family's needs and to fit the season and locale.
Add any additional items that you want to bring. How about a GPS, or a watch?
Remove the items you won't need. If you are hiking in the summer at low elevations, you probably won't need gaiters.
Click here for a printable backpacking checklist.
---

Before you go

Choose your route. Tell some friends where you are going and when you expect to get back.
Pack a change of dry clothes to leave in your vehicle at the trailhead. You'll want to change out of your sweaty hiking gear for the ride home.
Put a canned drink for each person in a creek near the beginning of the trail. Hide it carefully so that it will be waiting for you when you come back at the end of your trip. (This is especially wonderful when you are hiking in the summer. There's nothing nicer than a cold drink waiting for you at the end of a long hot hike!)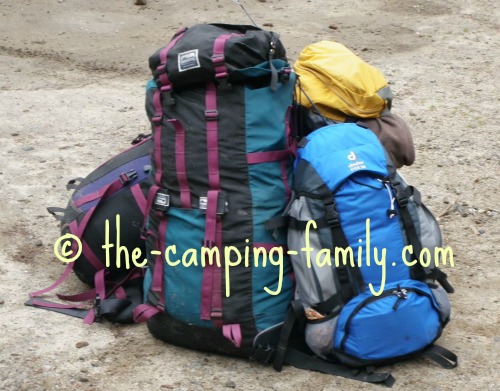 My backpacking list


What to wear

synthetic clothing
hiking socks
hiking boots
sun hat
gaiters
backpack


Easily accessible

(in a top pocket or strapped to your pack)
map and compass
sunglasses, sunscreen
water bottles (filled)
snacks (like trail mix and carrot sticks)
lunch
whistle

In your backpack

stove and fuel
pot(s) and pan(s)
mugs
plates and/or bowls
cooking utensils
eating utensils
headlamps or flashlights
first-aid kit Click here for a good first aid kit checklist.

matches – in waterproof container
fire starter
knife

repair kit
clothing (see list below)
water filter or water treatment tablets (We use a SteriPen.)
toilet paper
toothbrushes and toothpaste
biodegradable soap
washcloth
hand towel
garbage bags
binoculars
rope
camera
notebook and pencil
deck of cards, travel games
paperback book
insect repellent
sandals or light shoes
food, packed in color-coded stuff sacks (breakfast food in one sack, lunches in another, dinners in another)
Click here for camping food ideas.
If you are doing more than a 1- or 2-night hike, you'll probably need to carry dried food. There's a great selection of freeze dried food for backpackers available: everything from lasagna to chili to ice cream!

I was pleasantly surprised to learn that it's not that hard to make your own dehydrated food! It's cheaper than the packaged brands, and you can make exactly what you like.

Click here to learn how to dehydrate food for backpacking.

Clothing
wool socks

underwear

base layer (long underwear) top and bottoms
short-sleeved synthetic shirt

synthetic pants

shorts

long-sleeved fleece top

fleece pants

raincoat and rain pants

fleece hat

gloves or mittens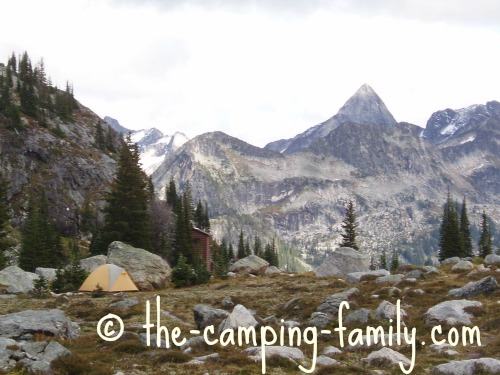 When you return

Don't forget about the drink you hid in the creek!
Remember to call your friends and tell them that you made it home safely!
Now that you have a good backpacking list, visit this page for more camping lists.

Before setting out on your next camping trip, be sure to visit The Camping Family home page. You'll find lots of helpful information.