Search this site.

The Comfort Station

Knowing about the campground comfort station is an essential part of going camping - especially for first-timers.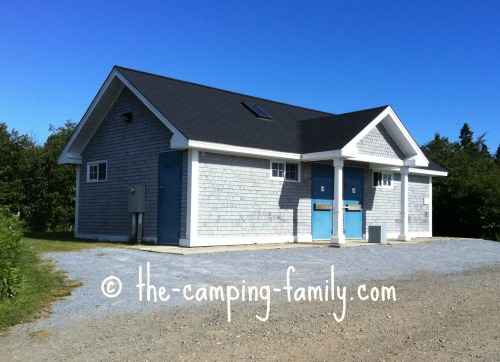 "Comfort station", of course, is a euphemism for "bathroom".
---

Are you a new camper?

You've decided to take the plunge and embark on your first family camping trip. You've made your camping list, you've decided what to eat, and you've gathered your gear.

You feel fairly confident - but you have one niggling question:
"What happens when I need to use the bathroom?"

If you have an RV with its own bathroom facilities, you're all set!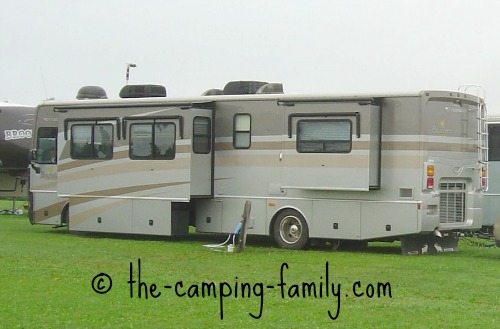 But what if you don't?
If you are staying in a small trailer, or a tent, it's not so simple.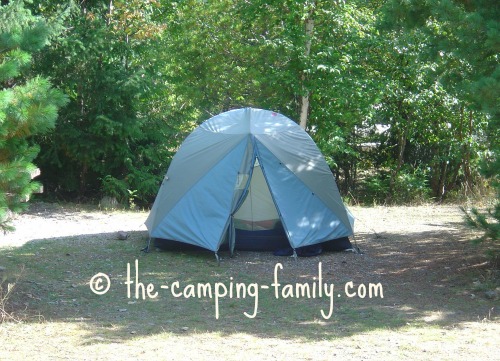 You'll need to bring your own portable camping toilet, or use whatever you find at the campground.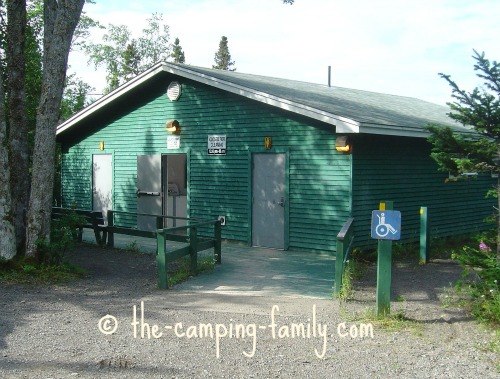 We have found many varieties of bathroom and camp toilet on our camping trips - from sagging, moss covered shacks to brand spanking new facilities.
There have been toilets on which you would never sit, and fancy bidets that would look at home in a five star hotel. We've seen open air outhouses, and luxurious bathrooms with scented air freshener and vases of flowers.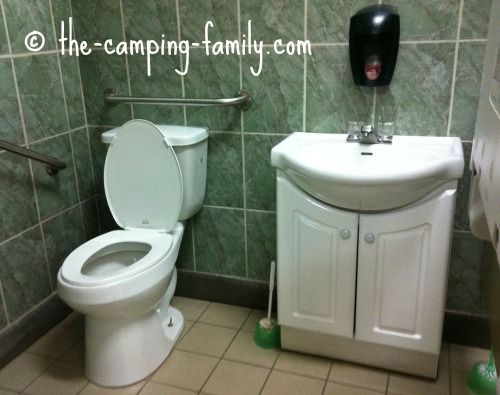 Here's the good news:

Most campgrounds have well equipped bathrooms.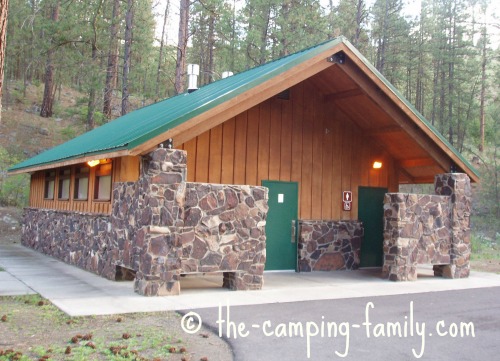 Here you can expect to find modern facilities: flush toilets, clean counters, soap dispensers, hand dryers, and shiny faucets with hot and cold running water.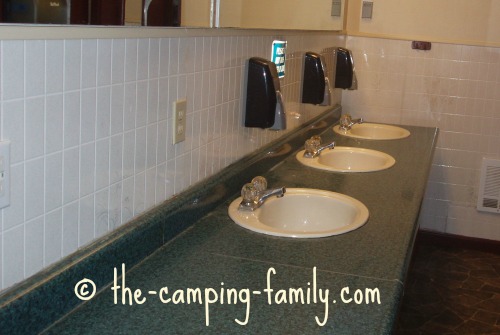 Here's the rest of the story:

Other campgrounds have more primitive facilities.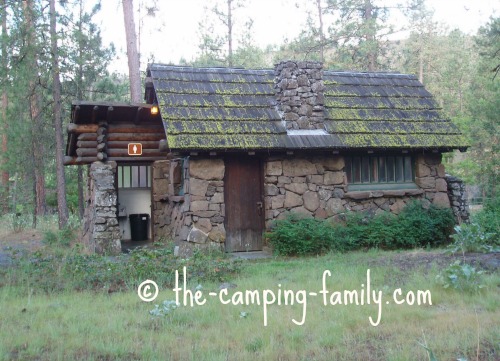 You'll probably find flush toilets and cold running water here, but you might not find hot water.

There might be a counter on which you can lay your toiletries...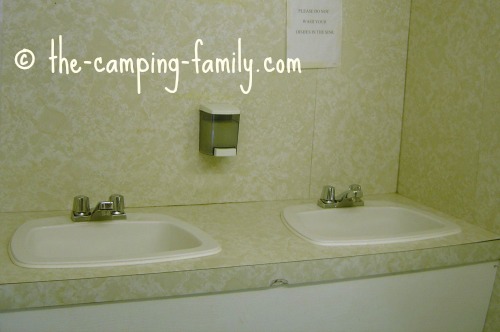 ...or there might not.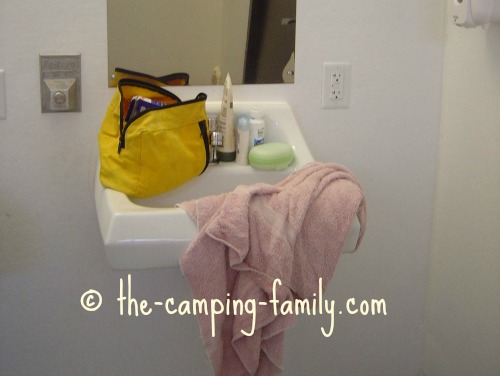 Invest in a toiletries kit with a hook, like
this one.
That way, if there is no counter, you may be able to hang your things within reach. Some comfort stations have hooks near the sinks for this purpose.
By the way..

Don't judge a bathroom by its exterior!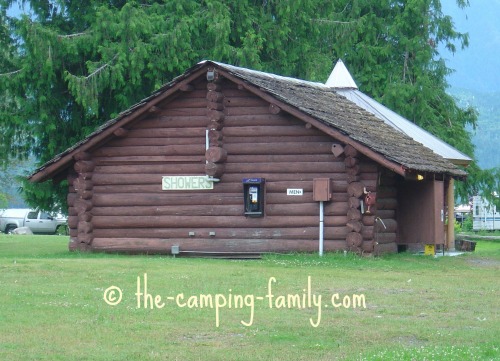 Some facilities look basic on the outside, but are beautifully maintained on the inside.
---

What to expect in a campground bathroom

Cleanliness
No matter the age of the bathroom, it should be clean and sanitary. Most camp bathrooms are cleaned on a regular schedule. In a busy campground, bathrooms should be cleaned at least twice a day.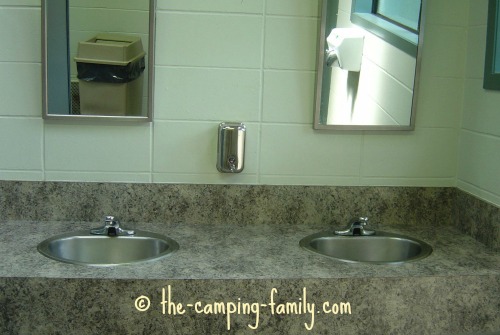 If you discover a plumbing issue with a camp toilet, or a bathroom that is really dirty, report it to the campground attendants. Staff at a well-run campground will appreciate knowing about such problems. After all, they can't fix the problem if they don't know about it.

But what if it's not clean?

If a bathroom is really dirty and obviously hasn't been cleaned today, and if the staff doesn't make an immediate effort to fix the problem, that is a big clue that you've landed in a campground that is not well run.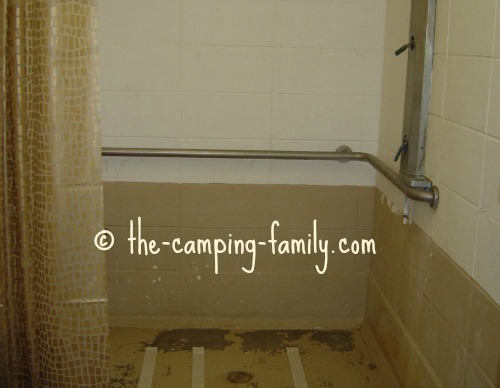 Run for the hills - or at least don't pay for more than one night! If the bathrooms are not well cared for, chances are that there will be other issues with the campground too.
---

Outhouses
Some campgrounds have only outhouse toilets. These, too, can vary in quality.
I don't mind using a well-built, well-maintained outhouse.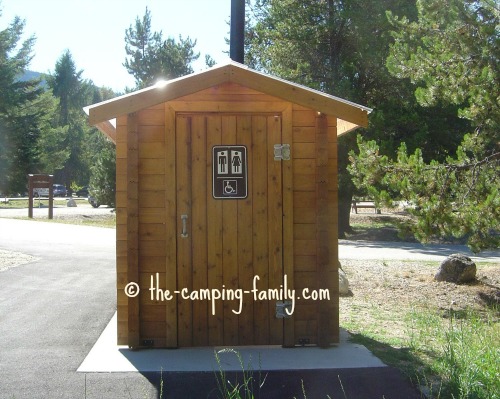 Click here to learn more about outhouse toilets.
---

How to enjoy your visit to the comfort station.

Avoid surprises!

If a fully equipped bathroom is important to you, be sure to do your research before heading out. Read campground reviews. Ask friends about their favorite campgrounds. Look online. Read guidebooks.

With a bit of work, you should be able to locate a campground with good bathroom facilities.
Be flexible.

There may or may not be electrical outlets in the bathroom, so don't assume you'll be able to use your hairdryer or curling iron. If you can, consider that a bonus!
Be patient.

In a busy campground, you may have to sometimes wait your turn to use a camp toilet. Advise your children not to wait until the very last moment to make the trip to the bathroom!
---

Tips for using the shower

Carry your shower supplies in a
plastic basket
that you can set on the floor of the shower stall.
Wear shower shoes or flip flops so you don't have to worry about the cleanliness of the floor.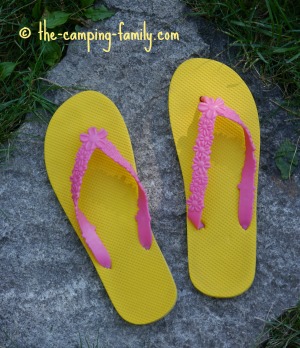 Bring a roll of quarters for the shower. (You may have a nice surprise and find that the shower is free, but you might not.)
---

Comfort station etiquette

Be friendly.

The bathroom is a great place to strike up acquaintances with friendly strangers. There's something about waiting in line for a sink that is a great equalizer. "How long have you been camping here?" and "Where are you from?" are good conversation starters.
Share.
Some women like to put on full makeup at camp, just as they do at home. (I'm not one of those people!) If that's you, please remember that others need the sinks too. It's considered polite to step aside and let others wash their hands, even if you're in the middle of your morning routine.
It's not considered good form to tie up the electrical outlets for too long. Don't expect to recharge your cell phone in the bathroom, for instance.
---

Not convinced that the comfort station is for you?

If you want to be absolutely sure that your needs will be met, purchase and bring along your own camping toilet and camping shower.
Doing your research and choosing a campground that has the type of facilities you need will ensure that you don't have any unpleasant surprises!


No that you have learned all you need to know about the camp toilet, click here to go to The Camping Family home page.